Minor UPS shipping damage - what's your experience been?
---
I just made a trade with another TGP member,
gratefulgrafford -
my USA G&L S-500 for his USA G&L ASAT Special. I got the ASAT in perfect condition. But my S-500 arrived to Dale with a small crack in the neck. I definitely want to "make it right" so we're swapping back and I will take care of the UPS claim myself. It was insured so there
should
be no problem there. But my concern is that, according to Dale, the box/case don't seem to show any damage. I absolutely KNOW that this neck did not have a crack in it when I shipped it. But if there's not any noticeable damage to the packaging am I just screwed? What are my chances of getting anything out of this with UPS?
Just because I'm sure someone will want to see, here's a pic of the neck 2 days before I shipped it - and I put it right back in the case after the pic. I've circled the area where the crack appears in the next picture. I don't have any closeup shots because, let's face it, I wasn't anticipating a crack!
So, am I screwed or not??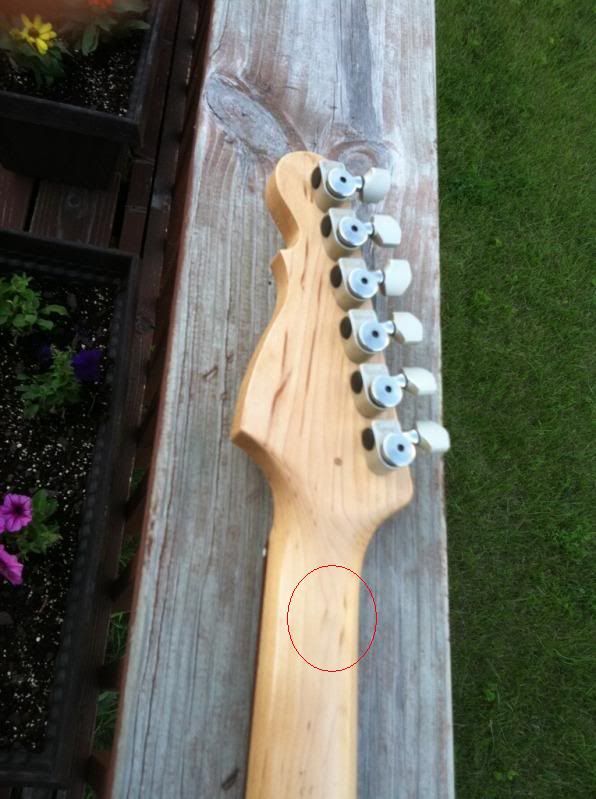 __________________
..Good deals with Jeffj, samm57, itkindaworks, lovellintn, hub37, jrh60, WildTop, urlkonig, 3 Mile Stone, dtfan4ever, bluejazzoid, mixn4him, gratefulgrafford, strangec, this1smyne, fatbagg, berdahl, Road King, readymade, shredtrash, VibroMan, meddler, jbro, arfalax, Aahzz, gorebuc, theraygun, vangkm, swingline, civtrx, southpaw pete, Smgbad, Tweed335, hippietim...