Mills Acoustics 4X12 Cab Review
---
I received my new Mills 4X12 Afterburner Cab the other day... and it's big!
Here's the wooden crate Dave ships them in:
You can see he doesn't mess around when it comes to making sure it get to safe and sound. It took me about 30 minutes just to open cause I lent my crowbar to my neighbor Barney Rubble.
The Afterburner 4X12 I got is loaded with 2 V30s + 2 G12K100s... wired at 8 Ohms... no piping, in standard black tolex. Here's a pic:
How's it sound.. BIG! MASSIVE! BEHEMOTH! The closest comparison I can give is that it is a more idealized/perfected version of the Mesa 4X12 Oversized Recto 4X12... but it sounds much better (to me) mainly due to a tighter, more focused voicing... less flubby bass, no muddy tons, and less undefined low-end. I has a very big, massive, encompassing sound mainly due the oversized dimensions, but has a tighter sound due to its proprietary internal bracing. For example, I wanted to get a little more bass and slightly fuller-thicker sound from my Engl Savage 120... well the Mills Acoustics AB 4X12 does exactly that. Even with the deep mode switch off, the Savage still has plenty of chunky low end to spare now. The mix of V30s + K100s sounds really good together, and gives you plenty of cut and thick, chunky rhythms and palm mutes at the same time. The K100s seem to be pretty evenly voiced speakers, with no mid-spike (V30s) or mid-cut (GT75s). The entire cab oozes quality and craftsmanship, from the metal corner protectors, to the tolex job, to the grill cloth, to the metal handles, to the thick gauge speaker wire, to the extra internal bracing and interior design. The cab feels like it weighs around 150 pounds!!! You can tell Dave Mills loves what he does, as there is a lot of workmanship and effort he puts into these cabs. The construction and build quality is easily equal, if not better than anything else around. Hell, it weighs more than and Mesa Recto 4X12, and sounds much better to me... and it definitely sounds far better than either of the new front-loaded or rear-loaded Diezel Super-Special made in Germany Uber-mann cabs that sell for $1650! Both of which I have tried and was disappointed by.
Does it sound better than my Bogner Uberkab, Diezel USA front-load with V30s, or my '70s Marshall with H30s... well that depends on the listener... but for heavy, modern, high gain tones it's definitely worth looking into.
Here it is with some new friends: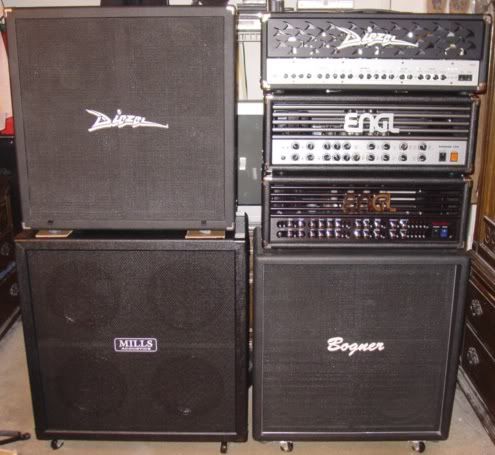 Thanks Dave!
__________________
Excellent transactions with: Burst59, djlynch, mocaster, guitar29, teveinsene, llabrynth, GtarLover, gulliver, TungstenAmp, ekimtoria, JubileeMan 2555, mclmk8d, braciola, Degle, killertone, lickinshtein, TheFife, GtarLover, zygoat, fuzzyguitars X 2, MangoMango, is350xtrm, bartmcartman, EataPeach, PSaulino, tele0123, Moods, jettrock, adrenalinejunky, parkerbro, and gkelm.