so I picked up a new delay...
---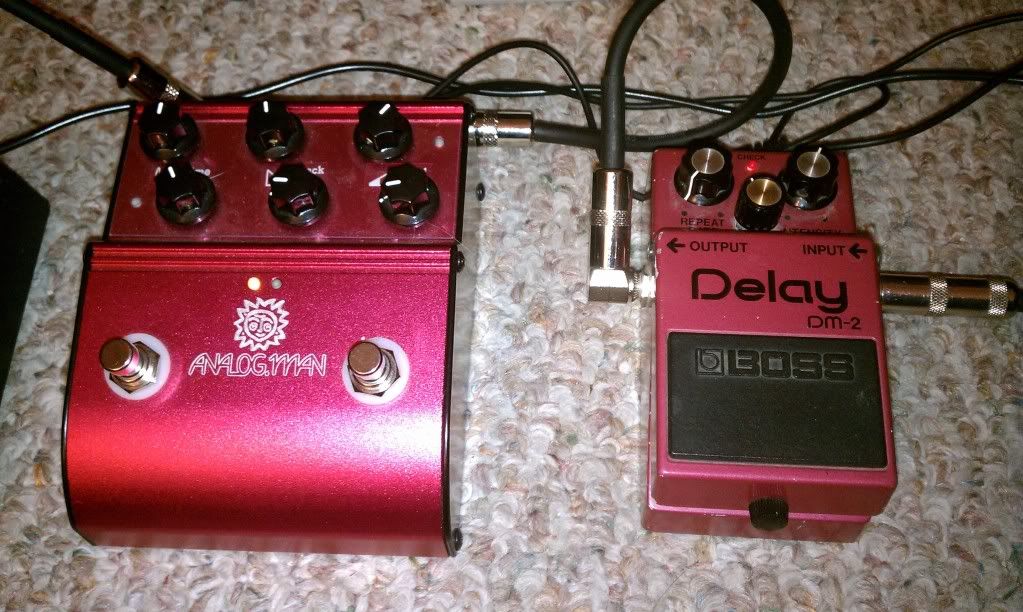 (pssst...it's the one on the right
)
I just picked this up from a fellow TGP'er (thanks Stravinsky!) and it has been blowing my mind for the past few days. I thought that it might not have enough delay time for my uses, but with the delay time maxed, I'm pretty much even with my shorter delay time setting on the ARDX20. The DM-2 is warm, yet bright, and the repeats just melt together so well. The funny thing is that the DM-2 wasn't really even on my radar, but Stravinsky offered a price that I couldn't refuse (and I'm glad that I didn't!). I have a feeling that this pedal will establish a permanent residence on my board...
BTW, the center knob was missing, so I hoisted one from my TR-2 for the time being - hence the gold color.
__________________
Good Dealings With: Mapleneck, GAT, ryantorres, tbone666, buddy5150, theemarkmiller, SteveGaines, Frank1959, BMF Effects, fellsilver, yucatown, kingofengel09, bassethound, plunderpot, your name here, analogsystem, Echoes, psyandy, jmiller475, campfirehero, Agitator, grygrx, g-fry195, Stravinsky, bradam99, Jimmy P, Mari, phishintrip007, KSDS, tapeworm, Fred_, H.P. Lovecraft, Blueswail, and many, many others