Hello,
One of my bandmate just brought me an old Manhattan 6024 bass that he used when he was young and has been sitting in the cellar for the last 30 years, and asked me if I could bring it back to working condition.
At first inspection, it is obvious that one of the EL503 is shot (white getter). It also appears that the output transformer has an open primary coil (no resistance on one side). El503 are nearly impossible to find, so I think it would be logical to choose another power tube, since I'll have to replace the output transformer anyway. Reducing the power output (compared to the original el503 arrangement) is not a problem for him.
I'm thinking to go with 5881, for the following reasons :
- Easily available and not too expensive
- B+ of the amp is around 365VDC
- Heather current draw is lower than for the EL503, so I wouldn't stress the power transformer.
- The bias circuit might work without modifications (though I have some questions about that circuit)
Of course, I'll replace all the electrolytics and check the coupling caps as well.
But before doing anything, I have a few questions :
1) Does the 5881's seem a reasonable conversion? And will the preamp or PI need some modification to drive them properly?
2) The original circuit power supply has a high amount of filtering : 200uF + 2X40uF + 100uF (and additional 16uF + 8uF on the preamp supply. Should I keep these values, or could I reduce the first cap value to 100uF?
3) I don't understand the bias circuit arrangement. Am I correct to think the 10k pot is a bias balance, and the 1k pot adjusts the bias itself? But if then, why such a small value?
4) What does 'CR' mean (from output transformer to negative feedback resistor)? By the way, the value of the feedback resistor is different on the actual amp (56k instead of 22k). I was thinking to take the feedback resistor from the 4ohms secondary, so I'll probably have to change that resistor, am I correct?
5) What's the function of the 15ohms resistor and the 4,7 cap going from plate to screen on the power tubes? I don't remember having seen that before.
Here's a schematic from a FBT bass organ, which is virtually the same amp :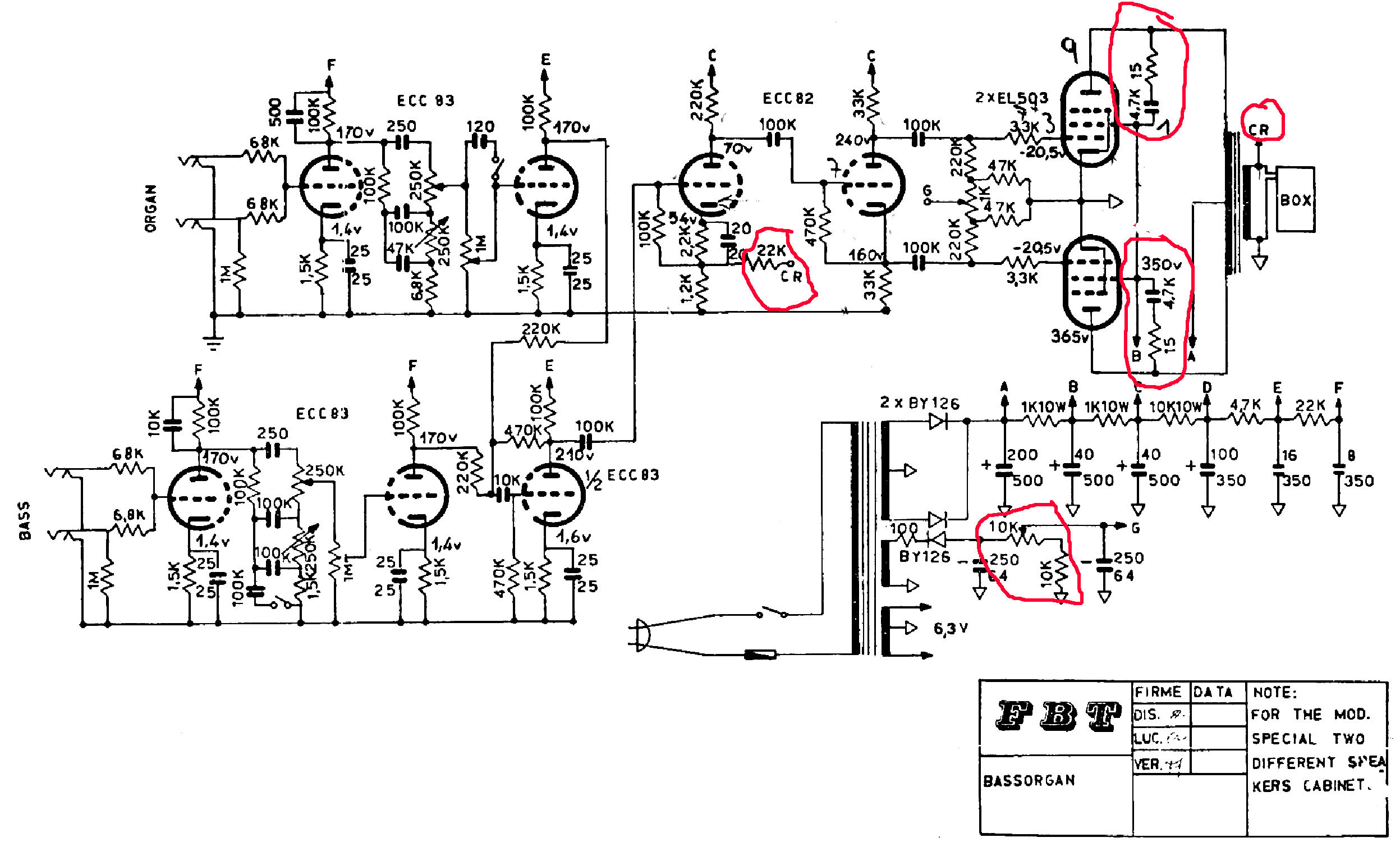 Many thanks for your inputs!