You read it right - I won a made-in-USA vintage guitar amplifier (in very clean condition) on eBay last month for the opening bid of $9.99!! Okay - so I also had to pay the $14.88 for shipping. I just bought it on a lark - a cheapo solid state amp with a 4" speaker. But with a few squirts of DeOxit before turning it on, I completely got rid of the static that the seller described as an issue with the volume & tone controls; and it's actually fun to play through. It's branded Global Solid State 4070. I'm generally a tube guy, but I do have a few solid state amps that I like. (One is really old and sounds great with it's tiny number of components.) This one is definitely at the very bottom of the heap as far as my amp collection goes. But I'm still glad I bought it, cause it's fun in a gutbucket zero-clean-headroom sort of way. Kind of a toy - but still fun! And for only $9.99? I'm pretty sure I've already gotten my money's worth...what do y'all think?
Here's the original listing: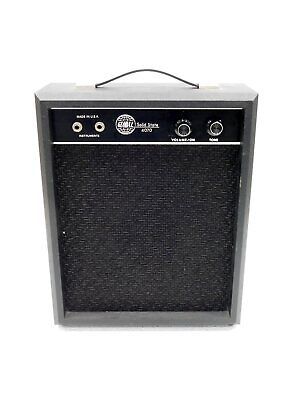 The power cord appears to be in good condition. Item turns on while plugged in with the attached power cord. This is a pre-owned, donated item being sold AS IS. Item is in used condition.
Here's pics -
Front:
Back:
And the mostly empty innards:
And here's a short sound demo:
Last edited: