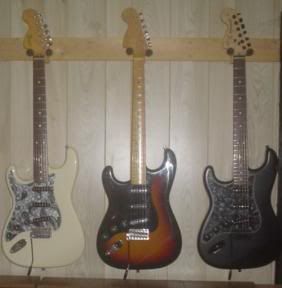 Left: 1986 Fender MIJ '72RI. WCR SR pups, RSGuitarworks wiring harness. Bridge and Neck have tone control.
Middle: 1986 Fender MIJ '68RI. Stock pups, jumper added to give tone control to all 3 pups.
Right: Late 2006 Fender Highway 1. Stock pups. 3 on/off/on toggle switches instead of a 5 way, gives me on/off/out of phase. 3 Dual Concentric pots gives me volume and tone control for each pup.
All of them have changes of pickguards, pup covers, knobs, etc. The Highway 1 has had all the chrome pieces replaced by black ones.