Being a member of this fine community has taught me really the finer points of gear appreciation, and more importantly opened up my ears and more importantly my mind to other really quality builders. A close friend of mine and fellow TGP'er Benster got a Baker probably 4-5 years ago through a local dealer here in Singapore. They brought in a total of 3 different Bakers to Singapore. Benster got one of them, 2 of them still hung around in the store. That was about 5 years ago...5 years ago I was still completing my military service here in Singapore unable to afford if at all a boutique guitar.
I told myself the moment I started earning some coin I would purchase the Baker.
And sure enough, the guitar is still in the store. Imagine that! 5 years in pristine condition, everyone has given this guitar a miss, amid all the other commercial guitars brought in by the store. Even till now, there's another Baker in there left unanswered for! I recently graduated from college and started work as a personal banker in a local bank here in Singapore, it's been a really tough one year having to run my ass off on sales targets month to month. Many sleepless nights stressed over work and neglect on my first love - Guitar. But I've adjusted pretty well and I've lately been reaping the rewards of sheer hard work in my job.
This is the first time in my whole year of work that I'm rewarding myself, I decided to head back to Guitar77 (the name of the store here in Singapore) to pick up the Baker.
Here's a picture from the store's website...
It doesn't look all that impressive in the pic here, in fact probably totally different as you will see in the pics I took below.
But the very day I went to check it out with Benster (Personification of a fellow gear slut!), and also my close guitar buddy Brandon (Killer player!); there the Baker was in the spot light. Hanging there it was kind of like my personal excalibur...all shiny with it's understated flame maple top, with mineral streaks as if it was a picture perfect moment from the book Beauty of the Burst. As if it was a '59 lester reincarnate.
I slapped down a $1K Singapore dollar deposit that very day.
A month has passed since then, I couldn't take it anymore; the guitar is home with me right now!
Here are some pics, I hope you guys will enjoy them and share the joy I'm feeling now.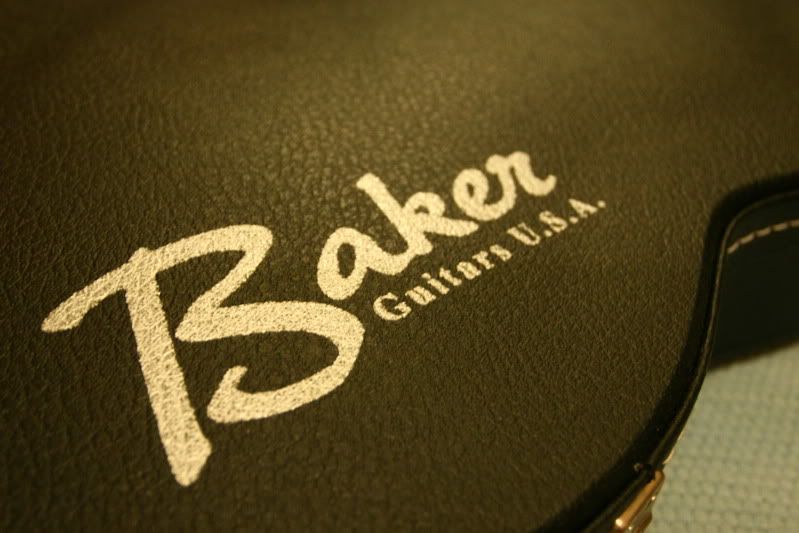 A shot of the Baker Case.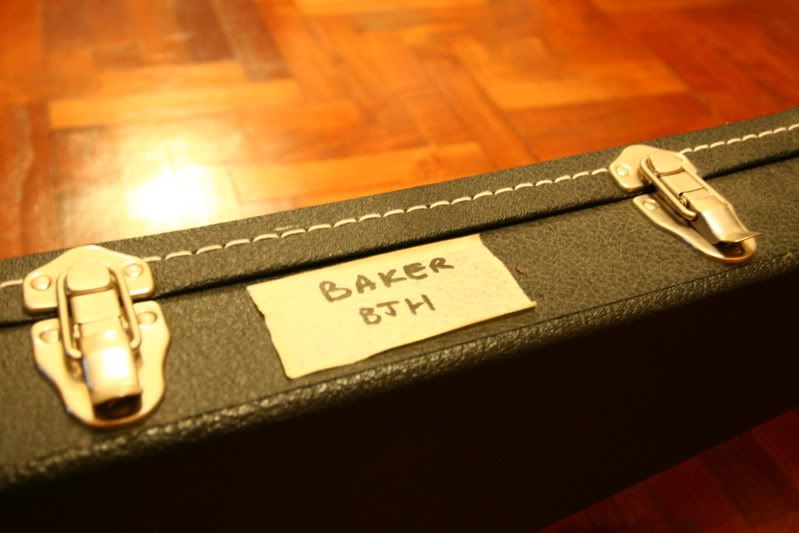 I tell you, opening up this baby feels like traveling back in time to 2001. All the case candy is still intact. The Baker certificates, warranty card, picks, polish cloth, elixir strings brochure, buzz feiten guide, tools, case key...and get this, 2 Baker business cards!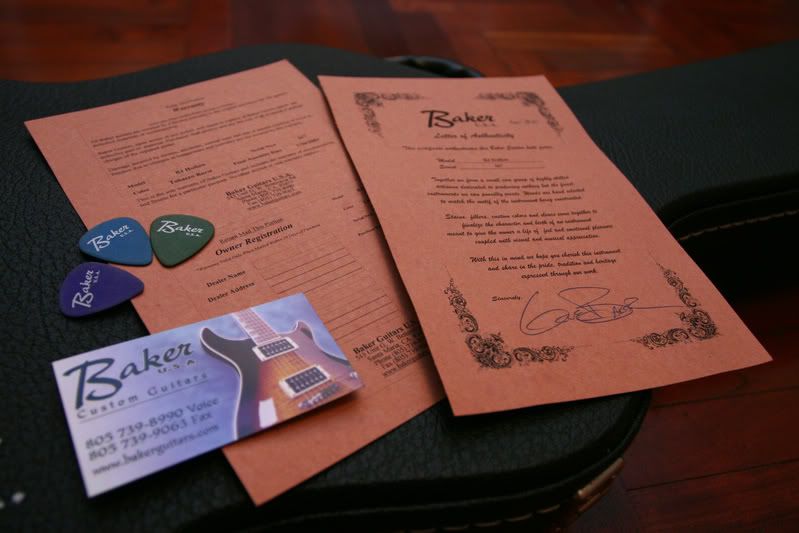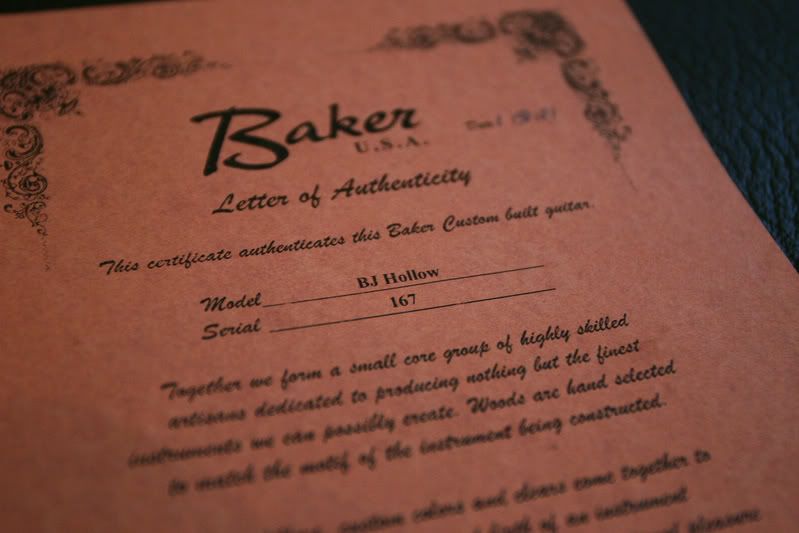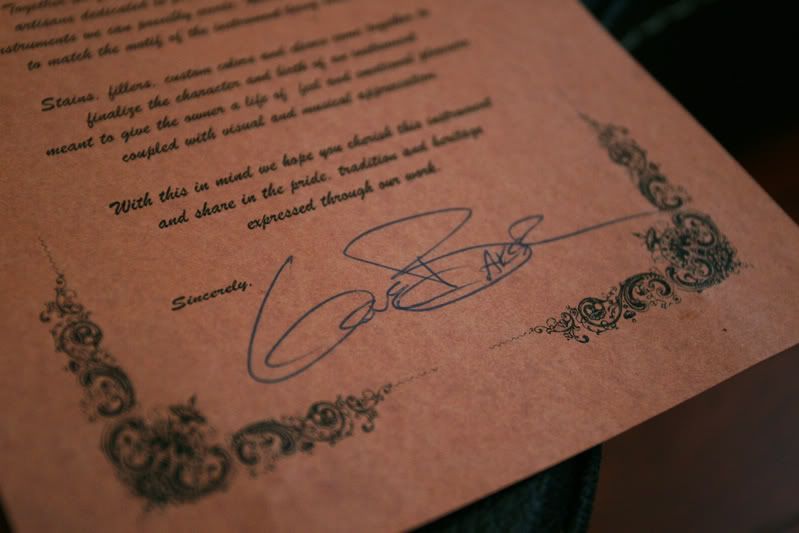 Open up the damn case already why don't ya!!!!
Here goes folks...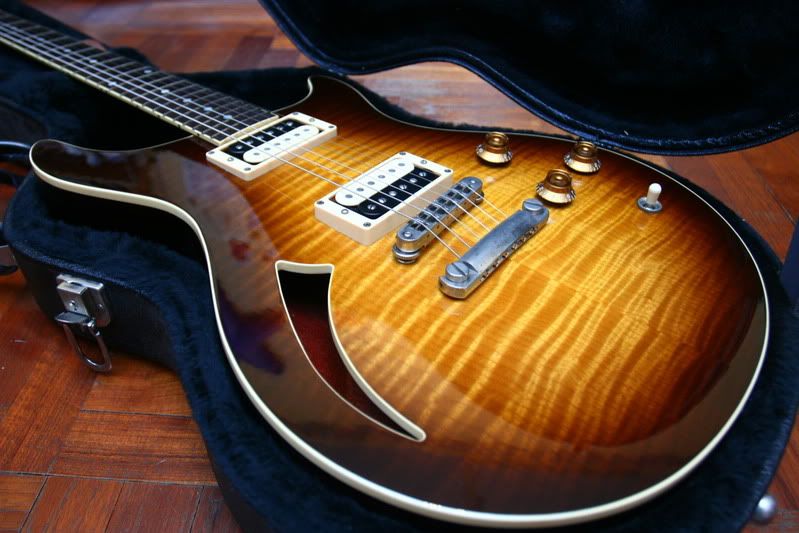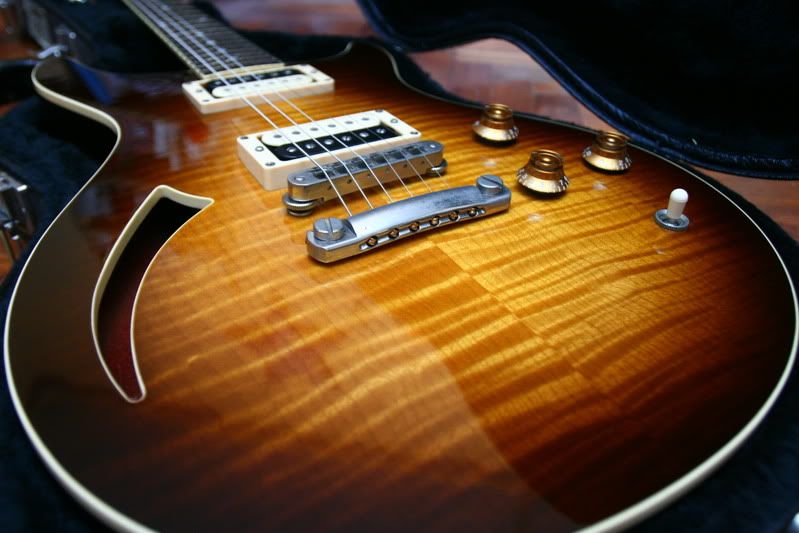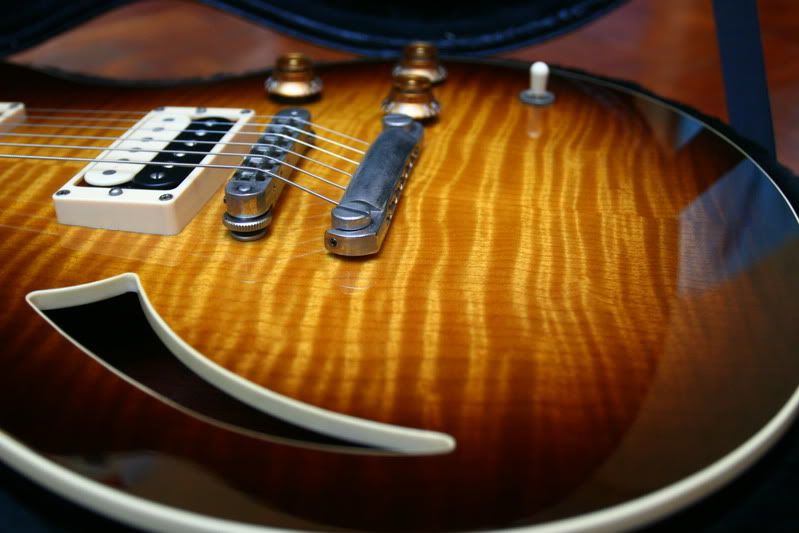 Here's a closeup shot of a portion of the top I took with my girlfriend's Canon 100mm Macro.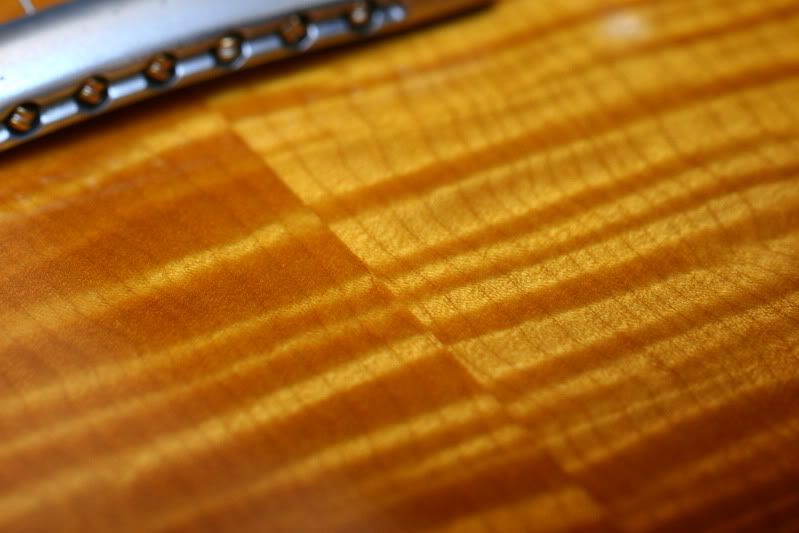 One more!!!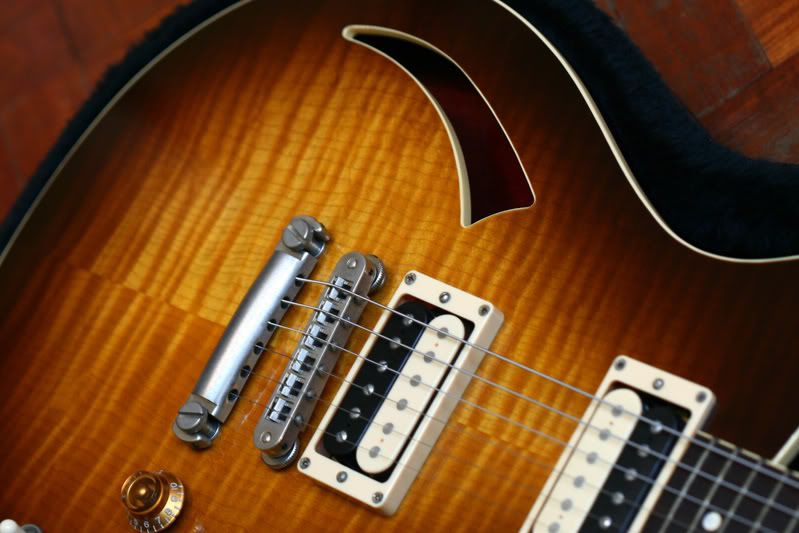 I'm still in complete awe over this guitar. And believe me while I have not ranted a single bit about how this guitar sounds....it totally kills any dual humbucker set neck mofo I've played!!!! So much punch and so much definition, the tone is so creamy the notes just melt off.
To Gene, you don't know how much this guitar means to me; keep doing what you do best buddy! I'll see ya with a B3 soon if I ever become a private banker!