I figured maybe someone would like to see a build thread from an amateur builder. If I'm posting this in the wrong forum please move it to the right one...
This will be my sixth build. It all started in Chicago. I was visiting relatives and bought a set of Seymour Duncan P-Rails just because they were so cheap (half the price compared to here in Sweden...). I didn't really have any use for them at the time but I figured they would be cool to have just in case...
Later I went to a Swedish guitar show and bought a Graphtech Resomax wraparound bridge. Liked the way it looked... And it was on sale. I definitely didn't have any use for that on any of my guitars. I guess I had to build one for this stuff then...
I found some mahogany and birch lying around from past builds and made a neck blank out of it. It wasn't long enough on it's own to make a neck from so I cut off a piece and scarfed it on for a headstock.
After that the combination of late night whisky and credit card in hand resulted in buying this:
I bought a mahogany body blank from a fellow Swedish builder, no pics of that though. Forgot about that... And an ebony fretboard.
Here's a pic of the neck. I've routed the truss rod channel and here I'm shaping the headstock. I haven't routed the straight lines on the neck yet: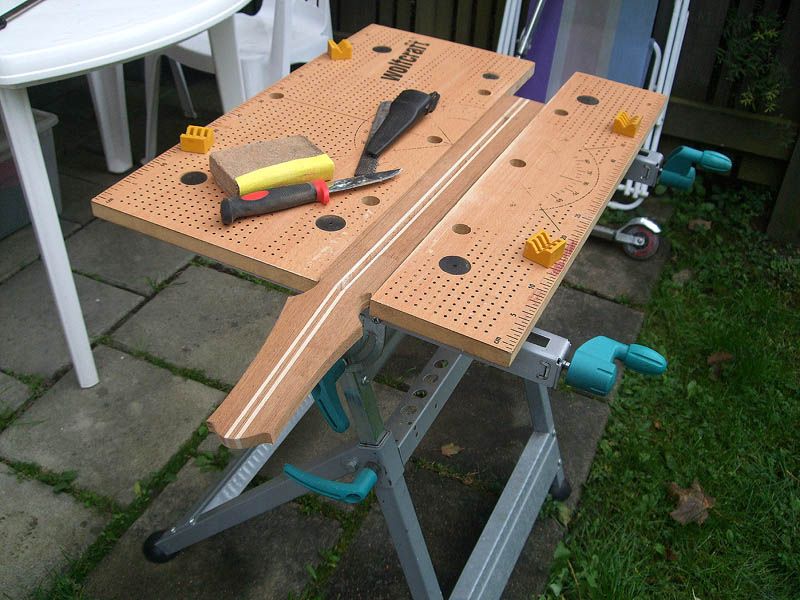 Body (still not hollowed out) and neck together: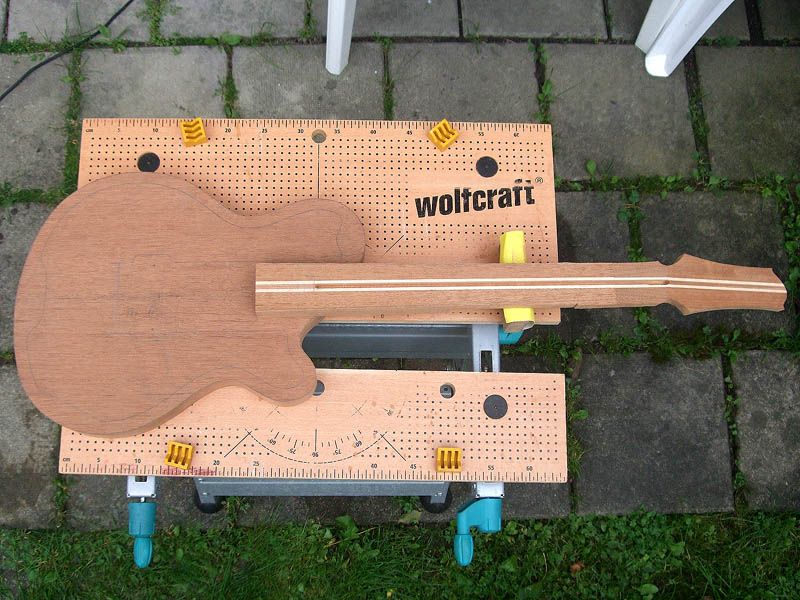 Here's another pic of the body. I cut it out on the band saw and shaped it with sanding drums in an electric drill on a stand. The pic shows how I drill out most of the wood with a Forstner bit:
I then routed out the cavities at a shallow depth. I did this for two reasons: I routed it freehand so I only took out enough to be able to sand the inner edges smooth and then use them as a guide for the router bit. I also didn't want to go too deep since I was going to put contours on the back of the body. You can see that I'm leaving wood where the bridge is going to sit, I'm going to remove some wood between the neck and bridge later on when I figure out how to mount the pickups.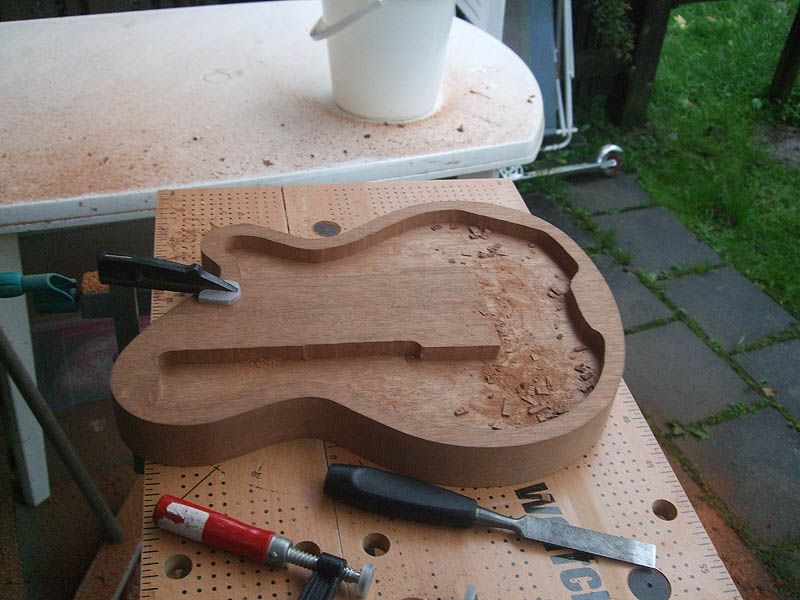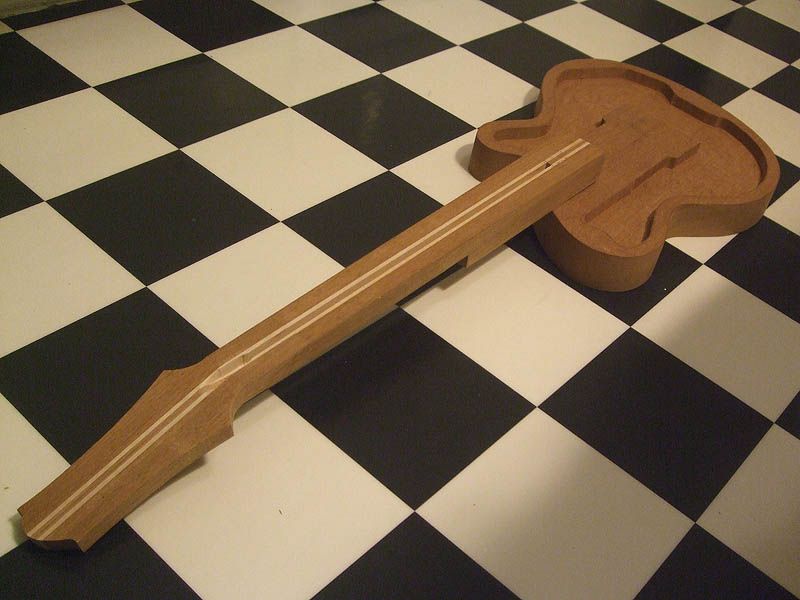 Gluing the maple top:
Shaping the back of the body. First I rounded the edges with the router: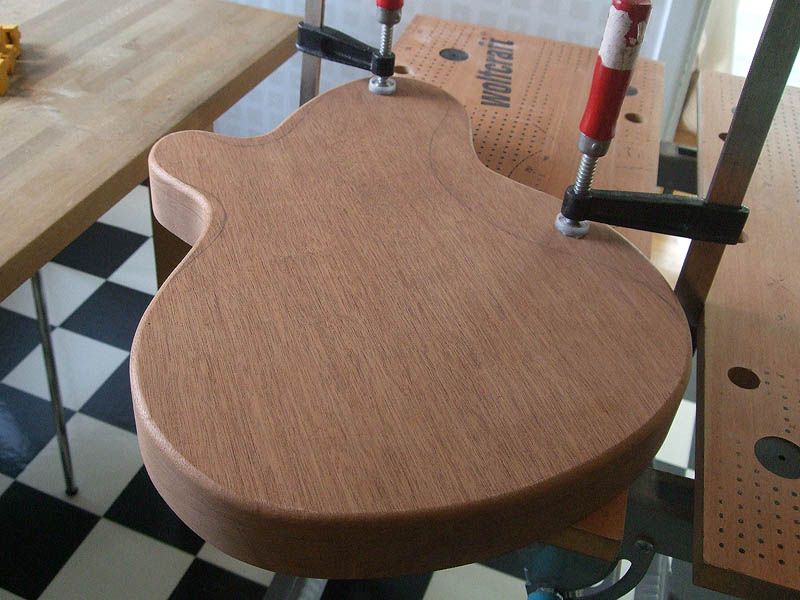 Out came my trusty Morakniv (classic Swedish allround use knife), files and sandpaper. Here I'm carving the bellycut with the knife. I already shaped the other side of the waist to make it comfortable for the leg:
Sanded smooth:
And finally some shaping of the cutaway: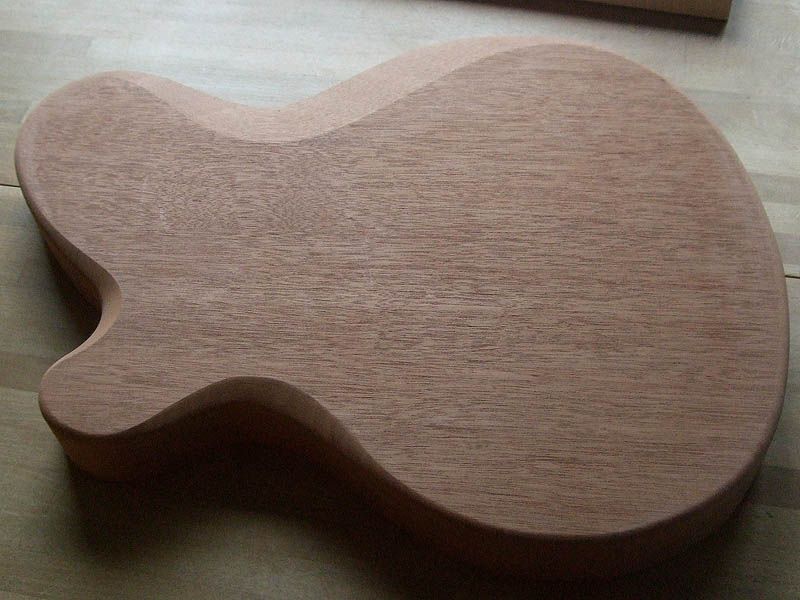 That's about as far as I have gotten right now...