I bought a used American Fender Telecaster and it has some strange wiring under the hood. First, the serial number is
Z0037607 --
from what I have found, this dates the guitar at about 2000 or so. It says "Fender Corona, California" on the back of the neck plate.
I will attach pictures and scans of my hand-drawn wiring diagrams to explain what is going on. I do not know how to draw schematics, but I tried my best to be very clear in the drawings pertaining to what does what and what gets connected to where...
It is a regular Tele from the outward appearance, but as soon as you fiddle with the controls, you notice it has some interesting options. Either this was stock this way from Fender, in which case there is most likely a special model name for a Tele with these controls... or... it was somebody's ticker-toy, and someone along the way has added some new stuff to the stock Tele wiring. My only other thought was that this might be a drop-in wiring harness from some after-market company...
I have not looked under the pickguard to see if their is a battery compartment.
Here is what is different:
- It has a 5-way switch instead of a 3-way switch. The switch is wired as follows (#1 pointing toward the bridge)
- # 1 - neck pickup on (yes, the neck pickup in the # 1 position)
- # 2 - both pickups on
- # 3 - bridge pickup on
- # 4 - both pickups on (again...)
- # 5 - neck pickup on (again)
- The tone control is a push-pull pot... it seems to effect the tone very subtly, possibly a difference in a slight change in mids or highs on the instrument. Its almost not noticeable
- The volume pot has a transformer mounted to it. It is wired in as shown in the diagrams below.
Here is the tone control drawing: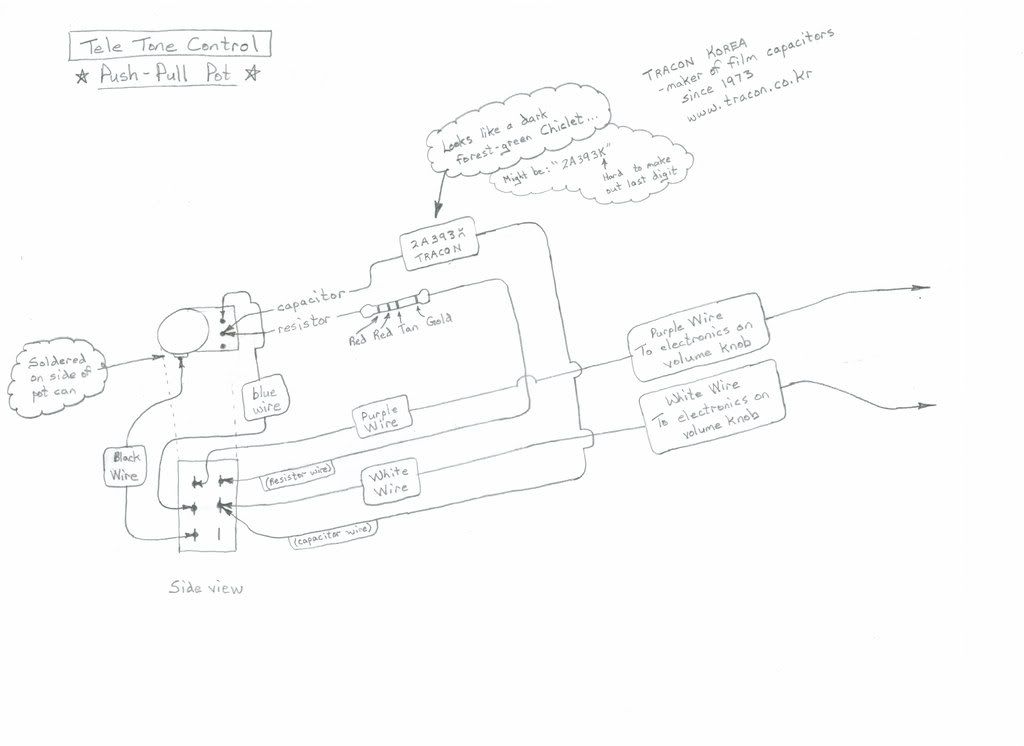 Here is the volume control drawing: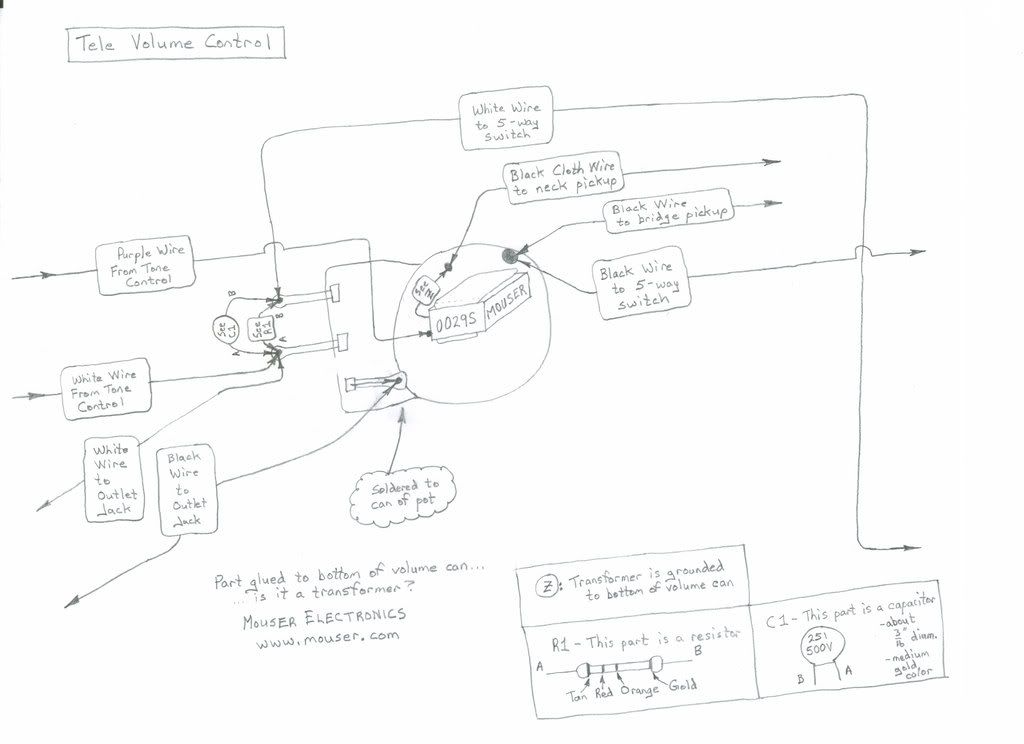 Here is the switch control drawing: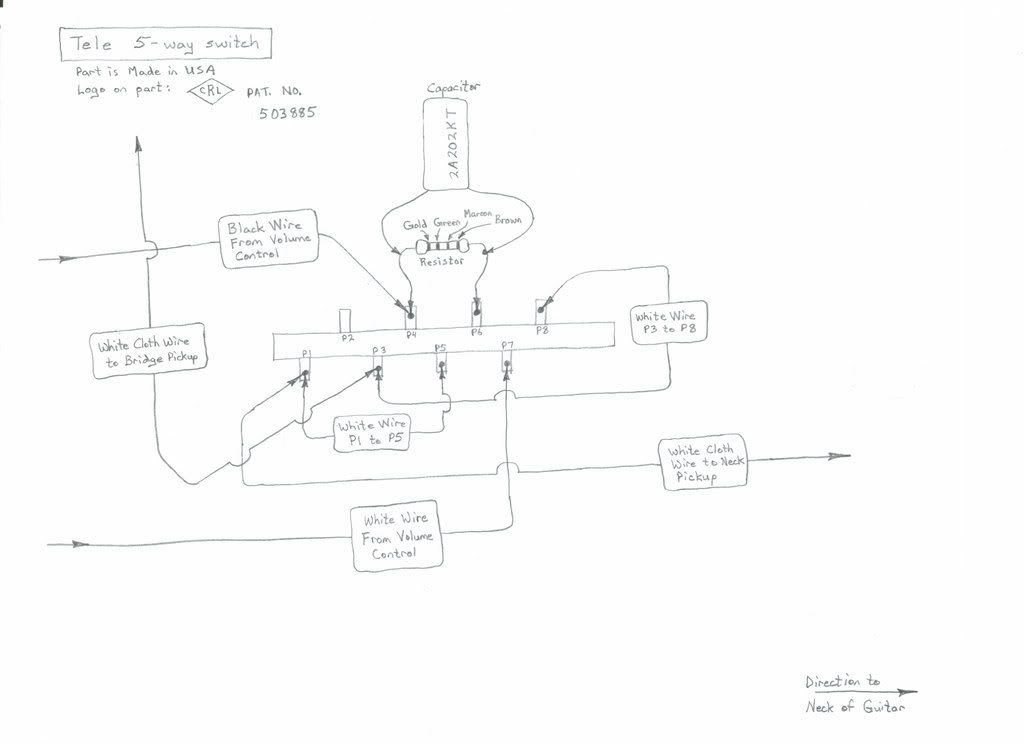 Here are some actual photos of the wiring: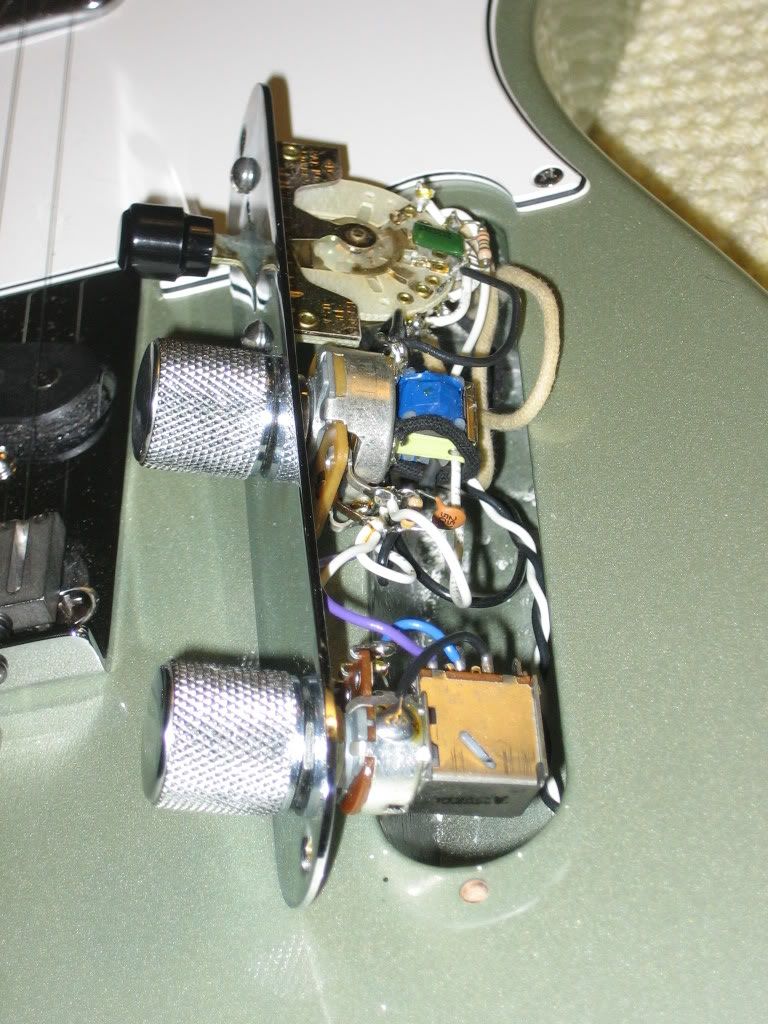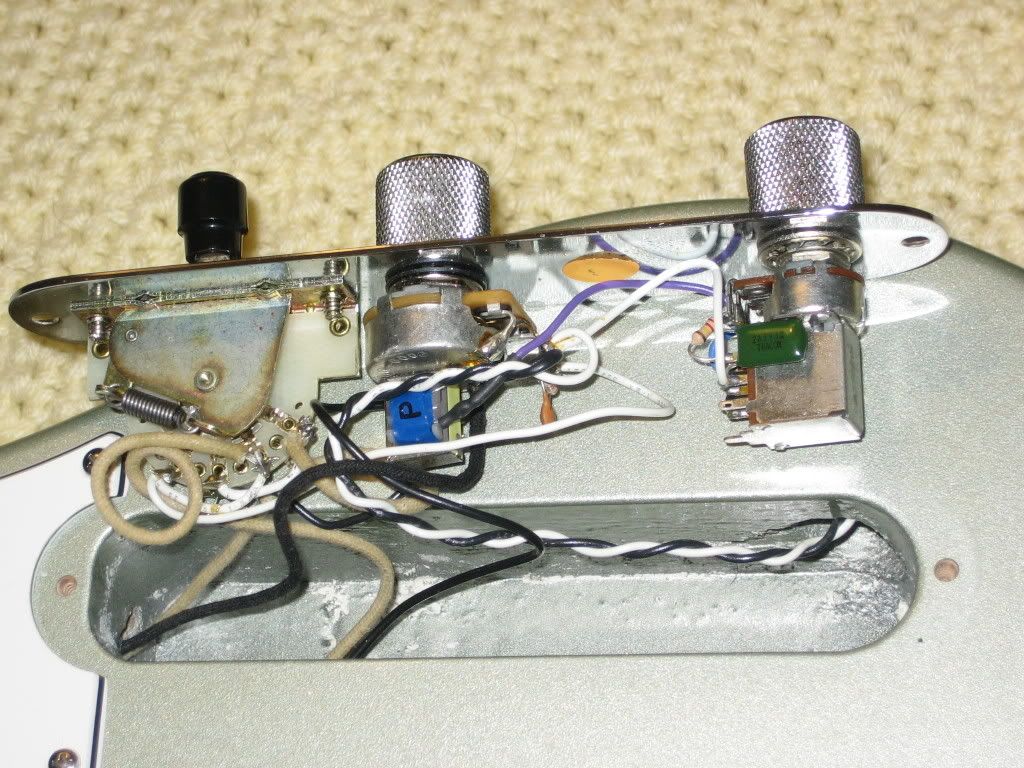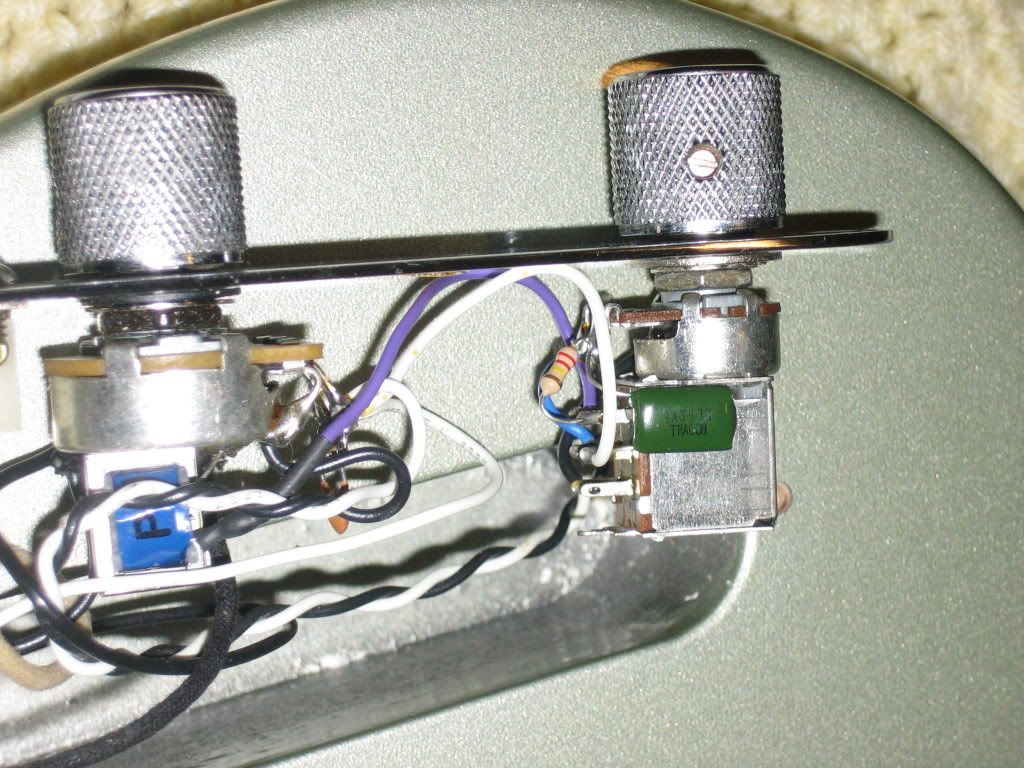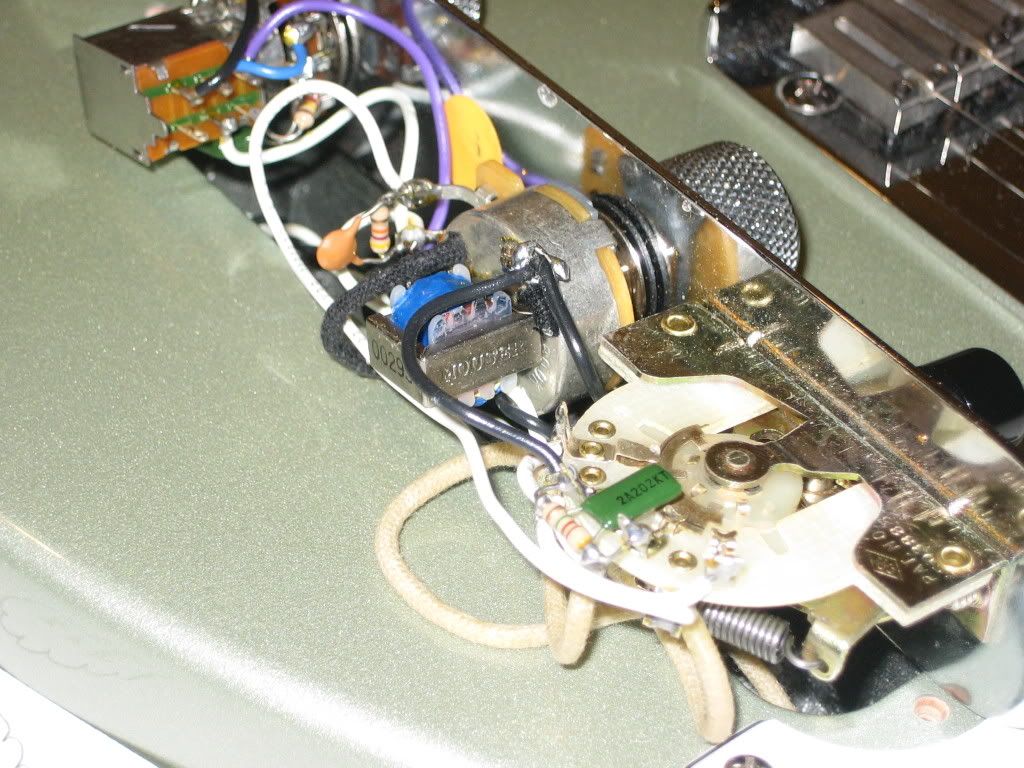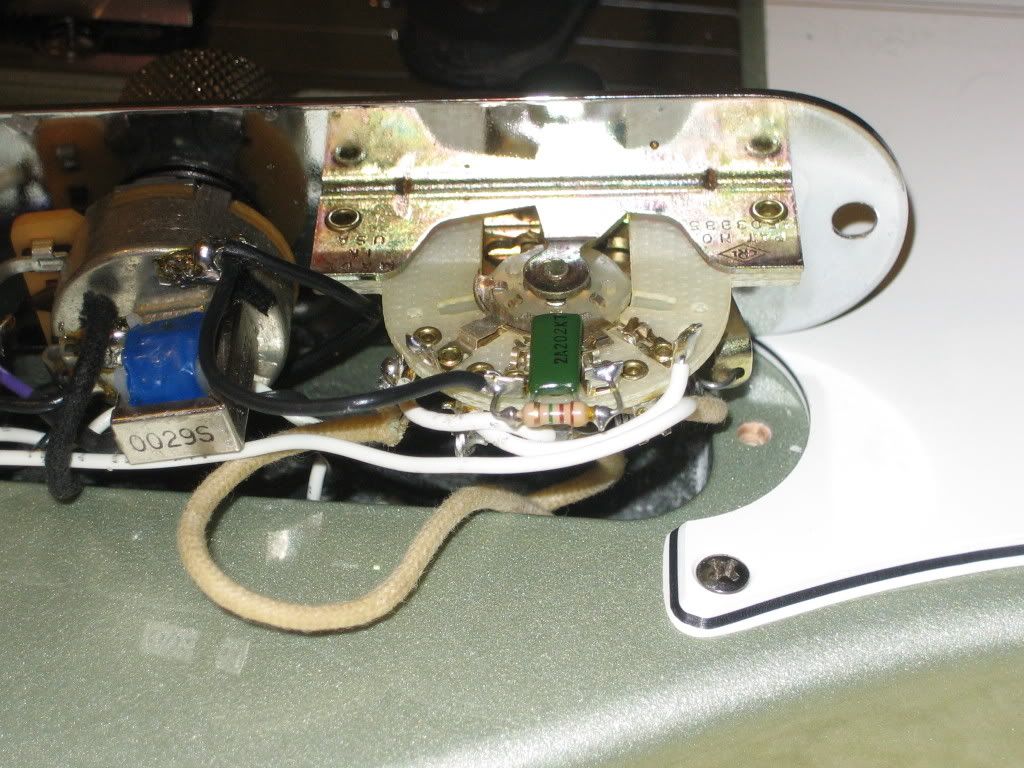 Here she is all nestled in her case: