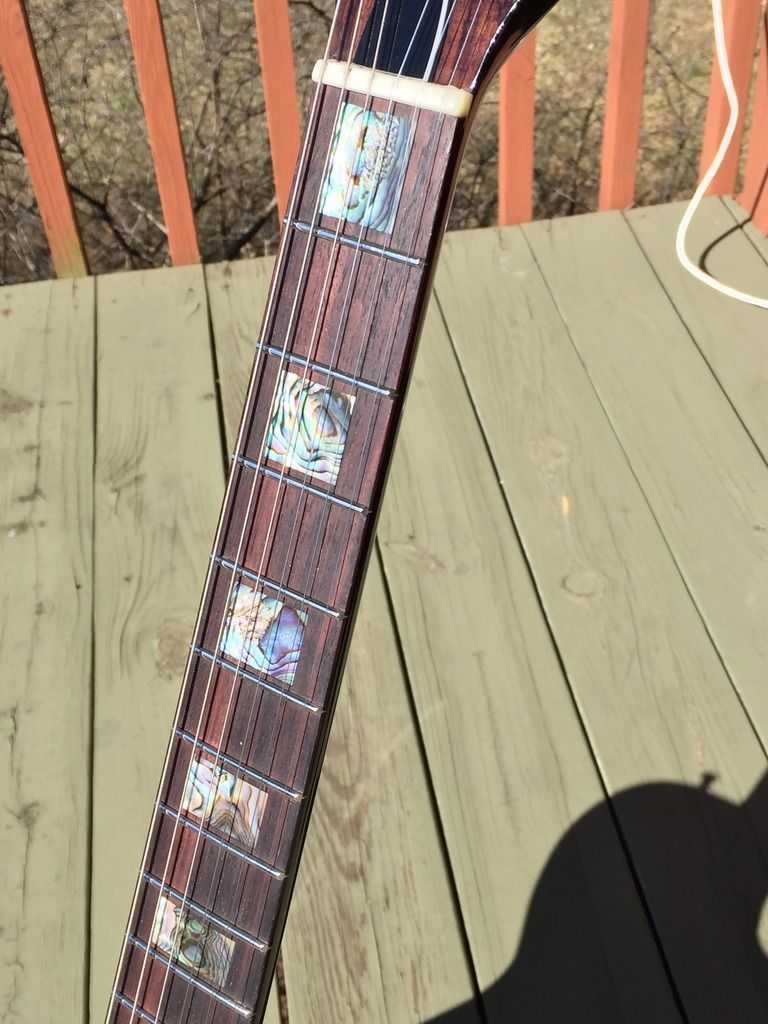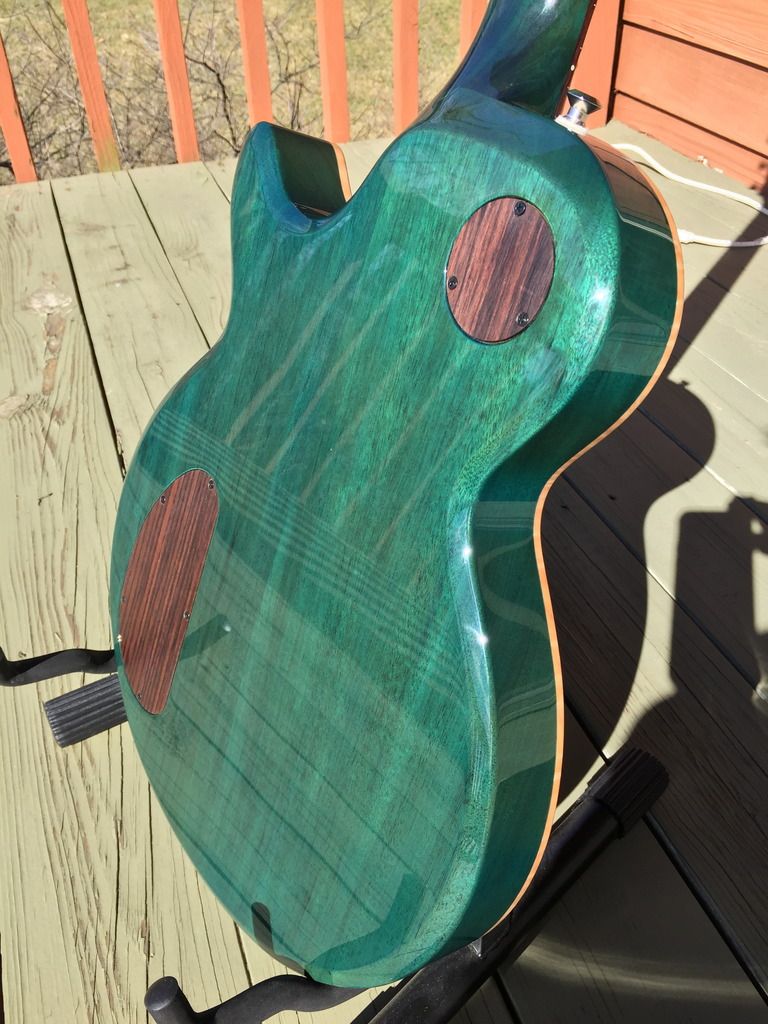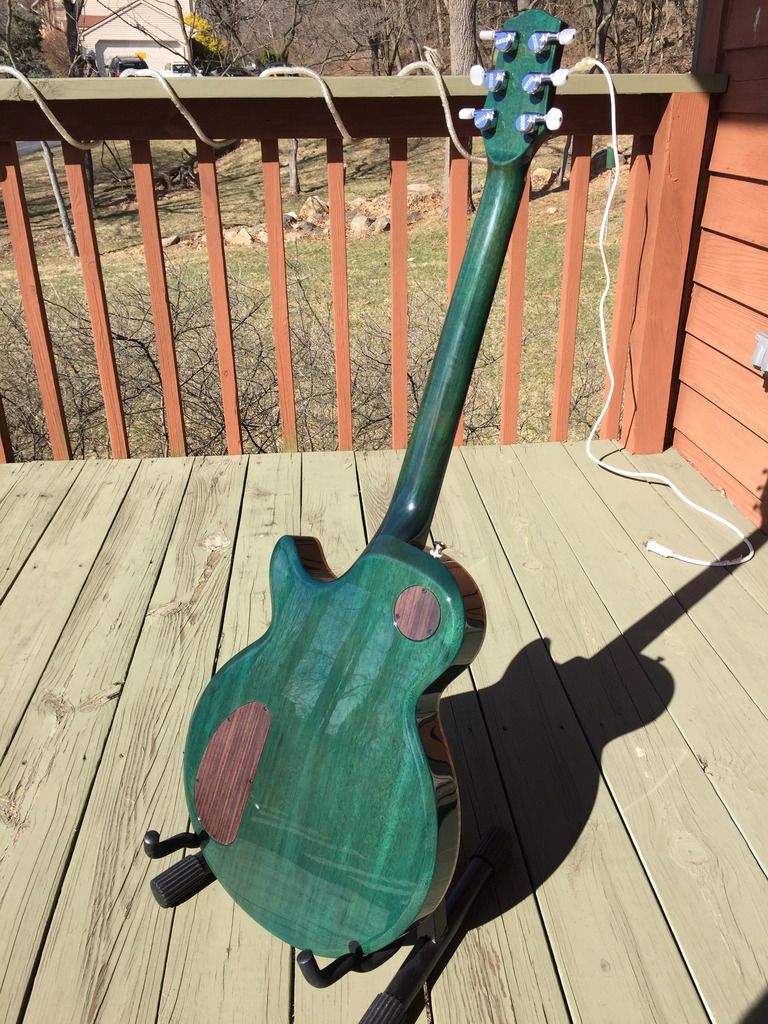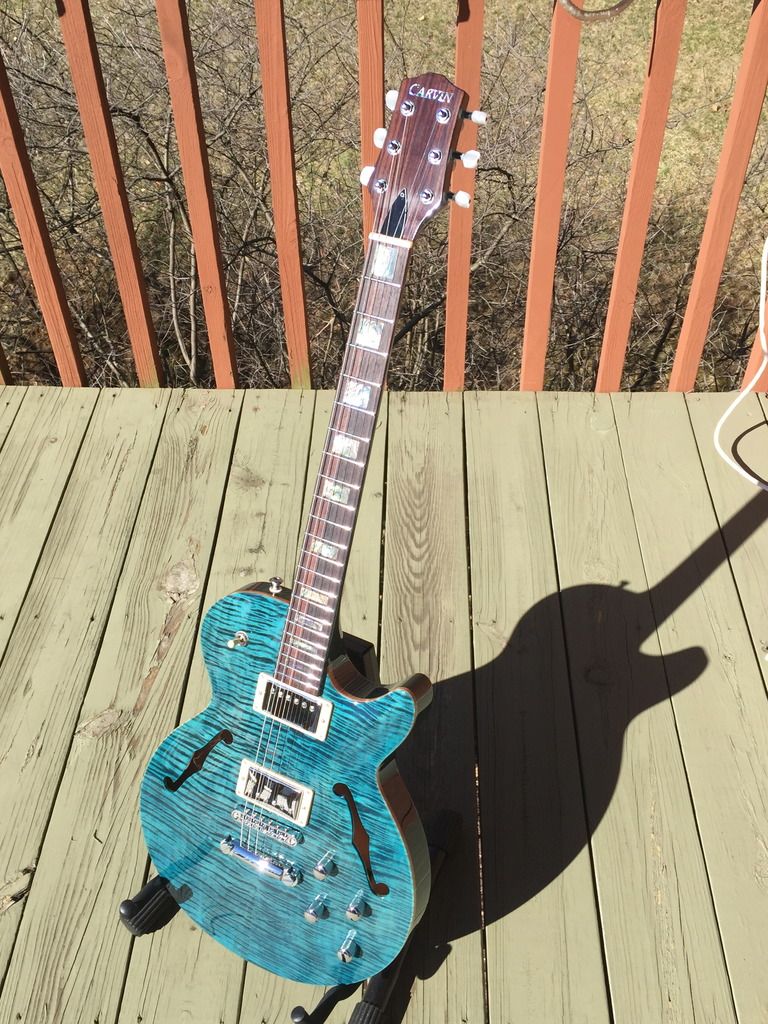 I am selling this stellar Carvin...I have this tone covered with my #1 guitar and cannot justify keeping it. I recently purchased it on Ebay. I am asking $SOLD shipped and paypal'd in CONUS. Everything about this guitar is special...setup, tone, build!
The seller's EBAY description follows...It is 100% accurate and still applies...the guitar is in mint condition:
"This is a 2015 SH550 that was PLEK'd by Gary Brawer in San Francisco. Gary is the guitar tech for Joe Satriani, Neal Schon, Buckethead, and countless other Bay Area guitarists. Unlike Gibson's marginal PLEK process, Gary does it correctly, i.e., with the strings tuned to pitch and the neck under full tension.
Gary replaced the stock GraphTech graphite nut with a real bone nut cut for 10-46 gauge strings, which this guitar now has, and he replaced the stock Carvin pickups with a set of custom-spec'd Lindy Fralin "Pure PAF" pickups in a chrome finish, not nickel, which Lindy had never done before. This set consists of a standard-spaced (50 mm) Alnico II 8.5k neck pickup, and an F-spaced (52 mm) Alnico IV 9.5k bridge pickup.
This is a true one-of-a-kind "Private Reserve" guitar from Carvin. In order to create the brighter aqua "ocean waves" effect they had to source an unusually white piece of bookmatched flamed maple, for which there was an additional $250 upcharge. Also, the headstock overlay and rear control covers are made of real rosewood. I am including two sets of Carvin knobs: chrome, and abalone. Lastly, I'm including an additional set of chrome pickup rings, in addition to the cream rings shown in the pics.
Here are the specs:
-7.2 lbs, according to my digital scale
-Mahogany body, gloss finish in matching Bright Aqua
-Mahogany neck, gloss finish in matching Bright Aqua
-Plus .030" neck profile (thicker than standard)
-Contoured neck heel for superior upper-fret access
-World-class flamed maple top with a Deep Triple Step Bright Aqua no-burst gloss finish
-Traditional headstock
-Rosewood headstock overlay
-Rosewood rear control covers
-Stock black truss rod cover
-Natural maple body-binding
-Straight 14"-radius rosewood fretboard
-Real bone nut
-GraphTech stock graphite nut (included)
-Abalone block fretmarkers
-Abalone 'Carvin' headstock logo
-Abalone knobs
-Chrome knobs
-Chrome hardware
-Cream pickup rings and switch
-Chrome pickup rings and black switch
-Stainless steel Jumbo (.055" x .110") frets
-Stock 500K linear-taper Volume pots
-Stock 500K audio-taper push/pull Tone pots
-Coil-taps for the bridge and neck pickups, using the outer coils for each pickup
-Kiesel locking tuners
-White Pearloid tuner buttons
-Dunlop strap locks
-Kiesel hardcase
This guitar is only a few months old, never gigged, with no wear at all. The stainless steel frets are pristine.
Bottom line, you're basically getting a same-as-new guitar, only PLEK'd and given a thorough set-up by world-renowned luthier Gary Brawer, along with a new bone nut and much better pickups. The Fralins are the real deal in vintage PAF tone, right down to the Alnico II and Alnico IV magnets and period-correct construction.
I paid $2,731.05 for this instrument, not counting the additional $600 in extras: Gary's PLEK set-up, including the new bone nut, and the Fralin pickups.This one is a killer. You will not see its like again, and certainly not for anywhere near this low price. If Gibson or PRS sold this instrument, it would easily be in the $5,000+ range."
Last edited: