Platinum Supporting Member
After being on this board for over a year, I see there's still alot of confusion about what a Celestion "Greenback" is. I'll try to describe all the ones I have myself with pictures, cone #'s, labels, etc. The difference between Pre Rola's, and current "Reissues" from the 80's on forward.
Hopefully, those of you who wish to purchase "Greenbacks" from the old days can use this thread to ID any "Greenbacks" you're thinking of getting, and keep your sellers honest, and you from being taken to the cleaners. I will refer to Michael Doyle's "The History of Marshall" for some reference points, my own experience in buying over 400 of these in the last 5 years, and pictures, OK?
EDIT 9/1/10: Date code charts for pre rola era Greenbacks (both G12M 20, 25w, and G12H 25 & 30w) are below.
1963 - 1967

YEAR CODE MONTH CODE
1963 H January A
1964 J February B
1965 K March C
1966 L April D
1967 M May E
June F
July G
August H
September J
October K
November L
December M

Note the loss of the 'I' from the month codes. The date codes from
1963 to 1967
are written in the form:
D
ay,
M
onth,
Y
ear. For example:
19MK
=
19th December 1965
Be advised that very few of you will find these early pre rolas. But if you do, the date code and Txxxx code will be on the front of the cork gasket of the speaker. This means you won't see it until you remove the speaker from the cab to look.


--------------------------------


This is the date code chart most pre rola speakers fall into. The Pulsonic cones (75hz 102 003, 102/3, 102 3 and "3" lead cones, 55hz 102 014, 102/14, 102 14 and "4" cones)were discontinued in late 73, early 74. RIC xxx cones (Rola Celestion made, not Pulsonic or Kurt Mueller) from late 73-early 75, Kurt Mueller 1777 (75hz) and 444 (55hz) cones from early 75 to present.


1968 - 1991

YEAR CODE MONTH CODE
1968 A January A
1969 B February B
1970 C March C
1971 D April D
1972 E May E
1973 F June F
1974 G July G
1975 H August H
1976 J September J
1977 K October K
1978 L November L
1979 M December M
1980 N
1981 P
1982 Q
1983 R
1984 S
1985 T
1986 U
1987 V
1988 W
1989 X
1990 Y
1991 Z/A

The date codes from
1968 to 1991
are written in the form:
M
onth,
Y
ear,
D
ay.
For example:
KH7
=
7th
October 1975
Let's discuss G12M "Greenbacks" first.
These originally came out in the mid 60's. Ceramic magnet, 35 oz. magnet weight (referred to as a "M" or medium weight magnet).
T1134 G12M, introduced in November, 1964 with an 1777 lead cone, 75hz bass response, 10-12 ohm rating. This is the forerunner to the T1221 G12M Greenback most of us are familar with (T1221 is a 15 ohm model, 102 003 Pulsonic cone, 35 oz magnet). The T1161 is the same as the T1134 but is a 15 ohm rating. Has no back cover magnet, but a very small Celestion label that's oval, red background with "Celestion" in the middle of the label. This is from a T1417 G12S speaker from 1971.
T1221 G12M, May 1966 intro date. These came with "Pre Rola" Celestion labels like this one:
This is a T1511 model (16 ohm bass cone 55hz 014 cone, pretty rare these days)
This is the T1239 model, which has a 30 watt rating on it's fake/repro label (15 ohm bass cone 55hz 444 cone, even more rare these days than the T1511)
This is a T1221 (AM17 date code, January 17, 1967) with the "Marshall" script logo, Pulsonic 102 003 lead 75hz cone (this one pictured is a 53-H1777 Celestion reconed model)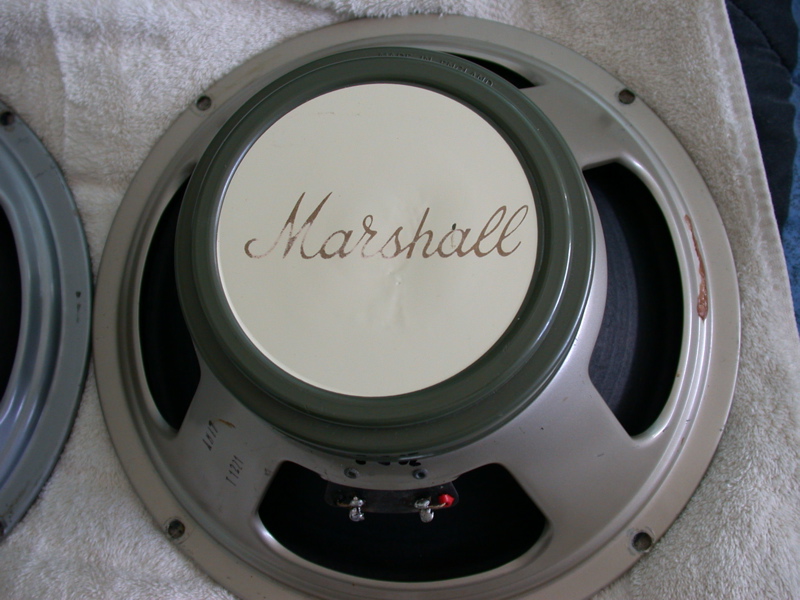 This is the G12M Reissue (Vox Label). 6402 cone code, 75hz, bass response, green magnet cover, and a statement on the label that usually says something like the following:
"This speaker is built to the original G12M specifications. Be careful not to exceed the speaker wattage ratings... blah, blah, blah". When you see that, you know it's a newer one. If it has a big long code on the frame, 12 digits in a row, you know it's a reissue, not an old one. The gray speaker tabs, the long code # (not just a Txxxx code) and the "Celestion, Ipswich, England" address are dead giveaways to it's recent production.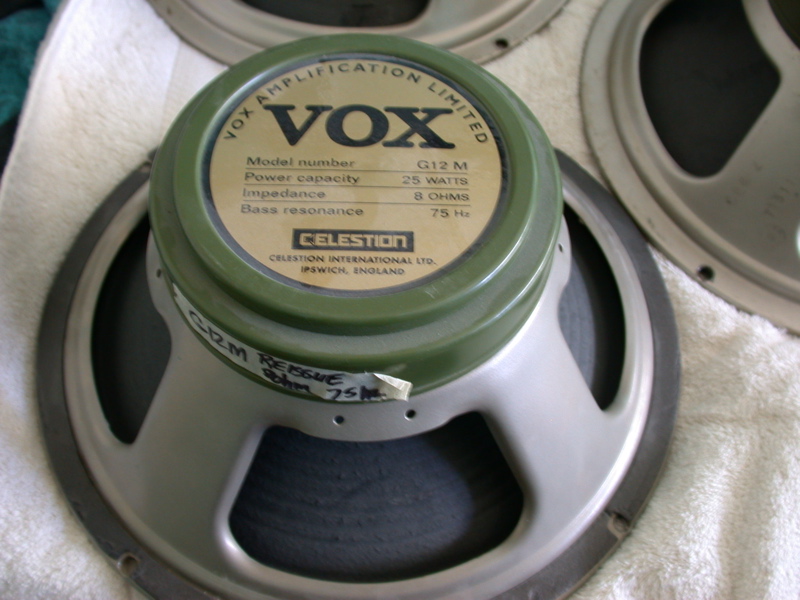 Now on to the other Greenbacks, the Celestion G12H30 Pre Rola's. These heavier magnet, 100db (vs. the G12M 97db) versons came out in October, 1966.
T1862 & T1234 G12H30 heavy magnet (50 oz. ceramic magnet), Pulsonic 102 003 75hz lead cone model, 8 ohms (pretty rare in 8 ohms). I've seen a total of 7 of these in 200 plus Pre Rola purchases. As rare as Pre Rola's are, these are amongst the rarest.
The T1862 came out of an open back combo I was told, so I'd have to guess the T1234 did, too. This info can't be confirmed, however.
T1862 G12H30 8 ohm pic: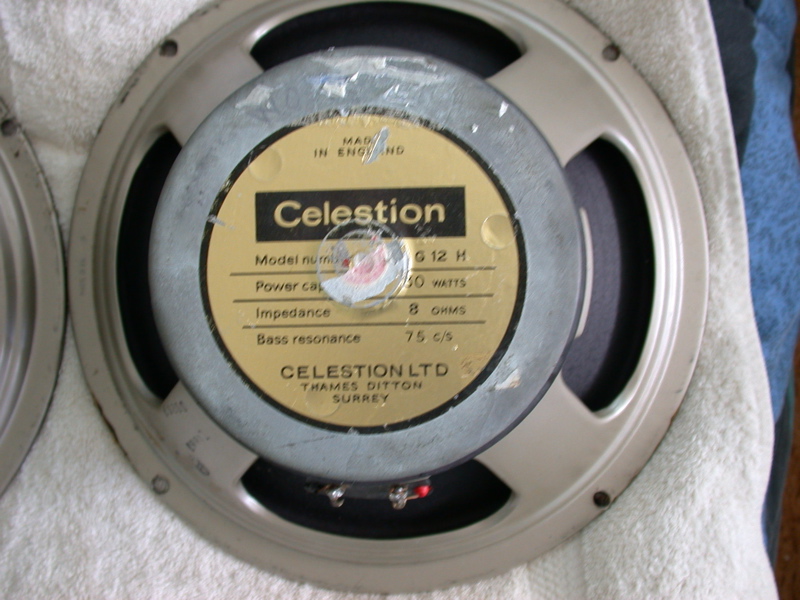 T1234 G12H30 8 ohm pic: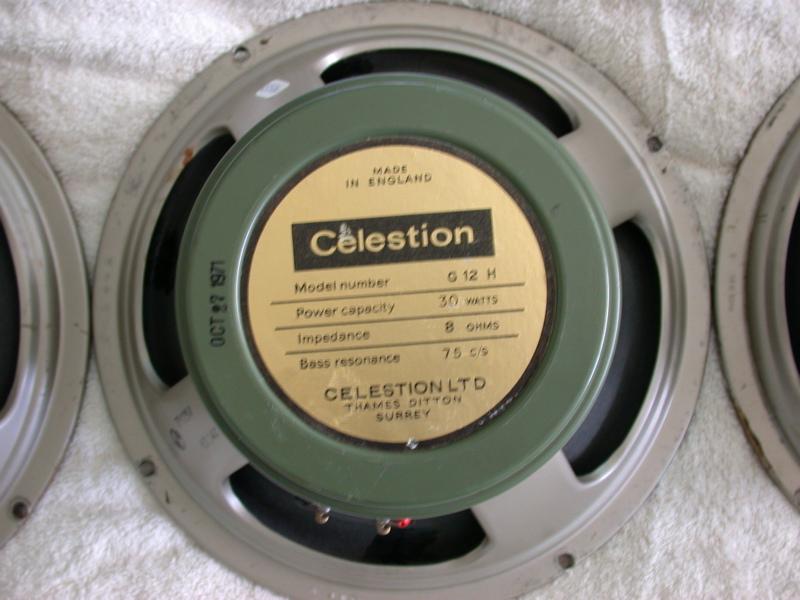 T1534 & T1281 G12H30 (50 oz. heavy ceramic magnet) Pulsonic 102 014 55hz bass cone. The T1534's have a label, usually they're marked as 75hz bass response (lead cone type) but they should have the 55 hz on them if Celestion ever printed enough labels, but they didn't... The T1281's were put into 4x12 BASS and 100 logo'd cabs. I got three of these in a 69 Marshall Basketweave cab I bought last year with original wiring and unbroken solder. Of the four I own, none has a label. Makes me wonder why the T1534 has one, unless it was in a 2x12 combo, or 2x12 cab perhaps? Same basic speaker, though.
T1534 pic: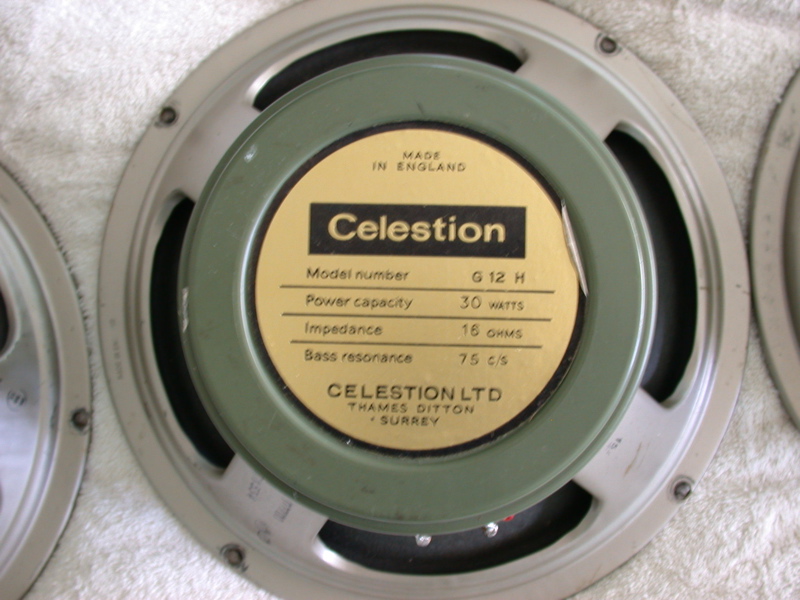 T1281 pic: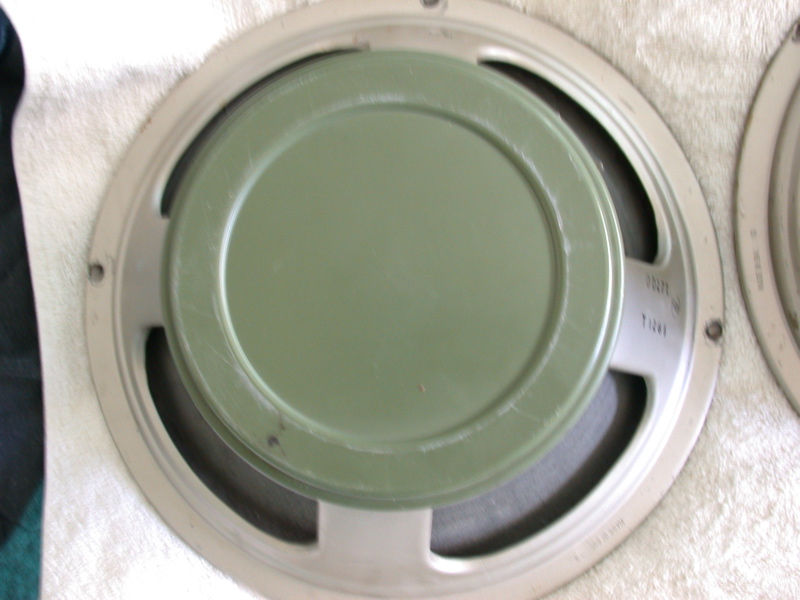 The deepest sounding models have the 55 hz bass cones, the brighter sounding models have the 75 hz cones. The "100" logo cabs and the "Bass" logo cabs used the heavy duty G12H30 55hz speakers (for the most part). Here's a pic of my 69 Marshall straight cab (1982 model) with the gold 6" Marshall and 100 logos.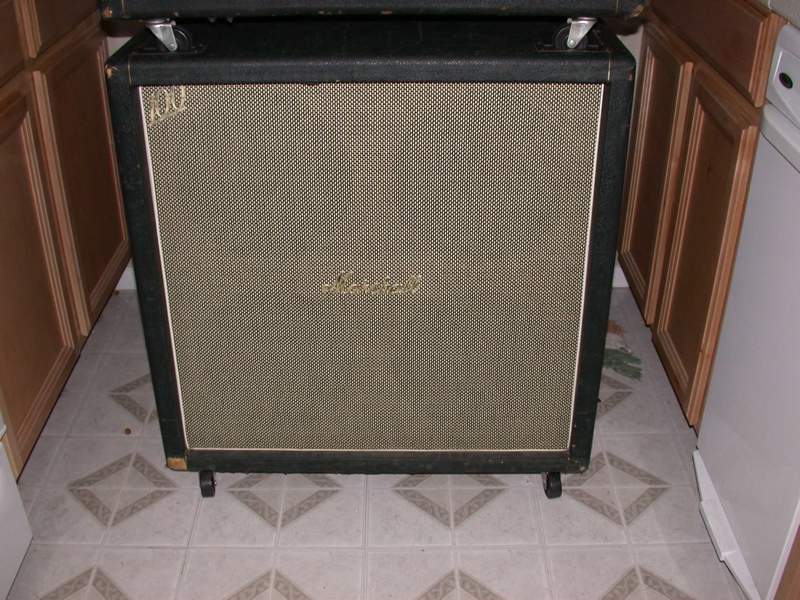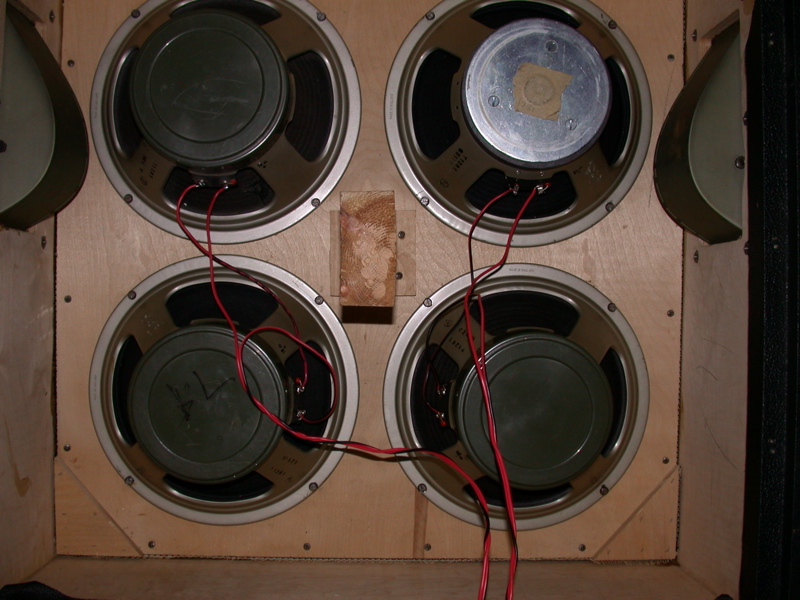 Hopefully this clears up some of the "Pre Rola" vs Rola vs. Reissue issues in a visually descriptive, informative way. Let me know if there's any questions or if you have an update for me. I suspect that one or two labels could have been lost, changed, or just outright forgeries, but at least the Txxxx codes, the date codes, and the cone #'s will authenticate the construction of these old "Greenbacks" when the labels are gone, swapped or false.
Keep in mind, these old speakers go for big bucks. I have paid up to $350 each for some of mine (acually six of them). The lowest price I paid was $100, and it was a mistake, too, because the seller thought it was dead (turned out to be a loose lead wire from speaker tab to cone). If you find a quad of these with matching date codes, be prepared to spend $400 or more each (assuming a tested, no issues original Pulsonic cone). Loose singles go for up to $350, matched date code pairs are usually $800, and I've heard of quads with matching date codes going for $1800-2000.
Good luck in your searches for the old tone!
Last edited: