I'm not sure where to post this question here, but since it pertains to an amp I'm posting here.
I "won" an amp on ebay on Wednesday. The seller has 100% positive feedback from 48 deals. The complete description of the amp follows:
"Industrial Amplification all tube, class A Overdrive 15. 15 watt, hand built, hand wired, finest components. Was the factory demo, 1st one built? Great tone like the Marshall, Soldano, THD amps that it modeled after. 1 - Celestion Vintage 30. Used very little, don't need anymore. Excellent condition."
Here are the two pictures of the amp in the ad: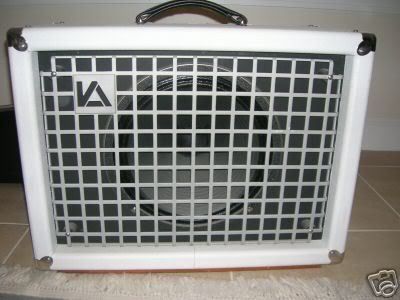 The amp arrived today. It seems to be mechanically fine and sounds good. But there's a rip in the tolex on the top out of view of his picture, there's a bit of Tolex separation on the front and on BOTH SIDES of the amp there's paint (see pictures of all below; markings are same on either side). None of this was in the description.
In response to one of the replies below, I have no idea if I got a good deal. It's a tiny amp company and I was the only bidder. There are no comparable sales and almost nothing on the net. I bought it with very little info and mostly on the recommendation of someone here.
Here's the ad:
http://cgi.ebay.com/ws/eBayISAPI.dll?ViewItem&rd=1&item=330211057434&ssPageName=STRK:MEWN:IT&ih=014
What, if anything, would you do? What should I expect, if anything, from the seller? Thanks for your opinions. I keep my stuff in mint shape and like others here may sell it if it doesn't compare well with what I've already got. I'm wrong in being annoyed?
[I HAVE POSTED THE RESOLUTION OF THE ISSUE BELOW. I THINK IT'S THE LAST OR NEXT TO LAST POST ON PAGE "2" OF THIS THREAD.]