For sale:
2013 Fargen Dual British Classic
25-watt head, on its own or with matching oversized 1x12" cab.
This is a history of classic Marshall in one box, and probably the best sounding and most versatile JTM45 - meets Plexi - meets JCM800 amp that I've ever played, out of several of the top boutique options that I have owned and tested in the past several years. Its previous owner apparently kept it as a studio queen because it is in impressively pristine condition, and I have only taken it to three rehearsals out of the house, but I finally finished both a large and small Plexi-style build of my own and I'm moving toward all DIY amps so... This has to go.
You can read plenty on TGP about what outstanding amps these are, so I won't go overboard on the details. Suffice to say it's a totally hand-wired Marshall-beater that still goes for dual-EL34 grunt and big-iron (Mercury Magnetics!) thump, but at a more manageable 25-watt output - which is still
plenty
loud when you dial up the excellent Master Volume on each channel.
Unlike many of Fargen's DBCs, this one actually was custom-ordered to be truly "Dual British": the top channel's Decade Switch gives you your choice of JTM45 / Superlead / Hot-Rod Plexi preamps; the lower channel's Decade Switch covers Fargen's "Olde 800" voicings: JTM45 / Plexi / JCM800.
It also has a great buffered FX loop with level control, with a bypass switch, and easy bias-access points.
While the duplicity might seem redundant, it actually makes for superb versatility. I have really dug it even with both channels set to JTM45, or Plexi/Superlead, for example, but with a rhythm tone dialed in on one and a lead tone dialed in on another. Of course the spectrum gets far more diverse than that if you want it to.
Both the head and cab are in Fargen-exclusive JDesign cabs in blonde Tolex, with custom flame-maple fascias.
I will sell this head on its own, with fitted padded cover and channel footswitch, with a nearly new set of JJ EL34s correctly biased and ready to go (and it has the back panel, I just took it off to photograph the head), or you can have it in a bundle with the 1x12 cab, which also has a fitted padded cover and is loaded with an Eminence CV-75 speaker. I won't sell the cab on its own, because I can still use it with my own amps, and it is possibly the best sounding 1x12 I have ever heard (voideless Baltic birch ply, proprietary design, oval D-style back port).
SOLD
.
Cab:
...Probably keeping the cab!
No trades, thanks - I just don't need anything else!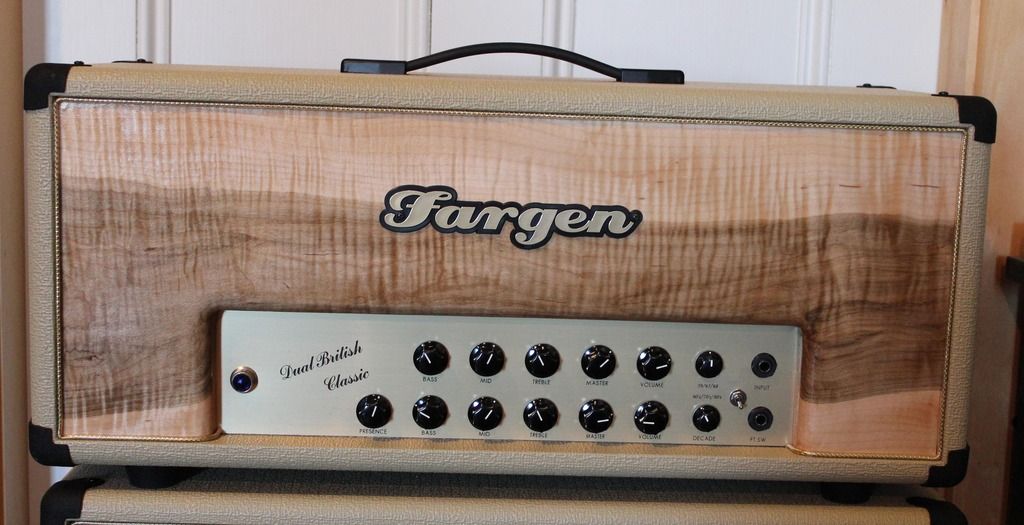 Last edited: