killerburstguitars.com
Silver Supporting Member
From the Ernie Ball Music Man 2014 Premier Dealer Limited Run, this instrument features a unique and limited package of specifications that were available only to instruments ordered during a 30-day window in Spring 2014. The lightweight and toneful African mahogany body is finished in a custom Neptune Blue finish. The package also included figured, roasted maple necks and high profile, wide stainless steel frets. This guitar is believed to be the one and only Silhouette Special made with this package of features!
Specs listed below. BOLD text indicates special feature limited to this instrument only.
OHSC included.
Model: Silhouette Special
Size: 12-1/4" wide, 1-3/4" thick, 36-1/2" long (31.2 cm wide, 4.5 cm thick, 92.7 cm long)
Weight: 6 lbs, 5 oz (2.86 kg) - varies slightly; 7oz (0.2 kg) more with tremolo
Body Wood:
AFRICAN MAHOGANY
Body Finish: High gloss polyester
NEPTUNE BLUE
Bridge: Music Man® vintage tremolo of chrome plated, hardened steel with bent steel saddles
Pickguard: Black
Scale Length: 25-1/2" (64.8 cm)
Neck Radius: 10" (25.4 cm)
Headstock Size: Only 5-7/8" (14.9 cm) long
Frets: 22 - High profile,
WIDE width STAINLESS STEEL
Neck Width: 1-5/8" (41.3 mm) at nut, 2-1/4" (56.9 mm) at last fret
Neck Wood:
Roasted Birdseye maple neck
Fingerboard:
Roasted Birdseye maple
Neck Finish: Gunstock oil and hand-rubbed special wax blend
Tuning Machines: Schaller M6-IND locking
Truss Rod: Adjustable - no component or string removal
Neck Attachment: 5 bolts - perfect alignment with no shifting; Sculpted neck joint allows smooth access to higher frets
Electronic Shielding: Graphite acrylic resin coated body cavity and aluminum lined pickguard
Controls: 250kohm volume and tone - .047µF tone capacitor
Switching: 5-way lever pickup selector
Pickups: HSS - 1 DiMarzio virtual PAF; 2 DiMarzio custom single coil
$1450 Shipped CONUS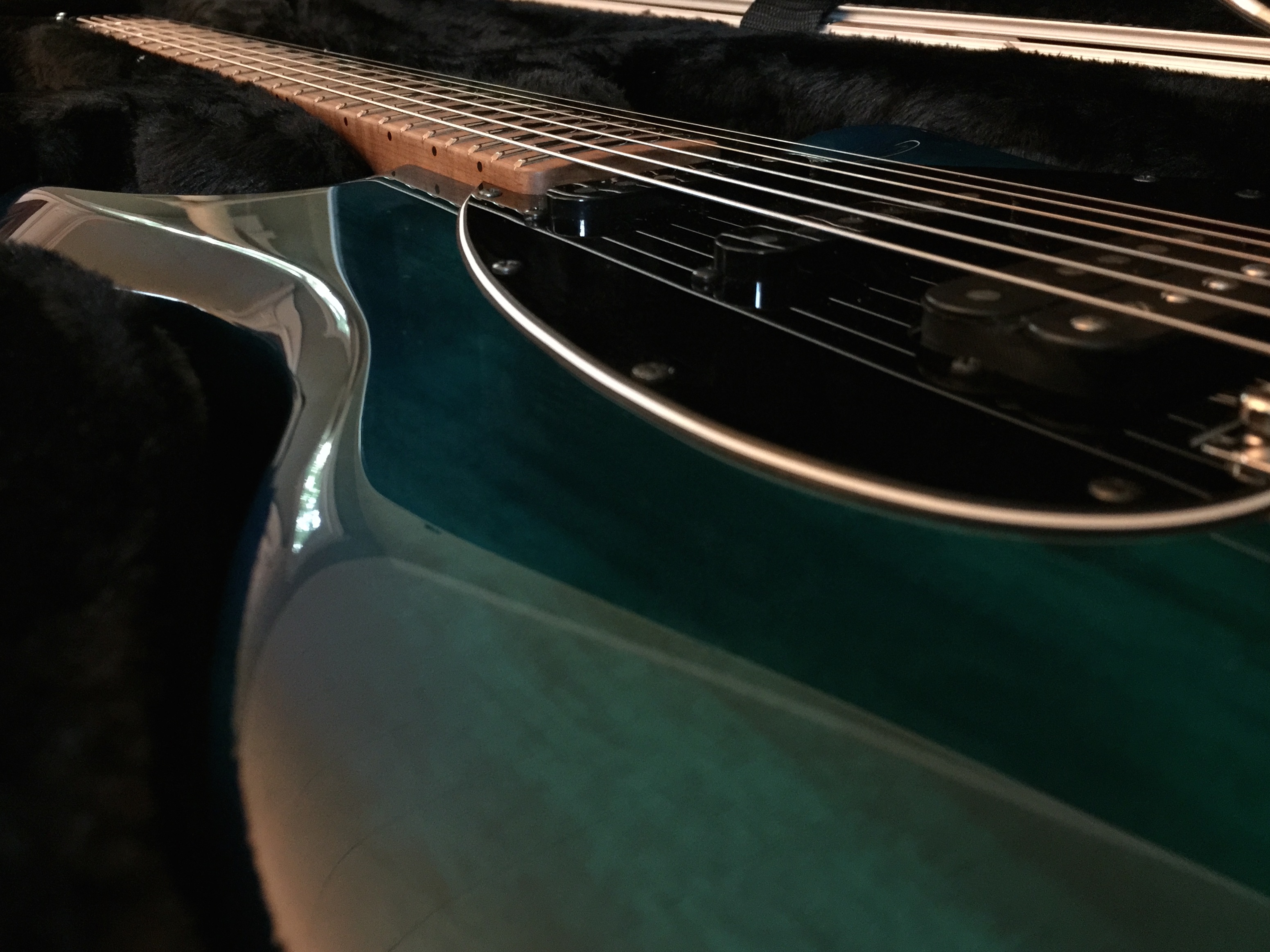 Amazing condition 2004 Suhr Standard in Graphite Metallic. Swamp Ash body with Pau Ferro neck and fingerboard and double-screw humbuckers (DSH+ bridge, DSV neck) are fantastic tone-cocktail ingredients. Double cream pickups, which are no longer available. This guitar will give you everything from smooth and silky saturated lead tones with long sustain and effortless harmonics, or all the spank and chime you would expect form a more traditional single-coil guitar. Gorgeous pau ferro neck and fingerboard with an oil finish handles like an F1 race car. Full specs in pics.
$2100 Shipped CONUS