Used and in excellent condition and perfect working order. $160 including PayPal and shipping w/in the U.S. by USPS.
This is from VanAmps website:
"The Sole-Mate is a solid-state analog reverb pedal utilizing the MOD™ three-spring reverb tank, considered by many to be the best vintage sounding spring tanks available. The Sole-Mate reverb pedal employs a bipolar fully regulated power supply for increased headroom and low noise operation. The "Tru-Out" impedance matched non- loading circuitry ensures guitar tone integrity. Hard wired buffer free bypass too! Only the finest in components and hardware are used, wrapped in some of the most beautiful coverings available."
Dimensions: 10"W X 6"D X 2"H
Weight: 3 lbs. w/power supply
Three-spring MOD™ reverb tank
Output Level and Dwell controls
LED indicator lights for reverb effect and power
AUX jack and switch: An additional foot switch control for your amp's tremolo or other non-momentary switching duties. See manual for details.
Power requirements: 12VAC, Current draw: 125ma peak
Supplied with 120VAC/1000ma power supply (230VAC available)
Optional 9VDC/300ma Power Output Jack (2.1mm)
Pedal Deck compatible.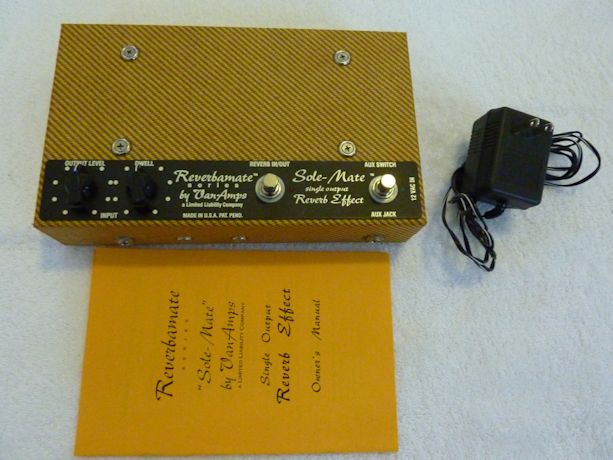 Last edited: