We scratched our heads trying to come up with a way to get the word out that we're Boston's newest Randall amps dealer... we think you'll dig this! Not only are we offering 10% off any in stock Randall for the month of November but we've got GEORGE LYNCH coming in to kick things off in a huge way! Seating is VERY limited, buy your tickets here:
http://www.mattsmusic.com/LYNCH_CLINIC&Attributes=Yes&Quantity=1-prod.html
​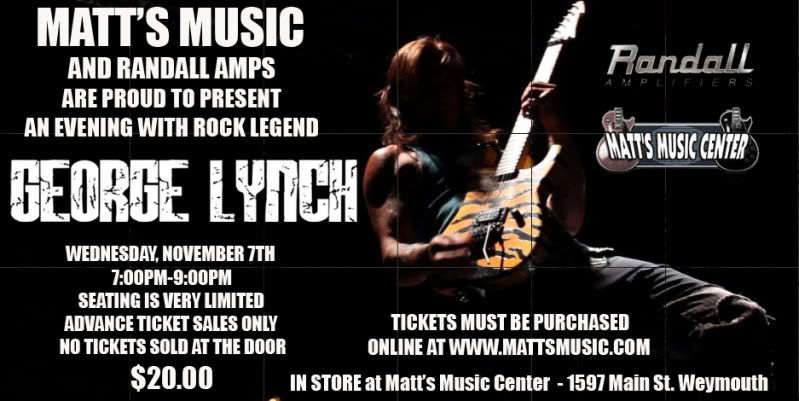 Matt's Music Center
1597 Main Street Weymouth MA 02190 USA
781-335-0700
www.mattsmusic.com
facebook.com/mattsmusiccenter
-----------------------------------------------
6 months 0% Financing Available
ESP, Jackson & Charvel Custom Guitars
Winner of NAMM's "Top 100 Dealer Award"
New England's Only Bad Cat & Dr Z Dealer
PRS, Grosh, Suhr and Tom Anderson Guitars
Splawn, Bogner, Diezel, Mesa Boogie, Two Rock
Now stocking FRIEDMAN and FUCHS amplification