What happens when you cross an ES-175 with an ES-295? You get something in between: please to enjoy the tale of the Gibson ES-275, a model that never existed, but should have!
Prior to a trip west to CA, I happened upon this diamond in the rough. A 175 refinished green sometime in the 70s, with P90s unfortunately eviscerated and replaced with nauseating humbuckers and other atrocities too unspeakable to repeat here, not limited to but including painting over the multiply binding on the body top. The cumulative effect was to render the instrument unplayable. Chief among these abominations, as you'll see is the broken neck binding and aborted attempt at tailpiece replacements. The nail in the coffin was the brass toggle switch ring. I'm sure you'll agree with me that this was borderline firewood but for the knowledge that a team of experts on the east coast awaited my mere signal that job was to be done. And done right: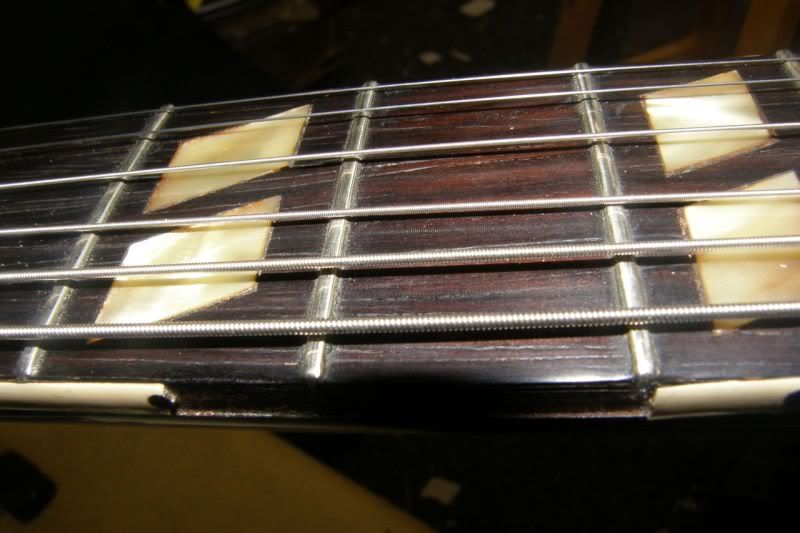 Happily I was able to visit the instrument in person thanks to the happy accident of being in the CA area at the right time and after a quick examination, determined that rehabilitation was within my means.
Enter Team ES-275, known quantities and new talent, all equal to the task. Greg Kurczewski at Metro Guitar in VA would handle the hardware and setup, including installing one of the 295 tailpieces I've acquired in anticipation of just such a need. What it does to restore tuning fork resonance to an otherwise muted tone, can't be overstated and Greg dialed in the full ring and ease of action that must be felt to be believed. Steve Ripley in VA restored the lost binding on the neck and body edge that had been painted over - painstaking work and done with generosity that I can't repay. Jared at BrandonWound pickups was tasked with winding a pair of custom humbuckers that would drop into the routings for that size, but voiced to sound with P90 voicing - full string to string clarity and definition - over the course of a few emails, Jared understood the sound that was in my head and extracted it. Perfectly. And the keystone for the vision: Mike at C-Rocker Guitars in CA was given the formidable task of fabricating an ES-295 style pickguard with floral design in metallic green to match the existing paint and with pickup rings to match. Stike at Rowycko was on call as refinishing emergency response team, but not deployed in the field (another job awaits). We kept the existing finish and the results follow:
Restored neck:
yes Virginia, there is a green 295 pickguard: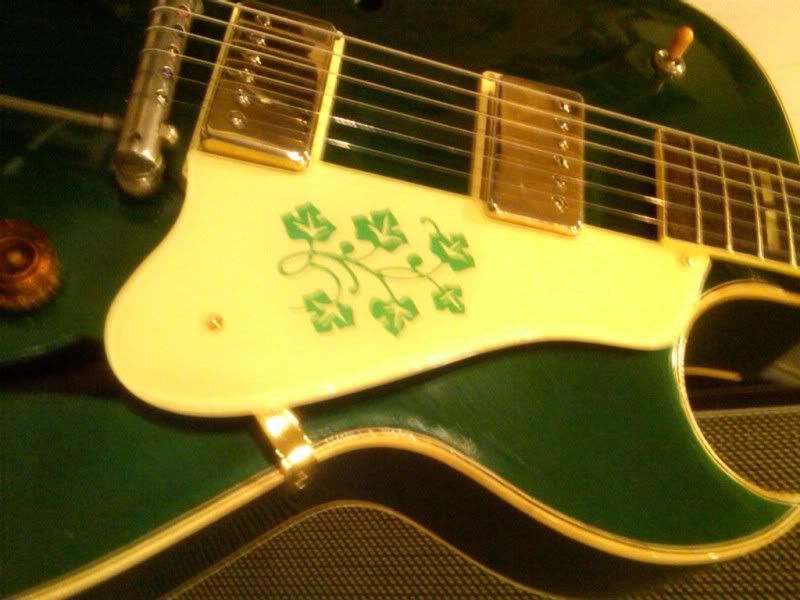 the back:
the face:
upright but not uptight: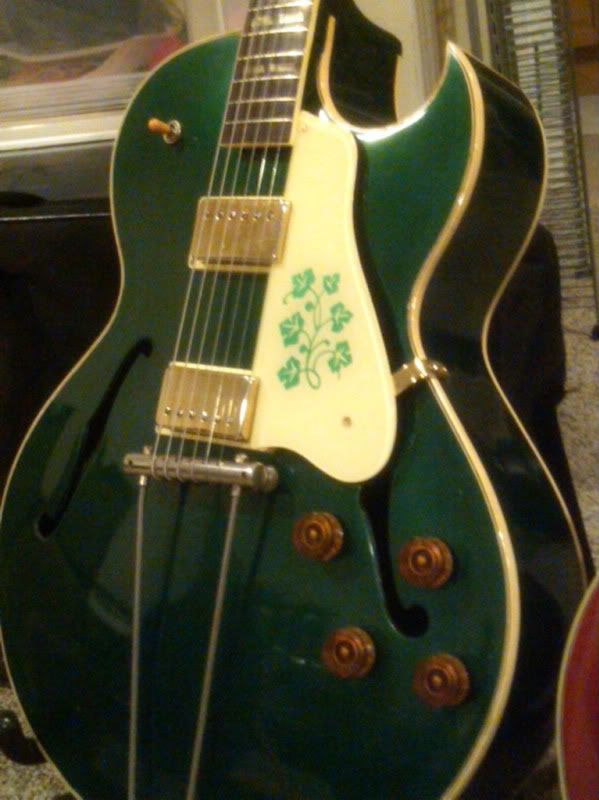 pairs nicely with this custom build by Billy Penn at 300Guitars:
and here we see the happy family (thus far):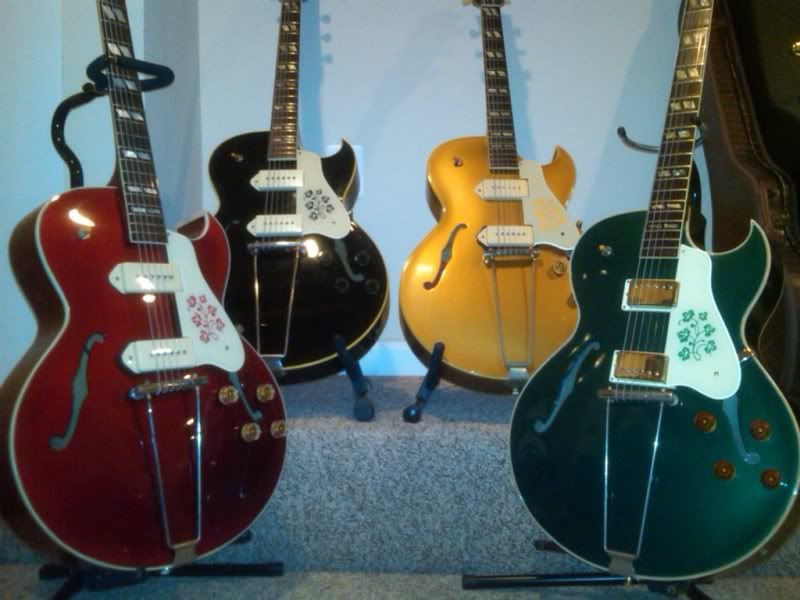 I've gigged it already and it performed beautifully. Did a demo session with it tonight and am happy to say this a model that Gibson never made but I'm glad that Team ES-275 stepped up and delivered!
All good.
Last edited: