At the moment, I'm playing into a late '80s Peavey Special 112, an old 160-watt all-transistor amp. For a 24-year-old, $150 amp, I've been very impressed with its flexibility and its capabilities. With a fuzz pedal set to minimum gain between the "preamp out" and "power amp in" jacks, I get a lean, clear, gritty, somewhat "jagged" sound that reminds me a lot of some of my favorite players (Andy Gill from Gang of Four, Bernard Sumner from Joy Division, J Mascis of Dinosaur Jr) without totally copying any one of them.
In an absolute sense, I'm really happy with that Peavey Special. However, I'm wondering if that's because it's actually a good amp, or if I simply lack the experience to even know what a good amp is - and I
am
under some (light, friendly) pressure from friends and jam mates to "go tube."
I've tried out several tube amps - a Blackstar HT, a Bugera V22, a Peavey Classic 30, and a couple Fenders and Marshalls that I can't remember off the top of my head. Having experimented with the tubes, I found the following:
a). I generally try plugging a fuzz pedal between the preamp and the power amp like this: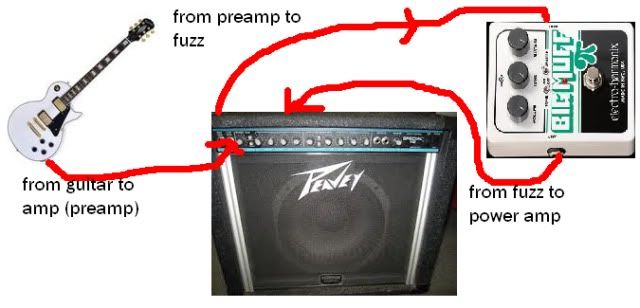 However, with the tube amps I've tried, it's really hard for them to respond well to my fuzz pedals (EHX Bass Big Muff, EHX Big Muff with Tone Wicker, Way Huge Swollen Pickle). I get a lot of hissing, humming, and other ugliness that I don't have on my Peavey Special.
It's less of an issue if I go from the guitar to the pedal to the amp like this:
...but then the preamp EQ doesn't do much because it can't overcome the level of amplification that's already coming out of the stompbox. I might as well just hook the pedal up to a cab Jimi Hendrix-style and call it a day.
b).
By themselves
, I liked the Peavey Classic best, and then the Blackstar. They're still not the sound I'm going for, though (and I miss my fuzz pedals, damnit!). Their OD channels are too thick and chunky for me - fantastic sounds for blues, country, or classic rock-style guitar, but they don't nail what I'm going for.
And to be clear: when I go back home to that Peavey Special 112, I plug my rig in and it sounds
so
much better to me than what I was getting with the tube amps at the store or at my friends' places.
Is it possible that my rig is better than the sum of its parts, or that I'm just a transistor amp guy? Or is there a tube amp out there (preferably under $500) that I haven't tried yet but will get me the sound I'm looking for?
Either way, what do you recommend?
EDIT: I also want to point out that this is NOT a TransTube amp - this is a Special 112 that predates the Transtube series.
Last edited: