Ok I got my new board in and my freq boost. For a little while I was just using the Volume pedal -> MonsterP MkII -> sTone Bender -> Screw Driver -> Tim -> DD-20.
When I got the new stuff in, I put my wah back on, so it's this: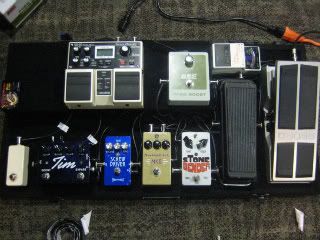 The signal chain is Volume -> Freq Boost -> sTone Bender -> MkII -> Crybaby -> SD -> Tim -> DD-20
Now I have some tone loss, plus my fuzzes are acting funny. I'm assuming the tone (mostly high end clarity) is due to the added cable length w/ the two tier board? I know that old Dunlop Crybaby doesn't help, but when I bypass it, it doesn't really make a HUGE difference. What can I do to help this? I don't want to go back to the Loop-master strip...it made switch out pedals difficult.
Also, my board sat in my car today. It wasn't a very hot day, but car in sun made it warm in there. When I got out my board to play tonight, the MkII sounded really farty and wouldn't sustain. However, after about 15 minutes it sounded ok. Is that because of the temperature? I had always heard about some fuzzes (Ge) being picky about temperatures, I just had never experienced it.