Platinum Supporting Member
Highwood Guitar Parts offered up some of their Contoured Vintage Saddles for beta testing/ review at the end of 2013. I received these Highwood Contoured Vintage saddles a few weeks ago, just before NAMM. TGP's Seljetnoma favorably reviewed these same saddles month ago. Thanks Seljetnoma - excellent photos (link to his review:
https://www.thegearpage.net/board/index.php?threads/1367532&highlight=highwood
Here's what you get: 6 of these beauties - they all look just like this one. Impressive finish/ polish on them - look like jewelry, lovely machining. I have to say they made the stock saddles on the Gotoh 510 series on my Lentz SSL look ... well, look not as good as the Highwood side by side.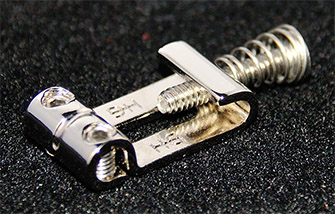 Here's stock:
Can you see that the saddles are bent opposite direction of stock saddles and that the height adjustment screws are threaded into the bottom of the saddle while the hole on top of the saddle turns into an access point to reach the adjustment screw with an allen wrench?
Here's how they look installed: (Pics grabbed from the Highwood website - their macro is better than mine)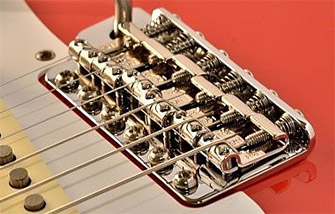 Installation was a breeze, as was setup - no problems, the machining on all the intonation adjustment screws and height adjustment screws feels solid and they are clearly precision made. On my SSL the slots in the saddles, which by the way are polished and smooth as can be seen in the pic above, align the outside E strings in from the edge of the neck and the other strings align dead center over the neck. String spacing was fine for me - I wouldn't like it if the E's were any closer to the edges of the neck than they are, but the strings sit perfectly well, exactly where they sat with the stock saddles.
Also, the slots in the saddle are so smooth there's virtually no chance of breaking a string at the saddle due to a burr.
So, how do they SOUND? They sound great, and more, they FEEL great. At first strum unplugged I was hearing so much fundamental pitch that I thought maybe there wasn't as much "air" around the notes as I was used to hearing. WRONG! As soon as I plugged into the amp, BFVR w/ 2x Celestion Gold 10's, there was plenty of air, but more fundamental pitch than on the stock saddles. The attack feels faster, but I don't think it is - there's just more fundamental pitch than the stock saddles. That may take a little getting used to at first, but it sounded normal and vintage to me within minutes - just sounded like a great Strat.
I've since played a couple of sets at gigs with them, to insure that they sounded "right" to me in a band setting, and they do. They sound good through stomp boxes too - no weirdo high overtones or anything, no 'ping' on the attack.
They look great, they feel great, and YES - they TOTALLY solve the problem of exposed height adjustment screws shredding your palm! We all know that stock units have different 3 different length adjustment screws and that the palm shredding problem can be mitigated/ made manageable with careful selection for length, but the Highwood saddles just solve the issue better.
Case in point: I have a CIJ Fender Strat with height adjustment screws chosen selectively to make it feel as good as it can viv-a-vis palm shredding, and it's not bad at all: However, the Highwood saddles are better.
Did I mention they sound great? They sound great, fantastic actually. Palm muting is slightly different - took me almost a full minute to adjust my right palm technique (GRIN).
To sum up:
PROS:
Look great, sound great, and feel great. The machining is precision, the plating is beautiful, fit and finish are excellent.
CONS:
None, none at all.
They are available at:
http://www.highwood-guitarparts.com/
Thanks, Dana O.
Last edited: