Hi,
I installed a fresh set of Highwood vintage style saddles on my strat with a Gotoh 510T tremolo.
Until this week I had the Gotoh block saddles on the trem, but I decided I wanted something more vintage sounding and looking on my strat.
One of the major benefits of the Highwood saddles is that the height adjustment screws aren't sticking out and don't pry in you hand as real vintage saddles do, the saddles are bend a bit inwards on the underside so the height adjustment screws go through both the upperside and the lowerside of the saddles.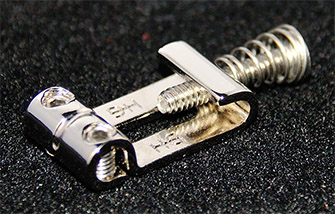 There's a little notch on the saddle where your string will rest on, keeping your string in place when doing bends.
The result is a more steady platform for the string to rest on, giving the saddle slightly more mass resulting in a bit more sustain and more tuning stability!
Installing the new saddles was a bliss and after installing a new set of strings I put the Highwood saddles to the test.
The unplugged sound was very promising, but when I put the saddles for a real live test it's qualities became obvious!!
While I was under the impression that a vintage style saddle couldn't be improved any further, I was surprised to find that this saddle is a major improvement over the vintage design, they sound very articulate with all the vintage sound qualities but with added sustain.
Notes ring and there is a nice balanced warm sound, without any of the thin sounds other saddle brands gave me in the past.
I had vintage style Gotoh saddles on this trem some time ago, but went back to block saddles because the Gotoh's seemed to thin the sound a bit.
Not so with Highwood saddles, they are great with vintage appearance and modern features, they are the final answer to my search for new saddles.
Thumbs up for Highwood, they are great to deal with and I highly recommend them for all in search for a major tone upgrade and their playing comfort is a nice added bonus, they feel smooooth!!

Check them out
http://www.highwood-guitarparts.com/
Last edited: