After >25 years of playing/collecting numerous electric guitars, I now am fortunate to have three diverse guitars built to my custom specifications by master luthiers. I am a hobbyist player who plays about 1/2 jazz, 1/4 electric blues and 1/4 rock from my childhood (1960s and 1970s). I wanted 3 guitars to cover this range of tunes.
I made the decision about 3-years ago, to significantly reduce the size of my guitar collection, but to get built exactly what I wanted by master craftsman. I put my trust to buy custom instruments, sight unseen by three luthiers; Bill Comins, Ron Kirn and Chuck Thornton. All three luthiers were a pleasure to work with, clear in their communication and delivered on time and in spades.
I thought that I would make this posting to help anyone else who is struggling as to whether or not to go the sight-unseen custom route and to put forth three names all who get my highest recommendation. My experience has been totally positive in all three cases. Here they are below with some comments on each guitar and their builders.
Comins - Classic
(Archtop)
Bill Comins (Pennsylvania) is both a great player and luthier. I think his designs which started from the Benedetto school of archtop design have evolved into his own unique take on the modern archtop. Bill is very much an artistic and introspective thinker which is reflected throughout his designs. I had Bill build a custom version of his "classic" archtop for lower volume solo play with a 25" scale. The top is Carpathian spruce with the back and sides made from western Bigleaf maple. The custom Kent Armstrong adjustable pole piece pickup has a warm timbre and is very clear and full in its tone for a floater. At home, I play this unplugged about 1/2 the time, so I had Bill put hidden volume and tone pots on the finger rest. This guitar is great for straight ahead jazz and solo jazz chord melody.
Ron Kirn Signature - Strat
(Solid Body)
Aside from building some of the finest custom Fender-style electrics out there, he is a very funny guy (he'll make you laugh with his e-mails). There are a lot of people who make their take on the venerable Strat out there, but none better than Ron in my opinion. It is simply the best playing Strat that I have ever played which includes Fender Custom Shop and a number of store distributed boutique instruments. Ron is all about executing the details. I had him build it with an ash body, Brazilian rosewood finger board, a thick C-profile Birdseye maple neck with Lollar dirty blonde pickups wired the way I like it. It is a great rock and blues guitar with wonderful single-coil tones with that classic Strat "quack".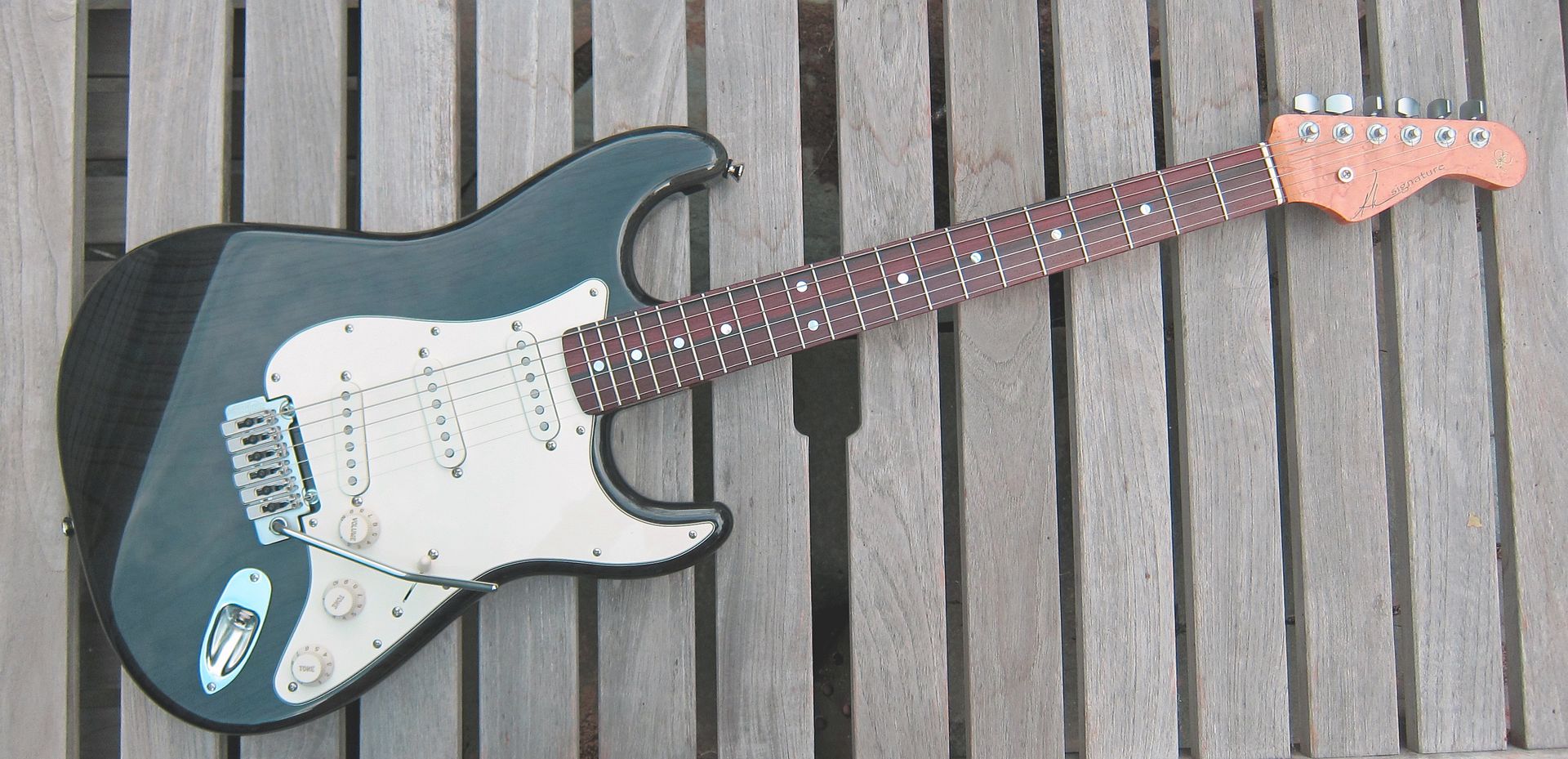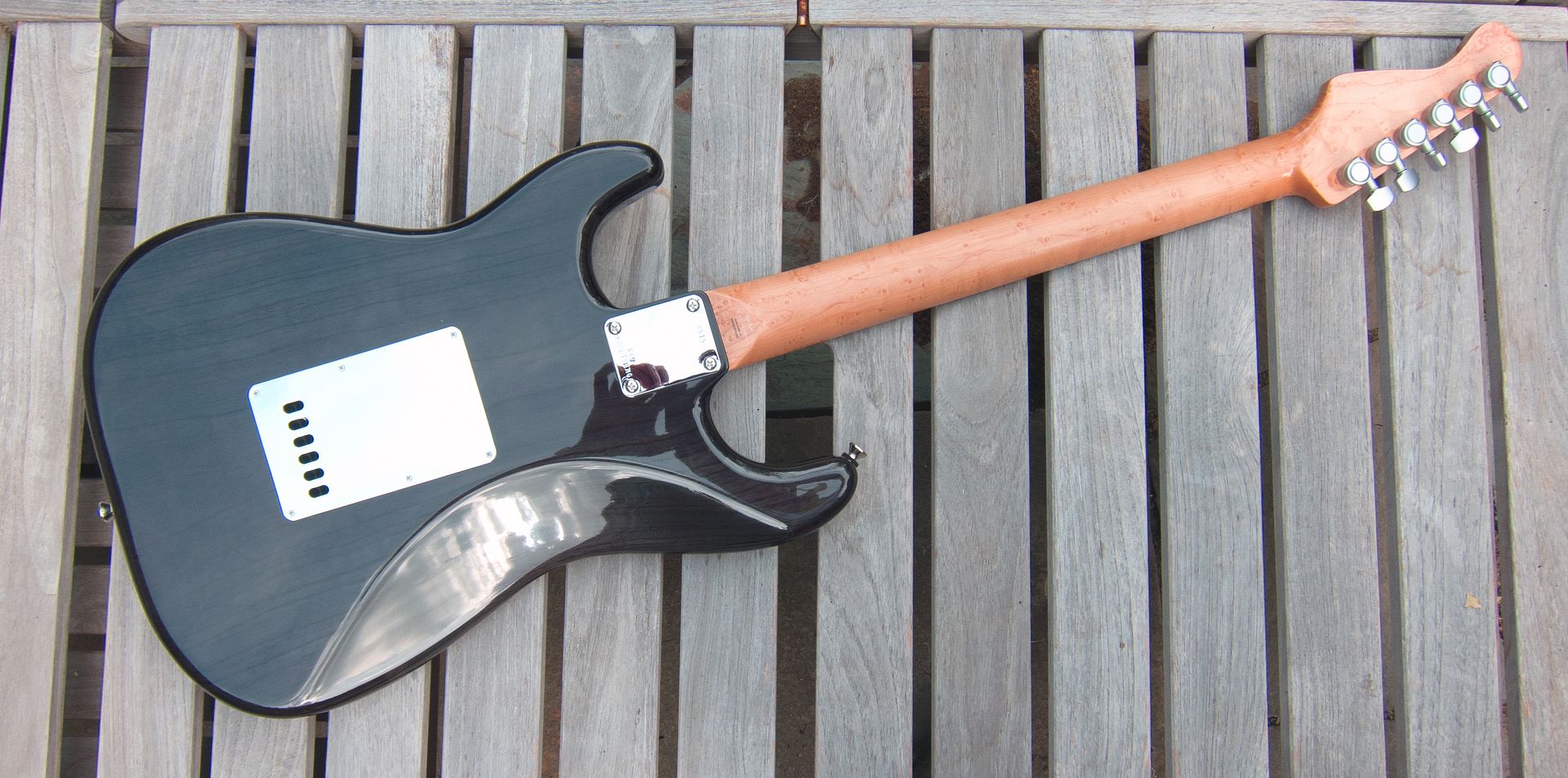 CP Thornton - Professional
(Semi-Hollowbody)
Chuck's vision of guitar design is rooted in his roots of being a player, repairing and setting up violins and guitars followed by working for an acoustic guitar master (Bourgeois). What strikes me about his guitars is aside from the beauty of his designs and the mastery of his craft is the practicality of his evolutionary features. Chuck's guitars are innovative in their construction, ergonomics and electronics in a refined evolutionary fashion. I had it built with a 25" scale, macassar ebony fingerboard, a thick C-profile neck carve, with Lollar low-wind imperials with a 5-way, split-coil wiring. This guitar is extremely versatile and can cover all three musical genres.


I am now on to pursuing the same route on the acoustic side of my collection. getting a custom flat top and gypsy guitars commissioned by luthiers. After those I am truly done (now stop that, I told you not laugh!).
Bob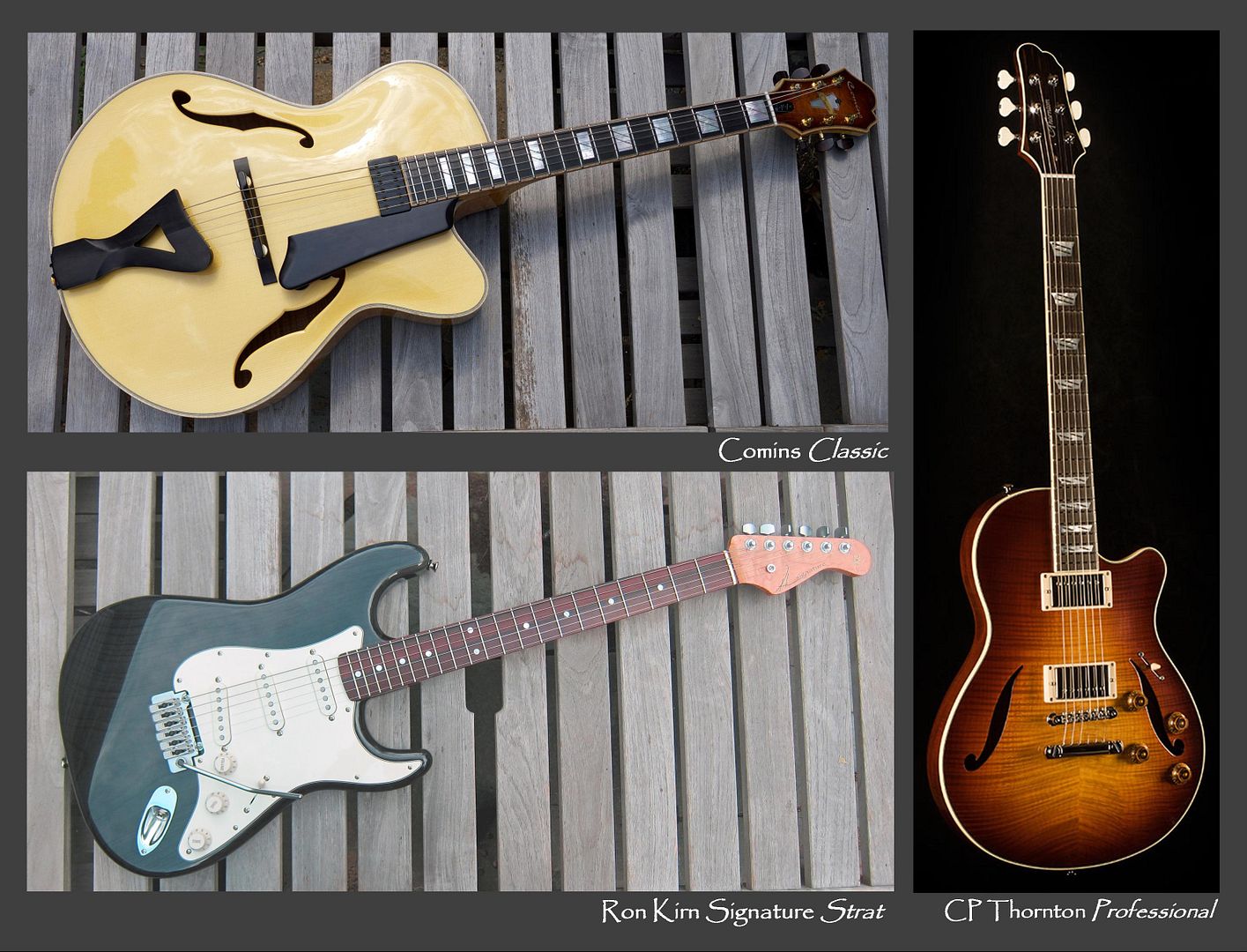 Last edited: