I received my Kingsley Harlot a couple weeks ago, but wanted to hold off on a review until I had spent some time with it and gotten past the initial Honeymoon.
First off, Kingsley customer service was terrific and, in my case, there was no wait for build-time as they had a few units on hand and ready to ship. Shipping from Canada to Washington State was pretty quick… (4 days if memory serves)
After using the Kingsley for the past 2 weeks, I feel comfortable commenting on the quality of this drive box.
-
Build quality
: Outstanding. Meticulous terminal strip wiring. Next topic.
-
Gain Range & Drive Quality
: With 3 gain "modes" available via a small toggle switch, it is possible to adjust the general voicing and gain range of the pedal to suit your needs before adjusting any potentiometers.
o The LEFT position is smooth, with a mild treble roll off that will suit players with brighter amps or those looking for a smooth legato lead tone
o The CENTER position is full frequency without any high attenuation
o The RIGHT position is a higher gain setting with full-frequency EQ and is well suited for heavier saturation, but also provides a slightly different voice for use as a low-to-medium gainer. (Slightly greater high-midrange content)
- Also worth mentioning: The GAIN pot has a beautifully gradual taper, and due to the nature of the 12AX7's breakup there is a WIDE range of subtle dirt and shading available with the Harlot.
- EDIT: Forgot to mention... Clean-Up with the guitar's volume pot is exceptionally good.
-
Equalization
:
o The center position of the MODE switch is incredibly flat. I've been microscopically nit-picking this mode for a few days, switching between bypassed signal and the Harlot set to a light breakup (GAIN pot around 1:00) ---- This is a real selling point for me, as I was looking for a drive with its own breakup character but which DIDN'T shift the EQ of my amp or sound like a pedal.
o In the center MODE position, I find the EQ to be flat at right around 12:30 or 1:00 on the TONE pot when the DRIVE is set for a mild breakup (1:00)
o As with any tube amp, raising the DRIVE level will result in more treble content as the preamp tube breaks up more… Adjust TONE accordingly, etc.
o There are no diodes used in the clipping of this pedal, so the Harlot doesn't suffer from the artificial breakup character found in most solid-state Overdrives. I can't stress how nice this is. If you're searching for an OD with natural tube breakup, a broad sweet-spot to the low-gain and mid-gain range, and a super gradual taper to the onset of overdrive --- The Harlot rules at all of this. (I still love MANY solid state ODs for what they do, so don't get me wrong. For seamless "tube-like" OD, why not go tube, though?)
Overall, I feel like the Harlot stands outside of the realm of most overdrive pedals, simply because it IS a tube gain stage that is meant to be added to a tube amplifier. It's not emulating tube breakup. It doesn't sound artificial or hyped. It doesn't sound like it's "trying to be tube-like" as so many solid state ODs do. Given, there is a JFET in the initial stages that drives the 12AX7 into clipping, but it's employed in such a way that it's not imparting character to the breakup. In fact, I don't ever hear anything except the breakup of a good tube preamp… So it's a non-issue for me.
I have been running the Harlot with a Tele, Esquire, and SG Classic (P-90s) into a Vox AC30 and an amp I designed (Pentode preamp, Tweed Pro power section) at various volume levels and with other overdrive, modulation, and delay pedals. I find that I like the Harlot "sandwiched" between my two current overdrives (Menatone TBIAC & Bearfoot Honey Bee) like so:
Guitar > TBIAC > Harlot > HBOD > Delay > Modulation > Amp
Both the TBIAC and HBOD have lots of character to their drive, and adding the Harlot as the primary OD frees the other two up to act as color / shading boxes (which is where they excel). The Harlot loves to be hit by another OD for greater saturation (TBIAC > Harlot) and also excels at providing greater drive & sustain by driving another OD ( Harlot > HBOD) ----- Lots of versatility here.
Since I have a ton of old 12AX7s, I did some swapping to see if there were any tubes that I liked better than the Russian Tung Sol that comes stock from Kingsley. I have to say, the Tung Sol is a pretty nice sounding tube --- There's no need to go spending a bunch on NOS. That being said, I really like an old Black Plate RCA 12AX7 in there, and also found an old Amperex Bugle Boy and a Telefunken with long plates to sound great as well. If you have some old tubes laying around and like to experiment, it might get you that "extra 5%" that we gear junkies obsess over…. The Harlot is terrific with the stock tube, though.
I also had some Oxblood Red Davies knobs laying around so I swapped those on... Perfect match!
I would recommend this unit to someone who is looking for a foundational drive tone that they can incorporate as a part of their amplifier's existing gain stages. While it CAN add color, I find that it's real strength is seamless integration into an existing amplifier --- And its ability to work with the amp AND other drive boxes to add new textures and colors makes it stand out from most solid state drives I've tried.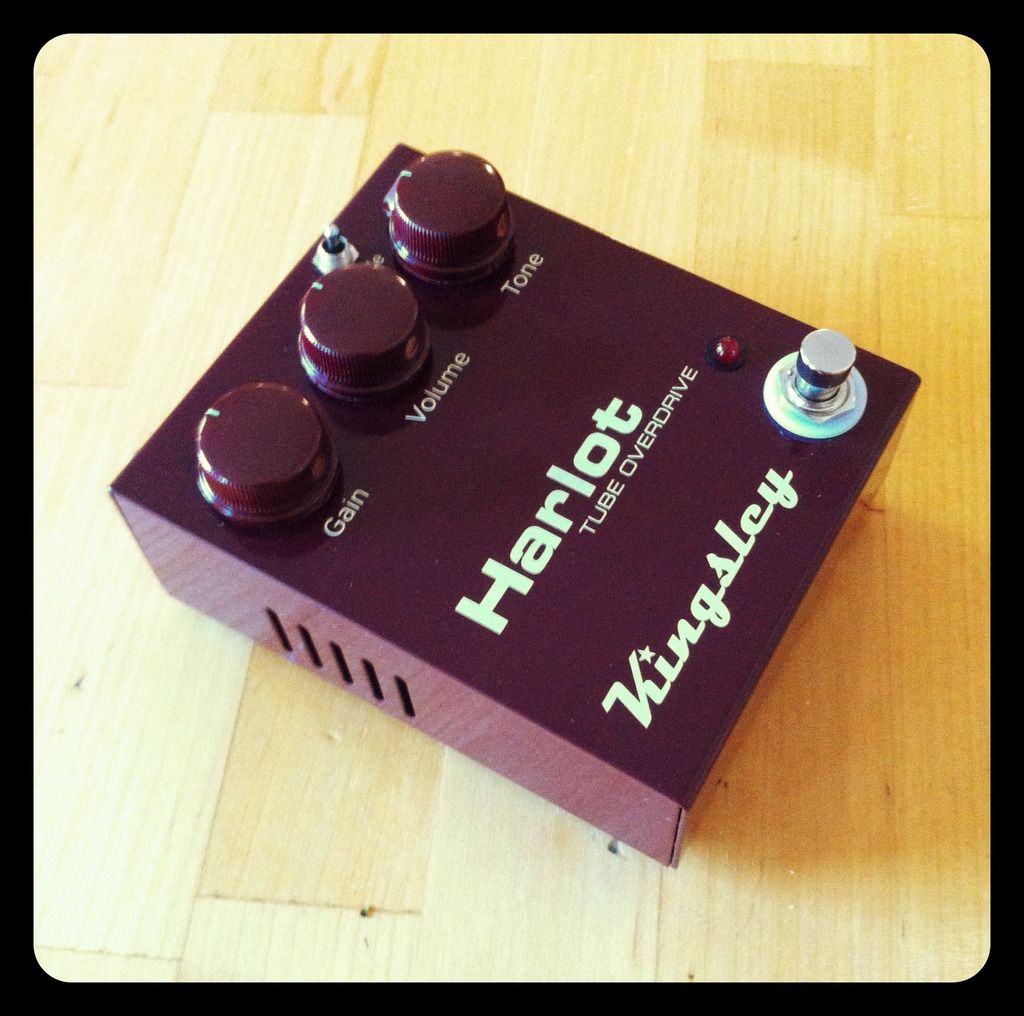 Last edited: