Hi! I´m Silvio from Argentina, I´ve been a member here from a couple of years, never posted much, but read a lot from this forum, it´s been really helpful! I wanted to share something from my country that maybe a lot of you didn´t have idea, a little bit of the history of the rock music in Argentina, wich is very rich in many aspects.
I would like to start with the very first rock/blues band that was recorded here, it was a power trio called "Manal".
Manal was formed in 1968, with Javier Martínez in drums and lead voice, Claudio Gabis in guitar and Alejandro Medina in bass. They were the first band in the world making blues in spanish, and with a very own style, they were not just copying american or english bands of the moment, they blended several styles, mainly blues, rythm and blues, rock and jazz, but also vernacular styles like tango and candombe, they sounded like no other band of the era. Also their lyrics reflected a more mature aproaching than most of the other bands and solo musicians of the pop/rock scene at that time.
They recorded their first single in late 1968 ("Qué pena me das"/"Para ser un hombre más") and a second one in mid 1969 ("No pibe"/"Necesito un amor"), the reaction of the public was very positive and the started recording a LP, called simply "Manal", recorded in late 1969 and released in 1970. This LP contains a lot of their most classic and acclaimed songs like "Jugo de tomate", "Todo el día me pregunto", "Avellaneda blues" and "Avenida Rivadavia" for example.
Very talented kids, don´t you think?
Something interesting about the recording of this LP; at that time it was almost impossible to get decent gear in Argentina, you couldn´t just go to a musical gear shop and buy a Fender or Gibson guitar, or a Marshall or Fender amp, they just sold entry level, local made electric instruments and amps, most of them were very low quality and not suitable for a professional musician, the best guitars made here were the Repiso guitars and basses made by a luthier called Sergio Repiso, they were very fine, first class instruments, and one of those guitar was what Gabis played in this LP. But the main problem were the amps, and if you wanted to get some overdrive by cranking them, you were in trouble, some amps just stayed clean and others had issues with oscilations and incontrolable feedback! Fuzz pedals? forget it! they were not available here at the time. So, how did Gabis get those overdriven tones we hear in that record? He used a Gelosso, a 1 watt, tube driven, 1/4" reel to reel recorder, modified with an input jack for the guitar, and recorded with its tiny onboard oval speaker!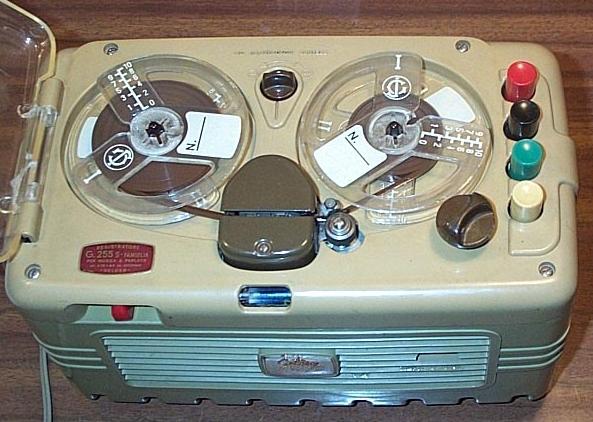 Well, I hope you enjoy this little story, and if you want to know more about argetinian rock music history I will be glad to tell you more about it!