Platinum Supporting Member
Originally posted by WinstonN What a great thread. Thanks very much.

I plan on building one of these ground up. The corners look butt-jointed and screwed. I always thought they were box jointed.

Question...You may have covered this somwhere, and if you did, just point me to the link: how do you route your piping channels? I tried this once with limited success using the table saw blade, but I don't want to do that again .

Thanks again for the great how-to threads. wn
You're welcome, WinstonN! Always happy to help out if I can.
Marshall cab corners are finger jointed (at least on mine), and that's how the Scumbag cabs are built as well. Here's an example of what you should see on a finger jointed cab (3/4" 13 ply plywood illustrated here).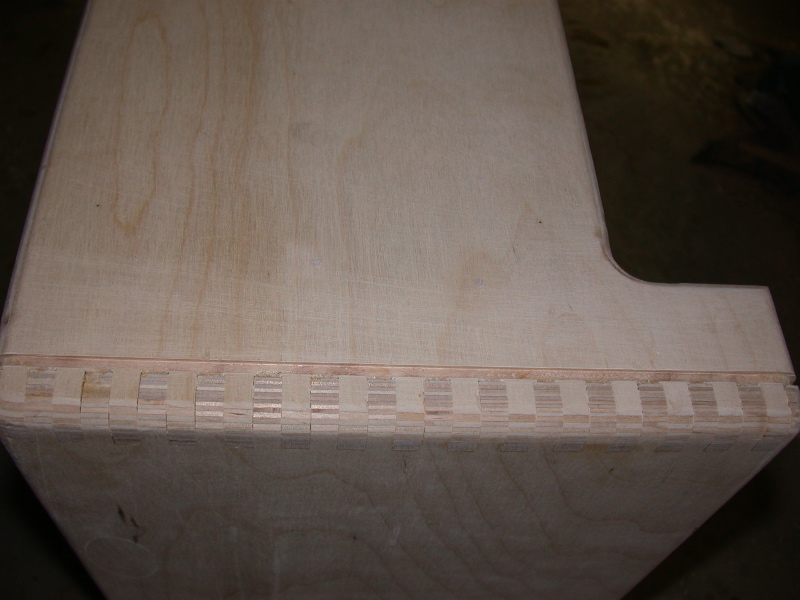 As for the piping channels, you need a router, with an appropriate sized bit. I use a 3/16" bit, but I also use 2/16" piping. Marshall piping is 3/32", so you'd need a bit, just under 3/16" to work with the slightly smaller piping that comes in a Marshall. The Marshall piping channels are usually (IME, and measurements) 1 5/8" in from the sides of the cab. You'll need the channel cut to 2/16" depth (at least), perhaps more if you're using elephant tolex since it's thicker and more durable than levant tolex (standard basketweave style tolex).
The finger joint tool ain't a cheap date...$200 plus. I know, I bought one late last year for my cab guy. But they come out looking damn good, so there you go...
psychodave... thanks for the compliment.
Last edited: