Up for grabs is a Mary Kaye Stratocaster I just put together. I used all the right stuff and had professionals do most of the assembly and setup. Only problem with it is that my collection has gotten way to big, and I need to move anything that's not in my core.
Specs:
MJT Aged Ash Body with a beautiful blond finish. This has some of the best aging I've seen on an MJT body. Grain is absolutely beautiful as well.

Musikcraft Neck, also finished and aged by MJT. Feels really comfortable. I believe it's the SRV cut. Feels similar to my Danocaster .86 necks. 10 inch radius and 6105 frets.

Klein Epic Series '62 Pickups with upgraded vintage beveled magnets. These are some of the best Strat pickups I've used, along with Lollar Dirty Blondes and Rocketfire Total 60's.

Martin Six String Customs Wiring Harness. Neck pickup wired to the top tone, middle and bridge to the bottom.

American Tremelo with a Steel Block

Aged Gold Hardware throughout

High Quality Repro F* logo on the headstock. This is on top of the nitro, so if you want it off, super easy.

MJT aged plastics.

Hand cut bone nut

Raw Vintage Springs

7 pounds, 6 ounces.
There are two small cosmetic issues: 1, there's a very small lacquer chip on the back of the neck, and 2, one of the screws holding on the backplate was drilled too close to the cut out and you can see the screw from the cut. Functionally, its 100%.
This will blow anything out of the water at its price point. It's really a killer guitar and I am actually bummed I have to sell it. This build cost double what I'm asking.
Price: $750.00 Shipped to your door step, PPG. No case, but will include a brand new Fender gig bag for $20.00 more.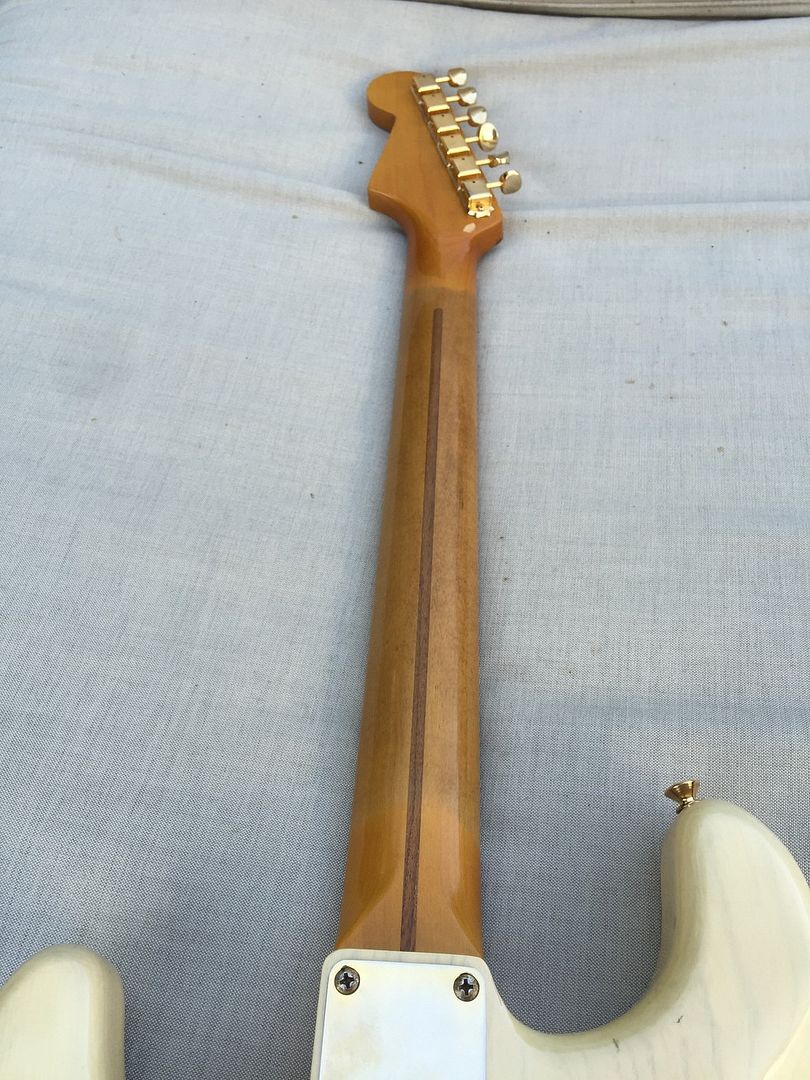 Last edited: