Nearly three years in the making – my new Heatley Tradition Classic/Limited.
What a guitar!
Specs:
All the vintage Les Paul attributes you'd expect – long tenon, hide glue construction, etc.
·
Wood – one of the delays was because I decided to go and collect my own wood. Ended up with 35+ y/o air dried Eastern Maple top (1-piece!)from Paul Taran, ancient air dried mahogany from Larry Pogreba's stash and old, old Brazilian Rosewood from a furniture place. Had a lot of fun hunting down the right wood. It's all old, it's all good.
·
'59 neck profile, though I know that Scott profiles his necks by hand and as great as his guitar construction skills are, I think this is one of his best talents. This neck, like my Heatley Standard, is absolutely perfect in the hand. Big but not huge, perfectly curved - a lovely charismatic profile.
·
Scott's exceptional neck joint, provides fantastic upper fret access.
·
Figured MOP inlays
·
Honeyburst top, very thin nitro finish
·
Cherry red paste filler on the Mahogany
·
Pickups are Wolfetone Dr Vs With RS pots and caps
·
Pigtail aluminum TOM and tailpiece
Being a 30-year Strat guy and never owning a Les Paul, and especially one of this caliber I wasn't exactly sure what to expect. The playability is exceptional - see the bullet above about Scott's neck carve – just utterly desirable, comfortable, toneful neck.
Unplugged the guitar is really loud, very resonant, and surprisingly bright. Acoustically it has a very strong, clear, ringing voice. Plugged in, I couldn't be more pleased. The Wolfetones are great pickups. Neck tone is really round and warm. With the volume backed to 7-1/2 it gets a spanky clean tone that certainly rivals my favorite Strat. Crank the volume and it really grinds, but remains open and articulated. The bridge is tight, bright and snarly but still cleans up nicely like the neck.
The guitar is really touch sensitive – more than I expected. Play lightly, it is sweet and chimey; dig in and it really responds in kind.
As I mentioned above the neck joint is superb. I'm used to good upper fret access and Scott's joint provides unfettered reach. I can't imagine playing a single cut guitar without a joint like that. Fit and finish on the guitar is immaculate.
All in all, what a great experience this build was, and the result is just fantastic. This guitar is a joy to play and produces tones that I find to be quite exceptional.
Photos:
Full body shot...

Yummy!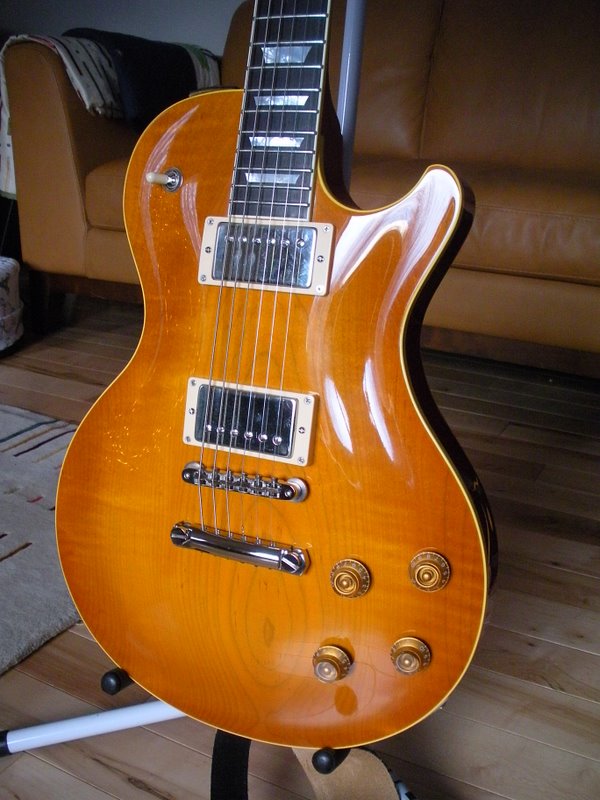 A couple closer in: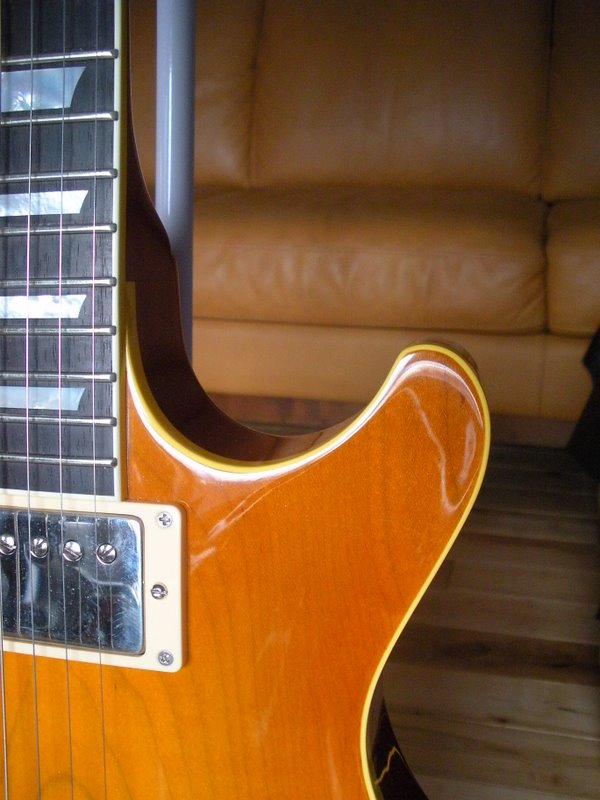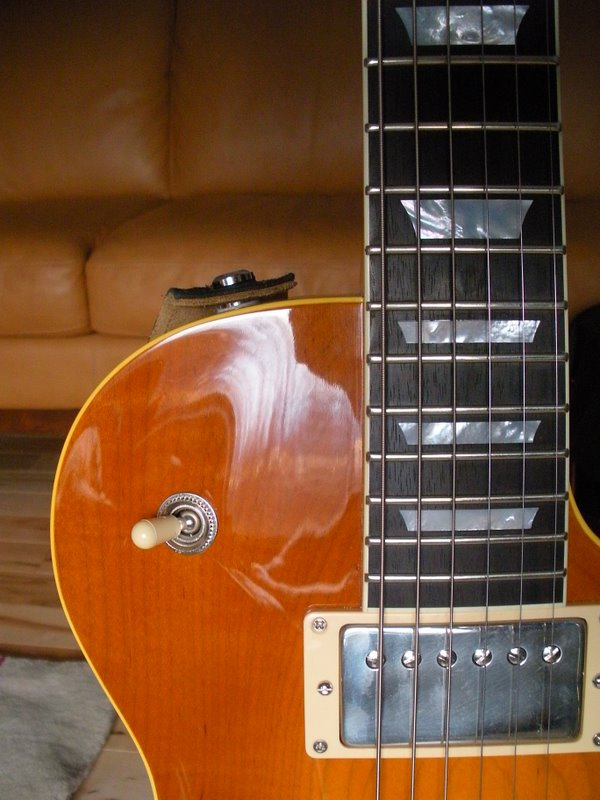 The aforementioned neck joint: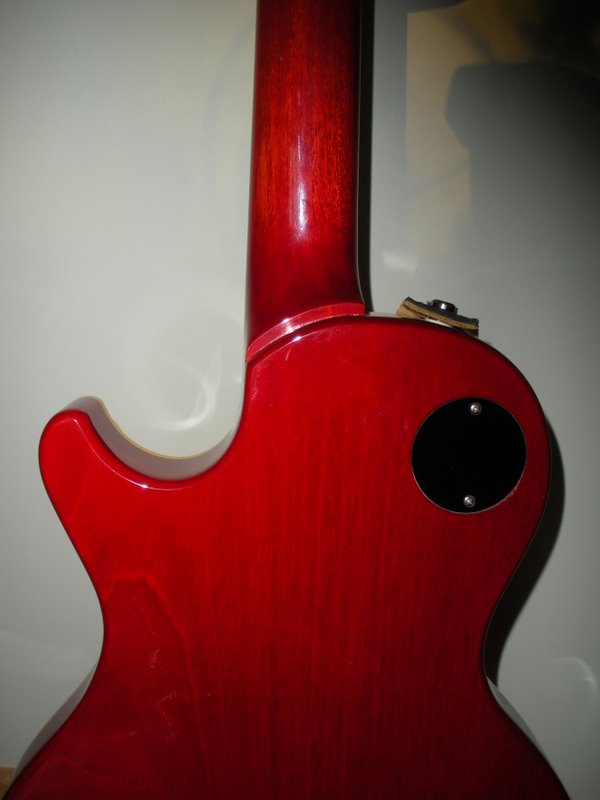 One Scott took before it left the green country and came to the barren North: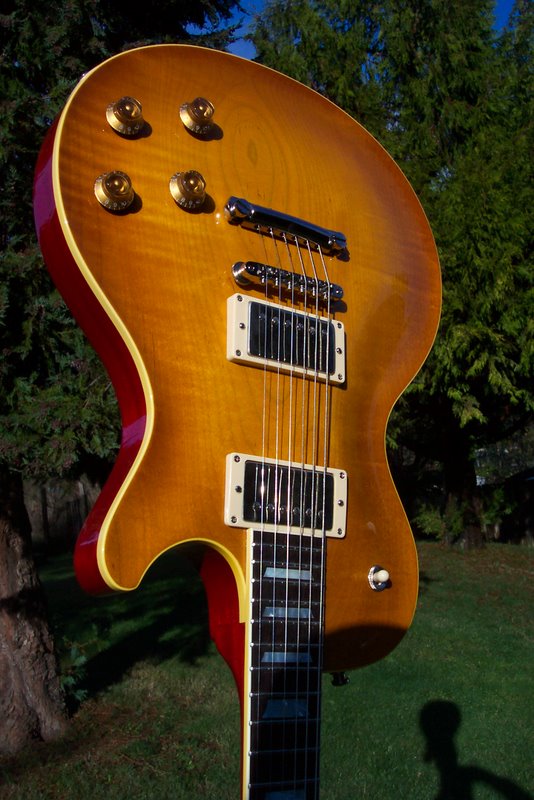 Last but not least, a little Arctic winter sunlight in the headstock...