OK.. so I found a deal on one of the original Goodsell 5 amps. It had recently been updated by Richard G to the newer specs of the Super 7 with the 2/7watt switch, Clean/Crunch and upgraded Hammond OT. It came with a Private Jack Red Coat speaker (which may be original -- not sure)..
I got the amp a couple weeks ago and when I received it ... it appeared the package had taken a "hit" during shipping. The rectifier tube was smashed and even after replacing all the tubes...the amp just didn't sound perfect.
So at the advice of the seller, I called the Goodsell company and Richard Goodsell answers. I tell Richard the story and that I bought it 2nd hand etc etc ... After a few minutes of troubleshooting over the phone .. he says without hesitation "send it back to me and I will go over the entire amp and make it as good as new for you" ...... WELL needless to say I was very pleased to hear this and sent it in last week and just got it back today.
I just want to publicly thank Richard...He took the time to make "his" amp right. He even called me when it was on the bench to discuss how I wanted the amp to sound. Plus .. he included fresh tubes and several different preamp tubes so I can further play around with the tone.. All this at no charge, I believe they call this good old fashioned "service"!
I got it back today ..oh Man! He sent back one HELL-OF-A - AMP!!


I think it's a winner for me .. since this is my living room amp and in 2 Watt mode cranked ... I can get some hot sounds (both clean and distorted). Plus it is very pick sensitive.. when I digg in.. the growling tone comes out of the amp's belly...This little Goodsell with the different switchable modes...is like having several different amps in one cabinet.. The clean /crunch switch really works wonders and the 2 and 7 watt mode goes from fairly quiet to LOUD. It is a very cool little amp !
Ok.. that is it for me ... Wish me a "Happy New Old Amp Day" .. I am going to go play some music !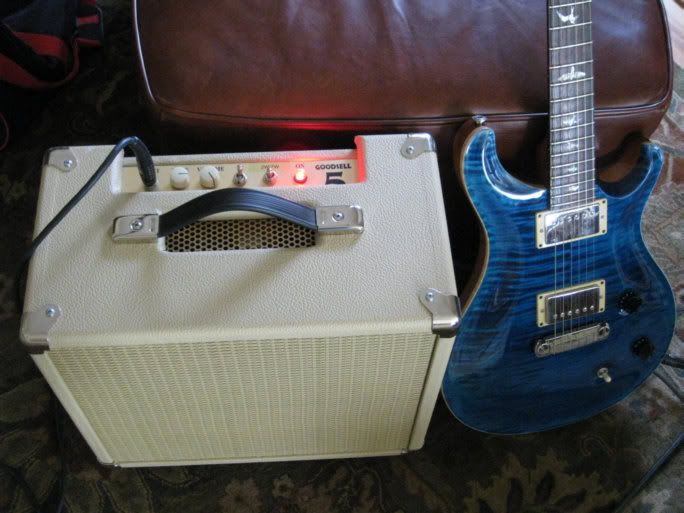 Last edited: