Well, I've been interested in trying one of Ted's guitars for a few years but it's not the type of guitar that comes up very often. Then, I came across this one and it has all the most important specs I really like (wide nut, fat C neck, SS frets, alder, etc.). Only thing I would have preferred is a two pivot trem bridge to a six screw, but, I generally only use a trem for slight warble effects anyway so I'll give it a go.
Well, I received it last week and have spent the last week getting to know it. I love it! The pickups (Area '61 in neck and mid...PWE HDV in bridge) sound great. I was concerned that I wouldn't like the Areas but they're very nice...and super quiet. I was also concerned that the bridge pickup might be too thick (I am really a single coil guy but needed a HB equipped guitar) but it's really clear and precise...also sounds great split - sounds more like a Tele than Strat when split.
The SS frets are perfect...excellent fret job! He also really heavily rounded the fret board edges which I love.
The Hipshot locking tuners are great and I like that Ted installed a Tremol-no as standard (I've been using them for the last few years). Drop D is a breeze and, since I do a lot of country stuff, it makes double stops work better. I also like to lock down the bridge when I change strings.
My only complaint (and this is really a pet peeve of mine!!) is that the saddle height adjuster screws are way too long and stick out unnecessarily high. I hate that, especially on a high end and, otherwise, beautiful guitar
As you can see in the pix, I replaced the chrome knobs for ivoroid. I really like the look - makes it look a little bit less modern or something.
This guitar is on par with my Suhrs and Andersons.
Previous owner's shot.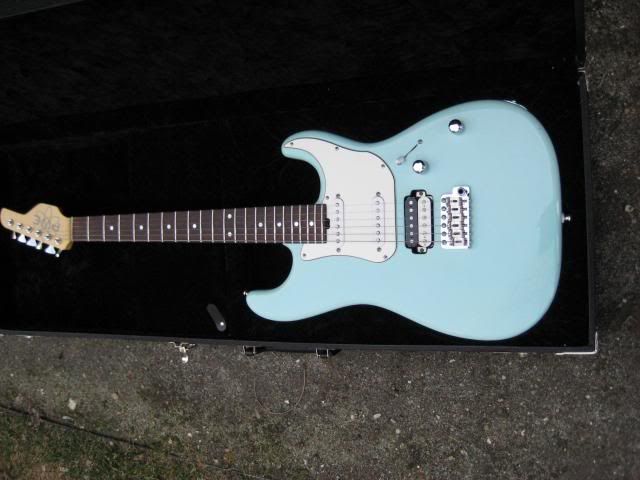 Pix I've taken in the last few days.