Hey all you Gitar Slingers out there!
I recently decided to take on repairing my 1967 Fender Super Reverb for a Crackling Sound I was experiencing ...This "NOISE" was quite bothersome to say the least!
Long Story Short... I traced the problem to the Reverb Circuit and started out by performing the obvious (cleaning & tightening the Tube Sockets...Checking the Tubes, checking Ground and Solder Connections, checking the Reverb Pan and Cables, Etc.)
To my despair, nothing helped...(but the maintenance service was not wasted effort...every bit of the work was needed!) I did a little more research in the "Crackling Noise Dept" on the Internet and found that the Plate Resistors can cause this type of problem if they break down under a load due to age. I ordered 4 Allen Bradley 100K/5 watt Resistors from my good friend Mark Baier and replaced the 2 Plate resistors in the Reverb Circuit and Walla! Fixed! The Amp was as quiet as a Church Mouse!
While I was doing some work already, I decided to install a Good Mullard 5AR4 and some Good RCA Black Plate 6L6GC's..."Set Bias to 35ma" The RCA's are some FINE Power Tubes...I noticed a big difference in the Sound! I have 4 Jan Raytheon Long Black Plate 12ax7's and 2 Telefunkin 12at7's coming for the remainder of the Tube Compliment and I expect to hear even more wanted Sound Improvement.
In my humble opinion, the Super Reverb is one of the best Amps ever built! I wanted to start this thread so that all the Super Reverb Owner's out there could share some of their "experiences" with their beloved Super Reverb's when it comes to repair issues! Spread the Knowledge Guys!
I'm sure we could all share some "Mind Bending" experiences with repairs on our Super Reverbs and what has happened to us when we have taken our Amps to so called "Amp Repairmen" LOL!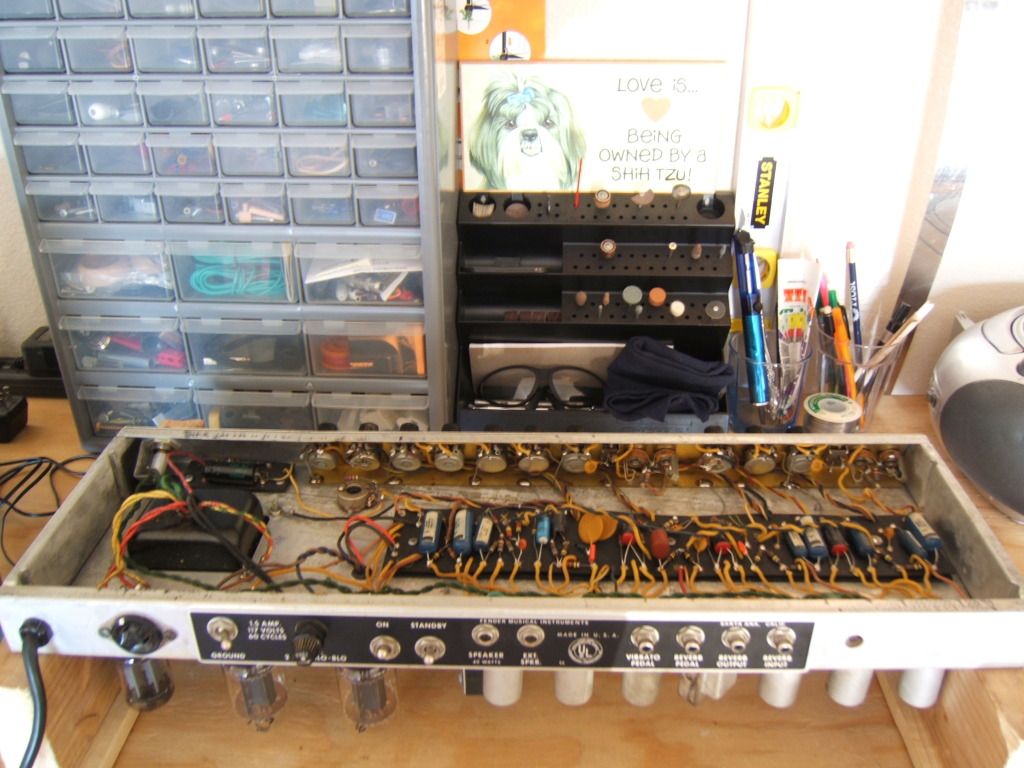 OK...In the Photo below you will see a good view of the 2 New Allen Bradley 100K/5 Watt Plate Resistors I installed for the Reverb Out...Look for the Red Wire at the bottom near center of the circuit board and directly in front of the wire you will see the 2 New Allen Bradley Carbon Comp Resistors (configured in an "Upside Down V" configuration).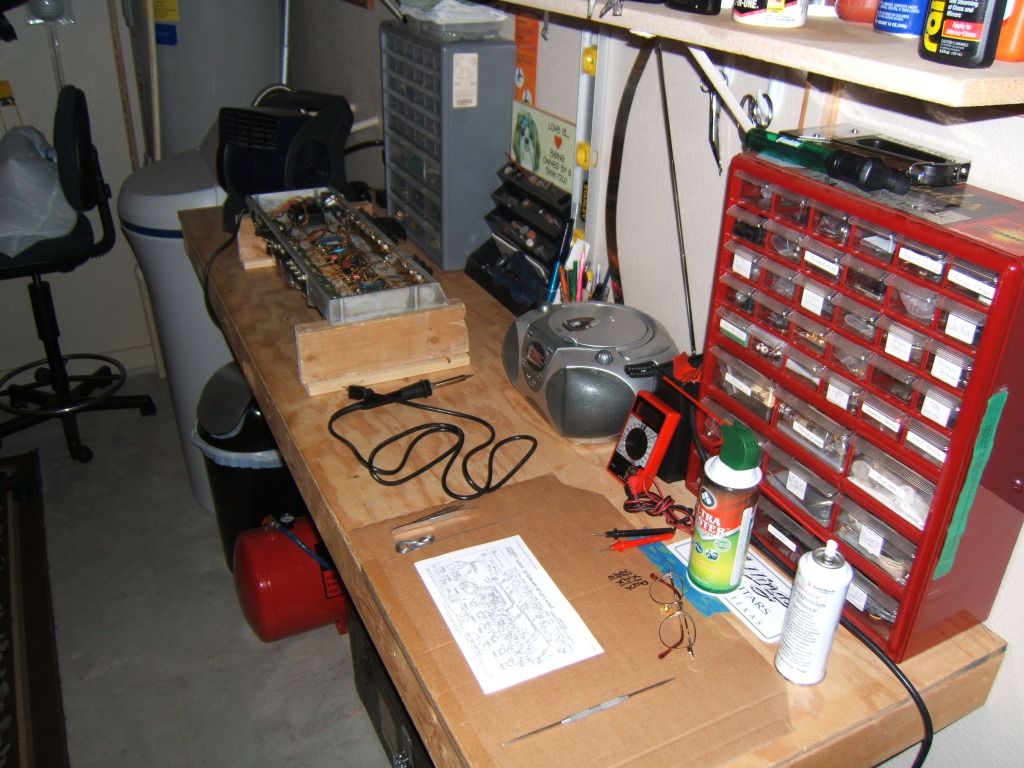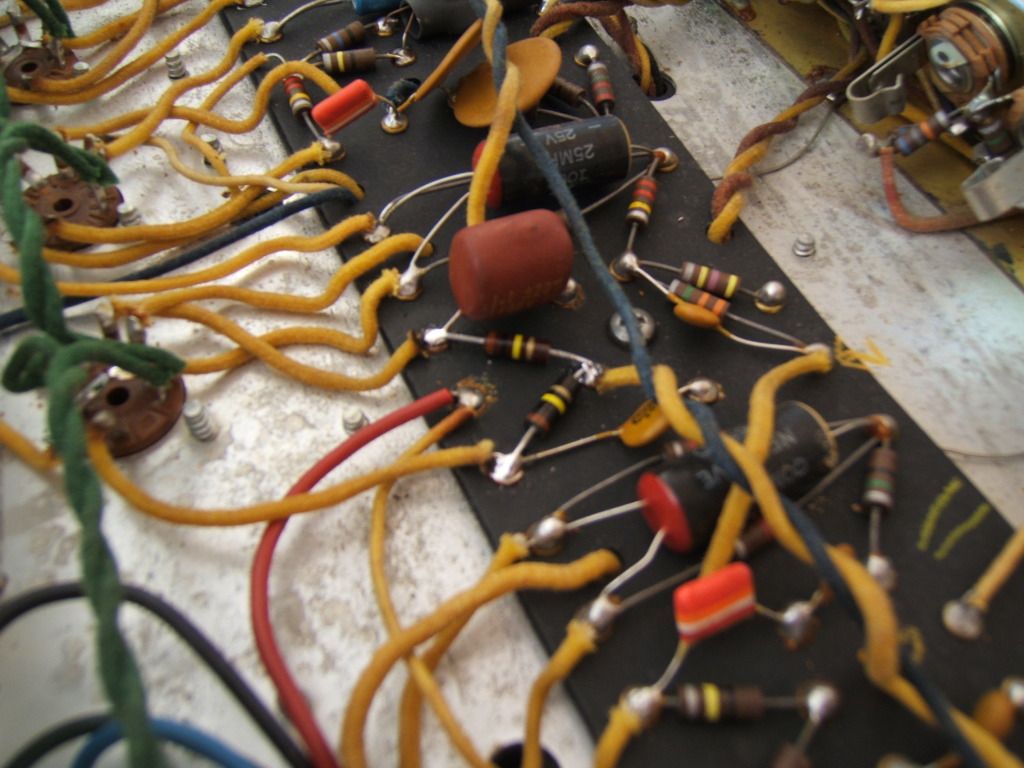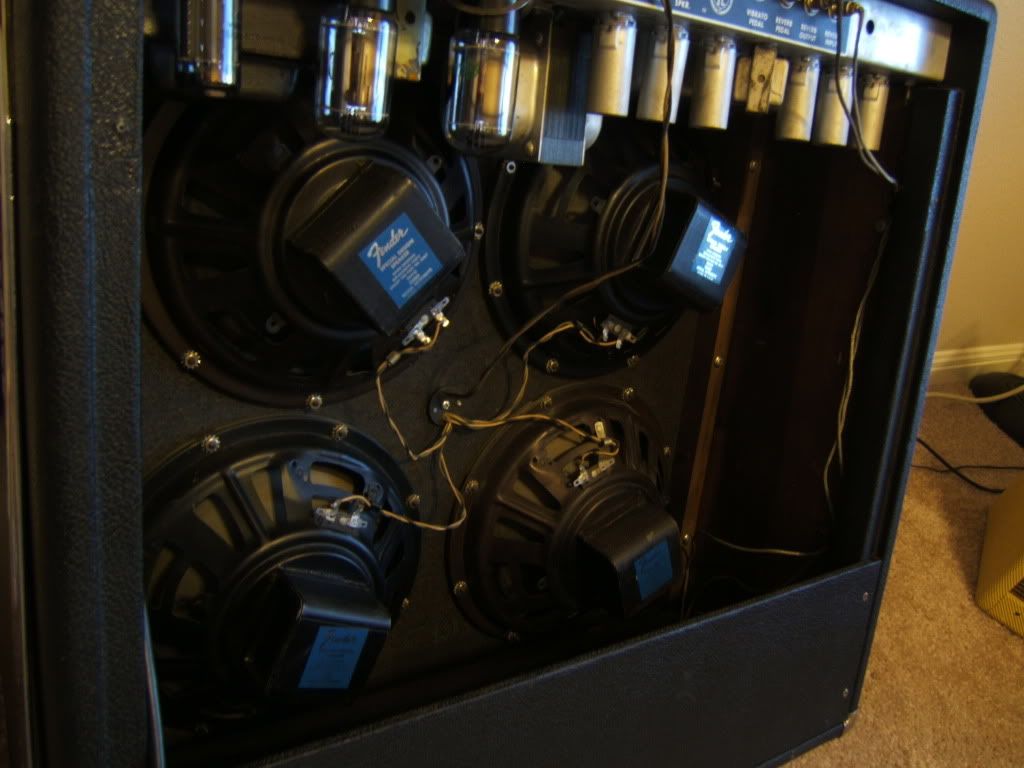 (Rear Photo is with Amp's Old Tube Compliment)
LET'S HEAR SOME ADVENTURES GUYS!