Well not really.
I just wanted to include the obvious links that come to people's mind so we don't have to travel over the same ground as past threads.
Charlie Christian used a few ES-150s and an ES-250 along with EH-180 amps before passing at the very young age of 25: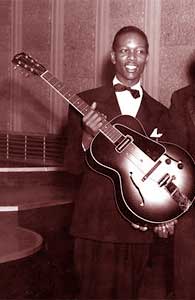 Okay what was the original Charlie Christian pickup?
The original pickup used weak cobalt steel magnets which were incorporated into the mounting harness and the first incarnation of the pickup used a very thick 38 gauge wire.
It looked something like this:
Jonathon Stout uses period correct guitars 1937 ES-150 and 1939 EH-185 amp to recreate this era's sounds:
There is one company that is said to reproduce them very close to the original specs
http://www.ccpickups.co.uk/about.html
Many other companies make some approximation of the pickup substituting other magnets like Alnico 3, 5 or ceramic magnets.
Lollar makes some of the most popular Charlie Christian-style pickup recreations using Alnico 5 bar magnets and 38 gauge wire. Especially popular are the ones made to fit into Telecaster neck positions (a little wider and deeper routing necessary) due to the popularity of players like Danny Gatton using an original CC pickup in the neck of his teles (with very substantial routing necessary.) and later apparently making his own.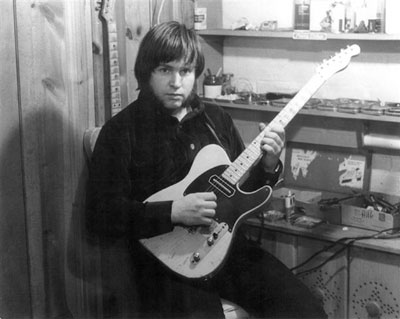 http://www.lollarguitars.com/lollar-charlie-christian-pickups/charlie-christian-for-tele
Daniel Slaman who, at least in part, makes a living outfitting guitars to recreate the Charlie Christian vibe seems to think there is little difference between the two efforts:
Tim Lerch's enthusiasm for them seemed to appeal to many people wanting to play jazz and blues on telecasters:
Other companies produce the CC pickup as well:
Vintage Vibe guitars (Peter Biltoft's) CC Rider pickups are very popular but some say that they are really just p-90s in a tuxedo because of their use of 42 gauge wire. – They come with exchangeable alnico or ceramic magnets. Still, people really seem to love em!
Seymour Duncan (Special Order supposed to be custom made by Mr. Duncan himself)
T.K. Smith (Highly touted guitars as well)
John Anthony Guitars (Steel guitar application)
Kent Armstrong
Rio Grande
McNelly's (Humbucker sized)
Here is an interesting video contrasting different archtops utilizing different pickups including some original and later era Gibson CC pickups:
https://www.youtube.com/watch?v=dfxMV6JrdF0
I then came across this article:
https://gypsyjazzuk.wordpress.com/g...timer-pickup/charlie-christian/charlies-gear/
It states:
" There were 3 different varieties of Charlie Christian pickup produced by
Gibson
, and all 3 are distinguished by the polepiece:
Retro Source
The 1st of these was produced from 1936 until mid-1938 and had a plain blade polepiece. The coil was wound to about 2.4 kΩ resistance using AWG 38 enamelled wire.
The 2nd type was introduced on ES-150s built from mid-1938 onward, and featured a polepiece that had a notch cut out below the 2nd (B) string. This modification was made to lower the volume of the B string, which sounded significantly louder than the other strings. At this time the coil was wound with a finer wire (AWG 42) resulting in more turns and an approximately 5.2 kΩ resistance, which gave the pickup a higher output.
The 3rd pickup was available on the Gibson ES-250, which was available beginning in 1939. The blade on this pickup had 5 notches, each located between the strings. This pickup also had a more compact internal design. It featured a cobalt steel slug that was small enough to sit directly under the pickup.
The sound this pickup produced is clear – thanks to the
narrow string-sensing blade
– and powerful because of the relatively high resistance of the coil. Uneven magnetic flux within the steel magnets could cause some distortion in the signal. Electromagnetic
hum
was also a big problem with these pickups because of their large surface area and utter lack of
shielding
."
According to this article, the 38 gauge wire was only used until mid-1938 when they switched over to 42 gauge wire. This would indicate that Biltoft's and Lollar's are equally correct takes on Charlie Christian era CC pickups in terms of wire (and equally different from the original design in terms of deciding to look for alternates to cumbersome cobalt magnets).
I have a Lollar in my tele neck and am waiting for a JAG bridge pickup to arrive. (Customs)
Lollar's bridge pickup didn't seem much like a mate specifically made for CC pickup in anything but output. It is 40 gauge wire with ceramic magnets. After listening to sound clips I decided to go with something else. ...which doesn't mean it isn't awesome!
So what is crucial for a CC pickup in your mind?
Last edited: