Zilmo let me borrow a beat up 2Tek equipted Black Strat a few months ago.I took it to a gig and thought, well I'll use it on a couple tunes.Got to the gig and after I had my rig set up I decided to give the 2TekCaster a whirl. The cleans were amazing.....whatever these EMG pickups were they sounded great. They went from a glassy shimer to a really convincing acoustic tone with the twist of a knob.I had no idea what the pickups were other than they were amazing sounding. I switched over to the dirty channel to see what things would sound like with a little bit of grit. Expecting to hear a bunch of 60 cycle hum because of the gain and neon light....Nope. Again I was stunned.....This guitar just sung. The sustain was jaw dropping for a Strat and those #2 and #4 positions of the 5way were as good as I had heard. Bar chords and cowboy chords had note seperation even under a ton of gain and effects. I didn't want to stop noodling, but I was getting the "That's enough" from our bass player.Standbye swith engaged.

I spent the next 45 mins. going back and fourth..."Should I ? or Shouldn't I ?" I had my trusty PRS sitting in the other stand all tuned up and ready. What the hell....you only live once, if it or I sucked my PRS was sitting there ready.9:00pm...it's 1..2..3..4.....we start and I hear the 1st note....instant PERMAGRIN!!! The night goes on and I'm more impressed as the sets fly by.The guitar I was only going to use on a couple of tunes just kept getting better and better. My PRS got really lonely that night.......I did use it for "a couple of tunes" It was a really good night!
The next day or so I repeated the above story to Z....He replied..." I think we need to build you one" Well fast forward a couple months....the planets all move into the right orbit, and we did. Well......Z and guitar tech extrordinare Jeff did while Lance and I watched the surgery be performed. Just like the other one....IT'S UN-F'n Believable!!!!!!!! The 2Tek's "THE SH*T"
TY.......Mike!!! I'm going to play the SH*T out of it!!!
Pre-op.....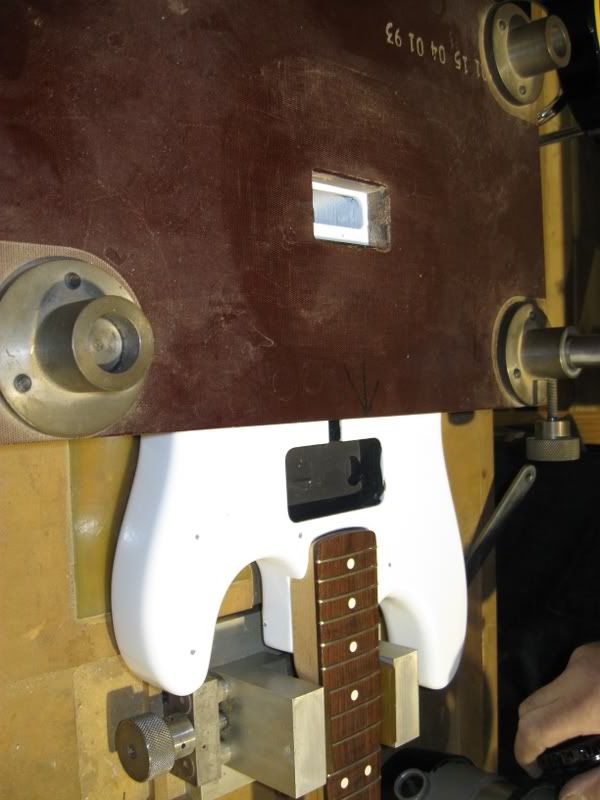 Zilmo.......performing the surgery!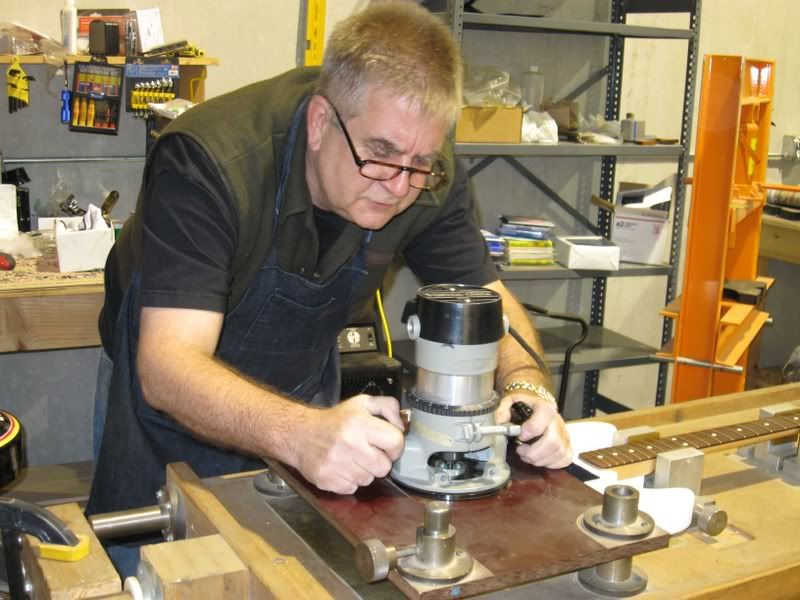 Post-op....recovery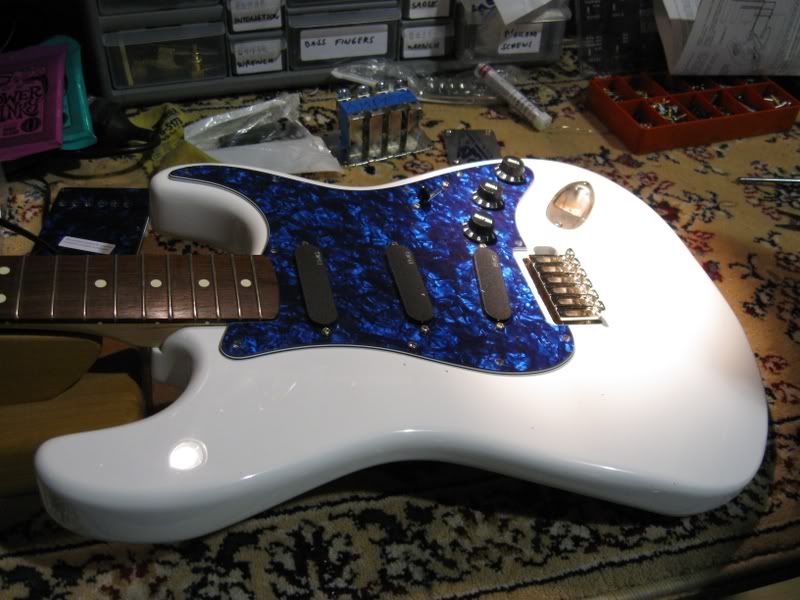 All finished and 2Tek installed!!!!