Having one of these incredible guitars made for me right now.
It will be my first custom guitar ever. I'm very particular and prone to habit - but since the first time I played one of these at Peekamoose I knew I wanted one.
Rich, full and incredible sound, very versatile electronics allow all kinds of sounds out of the stock guitar. It will also have the piezo/RMC synth option installed, for more 'acoustic' sound and my scoring/synthesis work.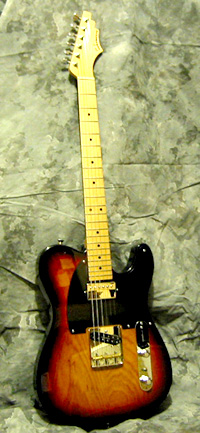 The body and neck of this guitar has an incredible feel, better than any Tele I've played to date. I'm also having the body contoured - I'm female and the standard Tele body is a bit (ahem) uncomfortable. Maple neck, ash body. Haven't decided on a finish/color yet.
I've heard some folks don't like the headstock - frankly I think it's fine, and is distinctly non-Fender... just like the guitar itself
From the website:
[FONT=Verdana, Arial, Helvetica, sans-serif]
The standard HS circuit has a dual sound option for each pickup, and the ability phase reverse one pickup against the other. Using our custom wound Duncan pickups voiced for balanced harmonics and wide frequency response, the versatility of this circuit will afford you a very broad sonic pallet to paint your musical landscape.
[/FONT]http://www.peekamoose.com/model_2.html
Last edited: