10/30 Case closed. Thanks for all the help!
______________________
So, I'm building a 5f2a Princeton from the Weber Kit, and I've run into a bit of a roadblock.
I have traced everything on the schematic/layout multiple times and I'm sure (sure as I can get) that I have it wired correctly. I have double checked the speaker, which was pulled out of my Super, and swapped tubes with known good ones. Here are my voltages:
Heaters at lamp: 3.25 vac/3.25 vac
Copper cap rect
pin 2: 5.3vac
pin 8: 373v
pin 4: 340 vac
pin 6: 340 vac
6V6 GT
pin 2: 3.25vac
pin 3: 362v
pin 4: 337v
pin 5: 0
pin 7: 3.25vac
pin 8: 22v
12ax7
pin 1: 195v
pin 2: 0
pin 3: 1.5v
pin 4: 3.25vac
pin 5: 3.25vac
pin 6: 185v
pin 8: 1.5v
pin 9: 3.25vac
The issue is that I have no output at all. I heard a couple crackles with measuring pin 3 of the 6v6 so I powered down and re-soldered all the tube connections thinking I might have a bad connection. Now no crackles, but still no output.
Out of the box, both the lamp and fuse were DOA, so I guess it wouldn't surprise me if something else was bad. I measured all resistors before I put them in and they were to spec. I just don't really know where to go from here. Here are some pictures in case somebody can see something. Let me know if anything else will be of assistance in troubleshooting. Appreciate the help.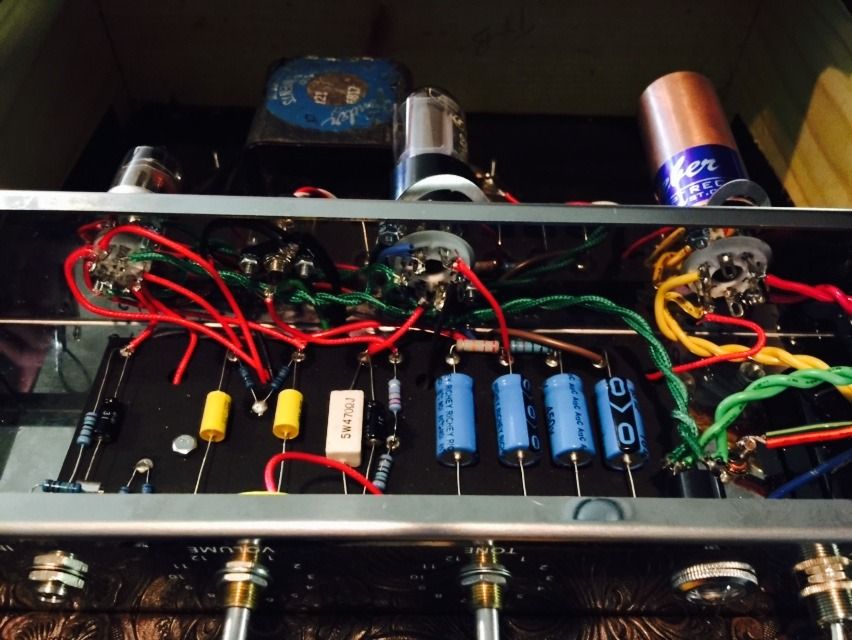 Last edited: