There are a lot of guitarists these days who spend lots of time, effort and money getting "that tone." There's been a lot of recent discussion here on Robben Ford's and Joe Bonamassa's setups and tone.
It made me recall something I read years ago regarding John Cipollina, the highly underrated (IMO) lead guitarist for Quicksilver Messenger Service in the 60's. I found the article and pasted the relevant part below. Does anybody have similar material on other guitar gods of the 50s or 60's or did most of them simply plug the guitar into an amp w/ perhaps a wah between them?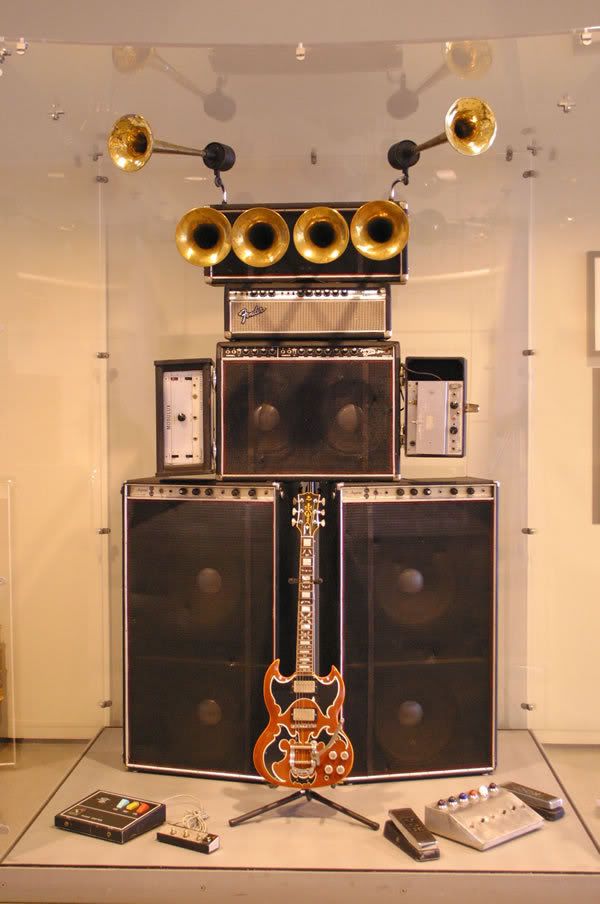 "As lead guitarist for Quicksilver Messenger Service, John Cipollina helped create the psychedelic sound that was a hallmark of San Francisco music scene in the 1960s. The group's long instrument jams, in which Cipollina played a central role, were legendary, both on stage and on record. Some of John's legendary equipment is on display at the
Rock and Roll Hall of Fame and Museum
.
To create his distinctive guitar sound, Cipollina developed this one-of-a-kind amplifier stack. All of his guitars, including the one here, were wired with two pickups, one for bass and one for treble. The bass pickup fed into the two Standel bass amps on the bottom of the stack. Each Standel was equipped with two 15-inch speakers. The treble pickups fed the two
Fender
amps-a Fender Twin Reverb with two 12-inch speakers and a Fender Dual Showman- that drove the six Wurlitzer horns.
"I like the rapid punch of solid-state for the bottom, and the rodent-gnawing distortion of the tubes on top," Cipollina said.
Cipollina used a custom foot-switched system to select reverb, tremolo, Astro Echoplex (the unit mounted on the right of the Twin Reverb), Standel Modulux (on the left of the twin reverb) or the horns. Truck running lights indicated which effect was being used."