I was thinking Ampegs as well. They'd have to be turned up REALLY loud to get that kind of gain but it does make sense in this case.
The Stones were
the
first to use SVT's--Ampeg sent them out with five pre-production units plus a tech to service them, since it wasn't yet known how reliable such a powerful amp would be under real world conditions. When used for guitar and played at stage volume the tubes started to run really hot. I believe they were also using two cabinets per head to maximize the output.
In '78, the Stones bought their first Boogie amps--six Mk. I (or just "Boogies", since there was only a "Mk. I" once there was a Mk. II). Just as with the SVT's, they had Ian Stewart call up the manufacturer and try to get some free amps. This time, Randall Smith said no, everyone pays, I have a backorder of forever and if someone's going to get a free amp, shouldn't it be some broke guy rather than an international rock star? And Keith agreed.
Randall then made an offer: buy the amp and use it on tour. If you don't like it, return it for a full refund...or flip it, since the wait list is forever, and use the money to buy drugs. Keith says, that's a great idea, but I already know I want to keep the amp, because I played Santana's. So, the paid for the amps, and all the subsequent amps they bought from Mesa.
IIb's were available by the time of the the '78, and the Stones did have a few, but I'm not sure if they used them on the '78 tour. The Stones gear book should have an entry.
Here's a picture from the '78 tour--there's a Mesa on Keith's side of the stage.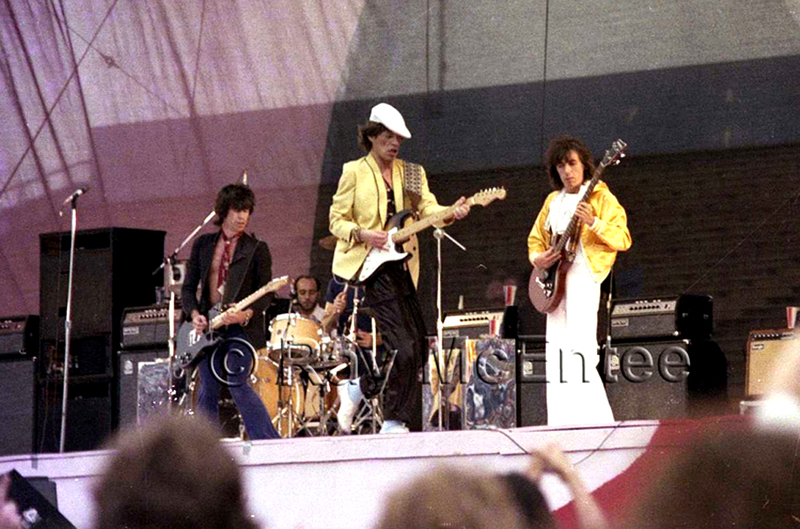 Here's a wide shot where you can see that there's a hardwood Boogie on either side of Charlie. There's a rehearsal picture from that tour where there are two Boogies on Keith's side, and at least one on Ronnie's side.
Rehearsal:
Last edited: