Platinum Supporting Member
OK, TGP members...get your best speakers dialed in, and give these clips a listen!
Here are 31 clips to listen to of two guitars, two amps, and pile of speakers including Celestion Pre Rolas with original cones, Celestion Heritage H 55hz & M 75hz models, Eminence Private Jack, Alien 20 watt & 25 watt #4, and Scumback H55, H75, H75-LHDC and M75's.
I'll reveal which speaker/amp/guitar is which on June 22nd. That gives you 10 days to tell what you like, don't like, why, and please pick your top 3 speakers by clip #, if you don't mind. Thanks!
EDIT: July 9, 2008 I have put the clips/descriptions at the bottom of this post for easier listening!
Thanks very much!
Jim, Andy, Dan, Stewart, Sam & Greg (everyone involved in the session).
Gear pics: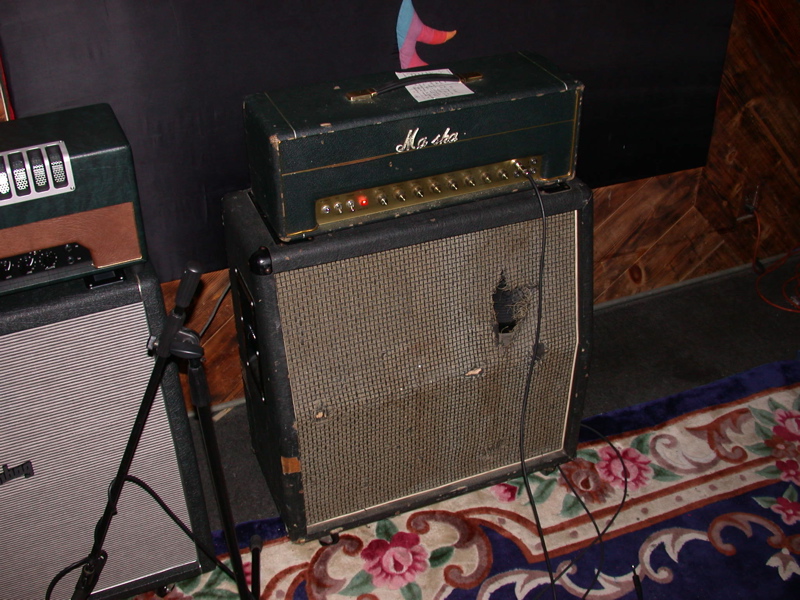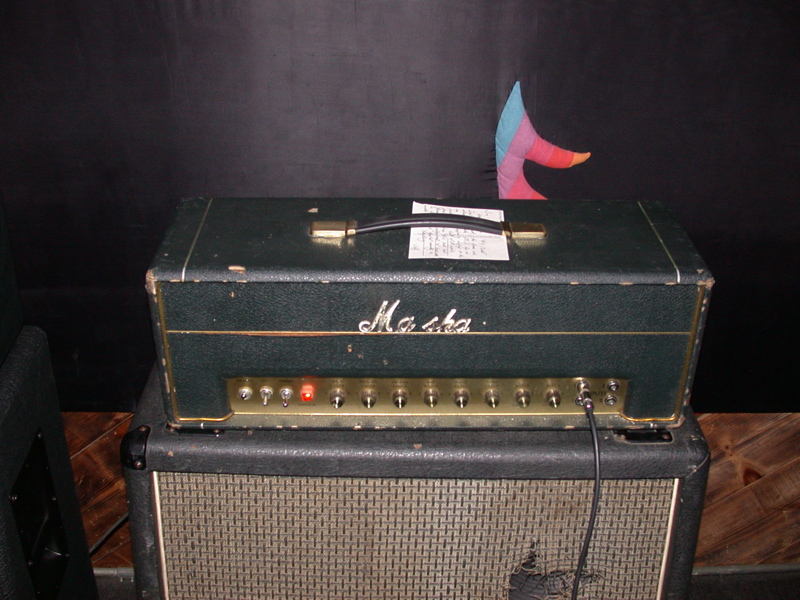 Recording crew (L-R): Andy Z, Stewart, Sam, Dan Boul (65 Amps co-owner)...Greg V wasn't there for the photo opp, and no one wants to see me!
Have a good listen and post your three favorites and why...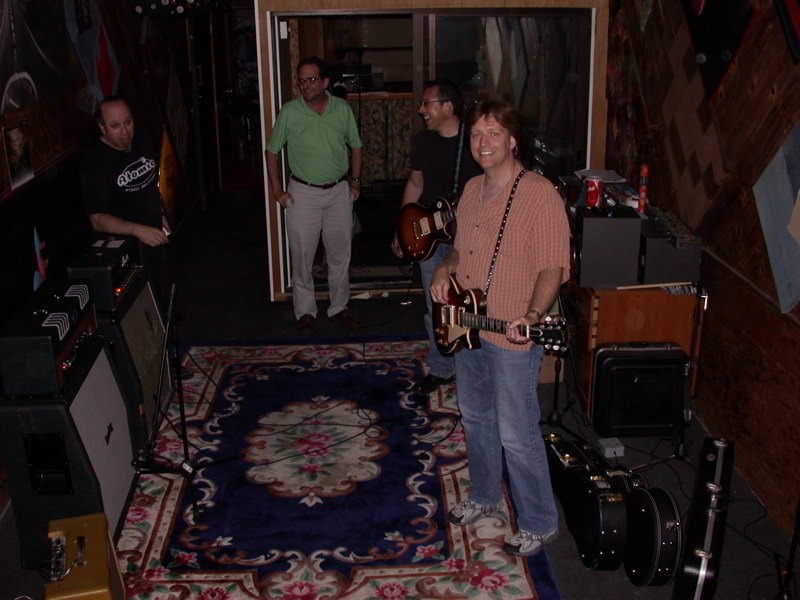 Quote:
Originally Posted by tfunster
Are these clips still around by any chance?
Yep, but they're now hidden due to a server upgrade.
The clips directory/file URL is:
www.scumbackspeakers.com/stf/
To hear the clips you'll need to copy and paste in the clip name after the URL link above at the end of /stf/ so it will look like this (for clip 23 for example):
www.scumbackspeakers.com/stf/23scumclip.mp3
This cryptic system means the speaker type first, then the amp, then the guitar.
Amps: 65 Amps London using the EF86 preamp channel, dual el84 amp
1969 Marshall Plexi 50 watt (with tremolo), dual el34 amp
Guitars: Strat with WCR SR Pickups, Warmouth maple neck, Earvana nut
Keebler Les Paul with WCR Dark Burst Pickups ((8.2k neck, 8.7k bridge)
85 LP Standard with Voodoo pickups (8.2k neck, 9.5k bridge)
Speakers:
Scumback
SA12H75-LHDC (G12H 003 cone clone with large dust cap to suffuse the highs)
Clips 01, 02, 03, 04 (open back combo for clips 1-4 only)
SA12H-75 (G12H 003 cone clone) clips 12, 13, 28
SA12H-55 (G12H 014 cone clone) Clips 05, 20, 21
SA12M-75 (G12M 003 cone clone) Clips 07, 18, 23
Celestion
G12M 20 watt Pre Rola with original Pulsonic 102 003 cone clips 08, 17, 24
G12M 20 watt Heritage Reissue clips 10, 15, 26
G12H30 Pre Rola 75hz with original Pulsonic 102 003 cone clips 11, 14, 27
G12H30 Pre Rola 55hz with original Pulsonic 102 014 cone clips 06, 19, 22
G12H30 Heritage 55hz (8 ohm version recorded) Reissue clip 30
Alien
20 watter (003 cone clone) clip 29
25 watter #4 (003 cone variation) clip 31
Eminence
Private Jack (Greenback clone)clips 09, 16, 25
www.scumbackspeakers.com/stf/01scumclip.mp3
= 01-SA12H75-LHDC-Marshall-LP.mp3
www.scumbackspeakers.com/stf/02scumclip.mp3
= 02-SA12H75-LHDC-65Amp-LP.mp3
www.scumbackspeakers.com/stf/03scumclip.mp3
= 03-SA12H75-LHDC-Marshall-Strat.mp3
www.scumbackspeakers.com/stf/04scumclip.mp3
= 04-SA12H75-LHDC-65Amp-Strat.mp3
www.scumbackspeakers.com/stf/05scumclip.mp3
= 05-SA12H55-55hz-65Amp-Strat.mp3
www.scumbackspeakers.com/stf/06scumclip.mp3
= 06-G12H30-55hz-PreRola-65Amp-Strat.mp3
www.scumbackspeakers.com/stf/07scumclip.mp3
= 07-SA12M75-65Amp-Strat.mp3
www.scumbackspeakers.com/stf/08scumclip.mp3
= 08-G12M-T1221 16 ohm 20w-PreRola-65Amp-Strat.mp3
www.scumbackspeakers.com/stf/09scumclip.mp3
= 09-Emi-PJ-65Amp-Strat.mp3
www.scumbackspeakers.com/stf/10scumclip.mp3
= 10-G12M-20w-Heritage-65Amp-Strat.mp3
www.scumbackspeakers.com/stf/11scumclip.mp3
= 11-G12H30-75hz-PreRola-65Amp-Strat.mp3
www.scumbackspeakers.com/stf/12scumclip.mp3
= 12-SA12H75-75hz-65Amp-Strat.mp3
www.scumbackspeakers.com/stf/13scumclip.mp3
= 13-SA12H75-75hz-65Amp-LP.mp3
www.scumbackspeakers.com/stf/14scumclip.mp3
= 14-G12H30-75hz-PreRola-65Amp-LP.mp3
www.scumbackspeakers.com/stf/15scumclip.mp3
= 15-G12M-20w-Heritage-65Amp-LP.mp3
www.scumbackspeakers.com/stf/16scumclip.mp3
= 16-Emi-PJ-65Amp-LP.mp3
www.scumbackspeakers.com/stf/17scumclip.mp3
= 17-G12M-20w-PreRola-65Amp-LP.mp3
www.scumbackspeakers.com/stf/18scumclip.mp3
= 18-SA12M-65Amp-LP.mp3
www.scumbackspeakers.com/stf/19scumclip.mp3
= 19-G12H30-55hz-PreRola-65Amp-LP.mp3
www.scumbackspeakers.com/stf/20scumclip.mp3
= 20-SA12H55-55hz-65Amp-LP.mp3
www.scumbackspeakers.com/stf/21scumclip.mp3
= 21-SA12H55-55hz-Marshall-LP.mp3
www.scumbackspeakers.com/stf/22scumclip.mp3
= 22-G12H30-55hz-PreRola-Marshall-LP.mp3
www.scumbackspeakers.com/stf/23scumclip.mp3
= 23-SA12M75-Marshall-LP.mp3
www.scumbackspeakers.com/stf/24scumclip.mp3
= 24-G12M-20w-PreRola-Marshall-LP.mp3
www.scumbackspeakers.com/stf/25scumclip.mp3
= 25-Emi-PJ-Marshall-LP.mp3
www.scumbackspeakers.com/stf/26scumclip.mp3
= 26-G12M-20w-Heritage-Marshall-LP.mp3
www.scumbackspeakers.com/stf/27scumclip.mp3
= 27-G12H30-75hz-PreRola-Marshall-LP.mp3
www.scumbackspeakers.com/stf/28scumclip.mp3
= 28-SA12H75-75hz-Marshall-LP.mp3
www.scumbackspeakers.com/stf/29scumclip.mp3
= 29-Alien-20w-Marshall-LP.mp3
www.scumbackspeakers.com/stf/30scumclip.mp3
= 30-G12H30-Heritage-Marshall-LP.mp3
www.scumbackspeakers.com/stf/31scumclip.mp3
= 31-Alien-25-No4-Marshall-LP.mp3
Last edited: