Hey all, I know solid state is generally disowned around these parts but a good friend of mine asked me to repair this Peavey head for her (just took touching up a few solder joints) and I figured I'd take an opportunity to post about this amp in case a few fellow amp nerds might find it interesting. I find these old solid state dinosaurs particularly interesting myself.
Front of the amp
You just unscrew the front panel and the pre-amp board is right there (ignore my ugly pajamas please) reverb tank is screwed to the chassis in the middle: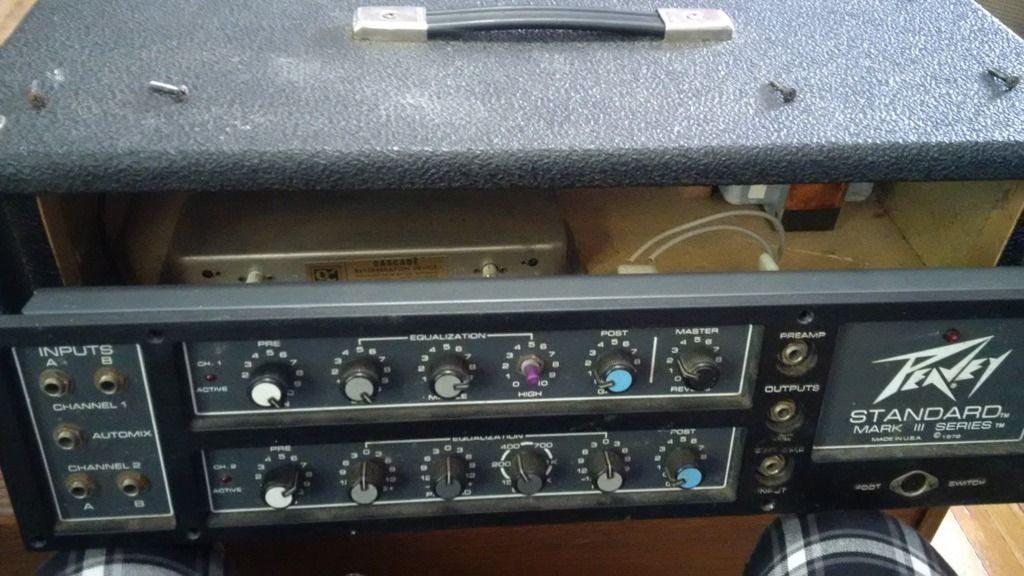 Shot of this vintage PCB (har har har):
Power section and a nice sized transformer are mounted on the back panel which unscrews like the front. It's a dead simple design and very easy to work on: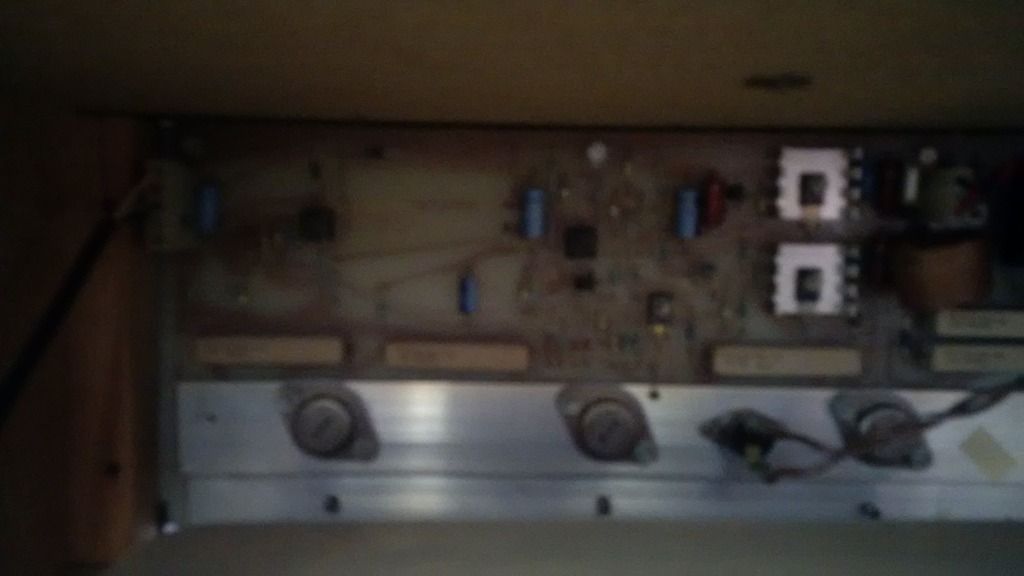 And there you have it, the wonderfully simple Peavey Mark III standard from 1978.
So, what I think of the amp (in case somebody, somewhere cares):
I really like it! It's a very simple circuit but has a few neat tricks up it's sleeve.
The clean sound is OK but nothing special and the reverb is...well....bad IMO.
That doesn't sound like a very promising endorsement, I know, BUT....
What this amp does really, really well is a great wooly, sludgy, raunchy distortion. The closest thing I can compare it to would be a Sunn Beta Lead and much like the Sunn Beta this amp has two channels and you can mix them both together for maximum transistorized fuzztortion.
A cool thing about this amp is that the 2nd channel has a very wide ranging EQ, you can boost or cut all the frequencies by a wide margin and you can dial in the mid frequency you want to sculpt with the "Paramid".
This isn't an amp for everybody, in fact, it's probably not an amp for most people. It's not going to make you toss all your tube amps in the dumpster (or your other solid-state amps for that matter) but it has a cool and unique tone and I really like that about it. There's some fun to be had for 100-200 bucks and it sounds cool if you wanna play some Red Fang riffs or something similarly fuzzy.
It's a cool old amp, loud as hell and a one trick pony with a great trick! If you're predisposed to sludgy, doomy, fuzzy riffing don't count out this humble old Peavey.