Here I go, (the chestnut guy). I've had a trk load of amer chestnut from barn built in 1832 squirreled away for 20 some years. When I had the beams sawn up, I wasn't thinking guitars and mostly 2 1/4 inch boards or various widths and a bunch of wide inch boards. So finally got these bds in first pict to luthier, gave him at least 8 bds from 5-8 inches wide, 10 footers. He said great, could match 2 or 3 bds and do me a nice tele and a nice natural finish; I really like the wormey effect; stands out with oil type finish. So before xmas, I got pict of body he was going with, I was upset about the match. He went on about how difficult it was to match 3 bds ect. You all have spent lots of money on guitars too, so I figured well just go ahead and get this tele done in a goldtop finish, cover up the awful match and get it over with; then start over. This first luthier does build nice guitars, I just don't figure he cares how they look, more about how they sound. Boards I gave him that I wanted used and blank he came up with:
So then I decided on maybe learning from my mistake. I sent a couple 5 inch bds to someone back east and told him he'd have to have a builder put 3 bds together, match to get a body. He said fine. These bds all come from the same big hand hewn beam and weight the same 2.3 lbs/ft. So he sends me the picts of bodys the builder done for him. Quite a difference in builders ability to match the bds I do think. The builders well known, and opinionated for his strats & teles but he does nice work. Picts of bds sent to second luthier & blanks he came up with. Only sent 2 10 foot bds.
Needless to say, I learnt a lesson, ha. I'm sending these several bds (with wooden peg holes as they didn't use bolts back then) to the second luthier and have him do me a couple strats. Maybe they won't sound no better, but the wormey chestnut look does something for me too. In the future, I won't just tell the luthier what I want and figure it'll be that way; but keep my options open in case it doesn't.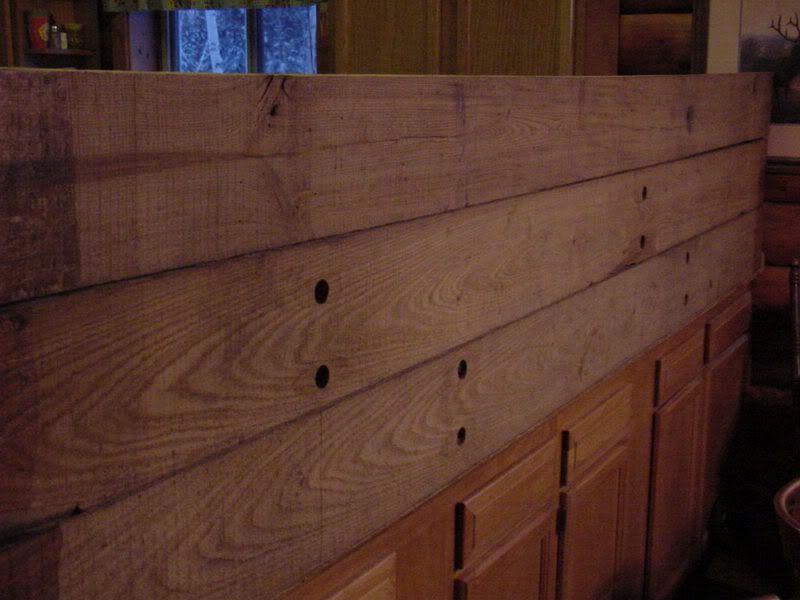 Anybody ever play a chestnut geetar? How'd she sound?