Standel Amplifiers were first (1952) to use High Fideleity JBL-Lansing 130 15 inch speakers. Many inovations now taken for granted were first introduced by Standel and later brought to the mass market by Fender and Gibson. The Company originally established in 1953 by Bob Crooks, Standel began as a boutique electronics company specializing in hi-end, professional guitar amplifiers hand built one at a time in Bob Crooks garage.
Joe Maphis played a Standel Amplifier, and so did Merle Travis, Speedy West, Chet Atkins, Hank Thompson, Grady Martin, Hank Garland, Larry Collins, Barbara Mandrell, Ralph Mooney, Noel Boggs, Buddie Emmons, Wes Montgomery, and many more of the top session musicians of the 1950's and 1960's.
Chet Atkins Favored a Standell 25L15 always in his home studio and on the road till the late 80's.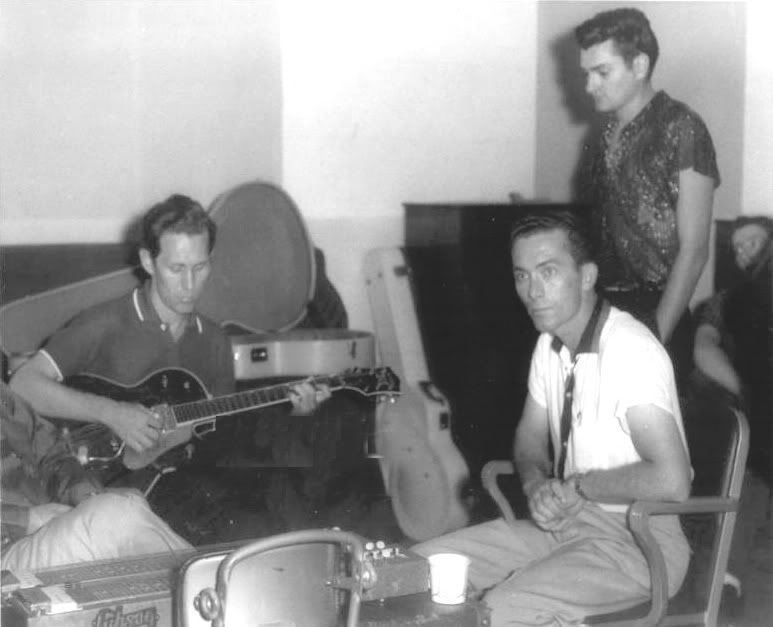 From Paul Yandell
"For most of his recording he used his 1954 Standel miked with an RCA 44 ribbon mic. It had a JBL D-130. It was only 25 watts but Paul said it was a loud 25 watts.

Chet's Standel was made in 1954 and was made for Jimmy Day a steel player. Chet traded him a Fender Pro for it. It is stock… still the same original. JBL 15 inch speaker in it. He has used this amp on 98% of his records both for his electric and electric nylon string guitars. Chet's Standel has a great sound. It sounded better than the ones I had.

The Standel amp isn't very durable for road work. The way it's made the power supply is in the bottom and the pre-amp in the top. If the airlines can destroy a suitcase, think what they could do to an old amp like that! When a person has an old piece of equipment you have to give it special care, Chet's amp has served him well all these years and is still going strong."
( Chet's Amp and Guitar's now live in the Country Music Hall of Fame)
More Info from Paul Yandel about Chet and all his Guitars and equipment is here
http://www.misterguitar.us/cbimg/PaulFAQ.html
Wes Montgomery's 1965 70L15 Standel Super Custom XV, as used by Wes Montgonery.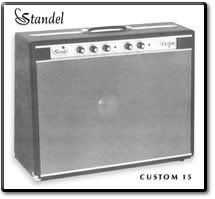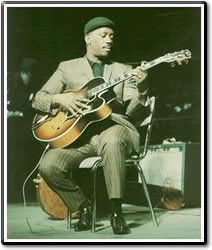 The 1965 SS 70 watt version featured two channels. The Normal channel included: Volume, Treble, Bass. In the above photo of Wes he is shown playing through the Reverb/Vibrato channel which included: Volume, Treble, Bass, Contour (cut only), Reverb, Intensity and Speed.
This is a current production model available by special order based on a original 25 watt 1955 Standel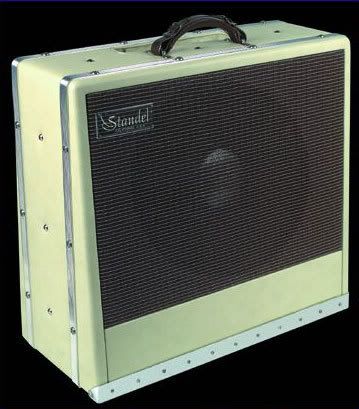 Merle Travis and his Standel
Joe Maphis and Larry Collins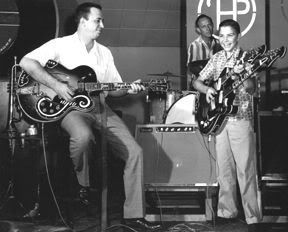 Photos and info courtesy
www.standelamps.com
and
www.misterguitar.us/cbimg/PaulFAQ.html
Enjoy The Music
Groovey Records
Listening to Chet Atkins CGP