Music Room Superstar
Silver Supporting Member
I recently picked up a new Suhr Hombre after being hot for one since they were announced. Killer amp in every way, beautiful package, light weight, nice cover and footswitch, 2 very awesome channels with THAT sound.
I played it loud n proud, and quickly discovered it was too much volume for my tiny music room. It would be perfect with a band, but too much for me at home. I used the Suhr Reactive Load in parallel with the V-Type Celestion to knock off some decibels. Still too loud. Took it into the larger living room and dining room to let it breathe. Better, but still more than I could handle at home. I found that I could get my DRRI into similar tonal territory when I compared both amps thru the Suhr RL into IRs.
So, sadly, I chose to flip the Hombre rather than mod it with master volume.
Then I started keeping my eye out for a Cutthroat Down Brownie, highly recommended to me for a while by TGP friend
@Gallery
.
I'll admit, when the Down Brownie came out, it captured my interest, but didn't entice me enough to commit. Hefty price, somewhat gimmicky with all the tricks, not a known brand, no way to try before buying...
On the other hand, the Hombre was the right bait that got me to go for it. I've lusted for Suhr amps and guitars for a while, never really having the opportunity to check them out. The Hombre was the right amp at the right price for me to bite. And I'm so glad I did. The quality of build and sound was everything I expected. And...it led me to the Down Brownie.
My Down Brownie has a Celestion Gold.
Celestion Gold vs V-type in the Hombre, I have to admit, the V-type is good for the $, and suits the Hombre well. The Gold I think has more upper end detail, and creams out a bit at max volume while the V-type stays somewhat stout.
Impressed by the V-type. Digging the Gold.
My first experience with the Hombre was cranked at home in a tiny music room.
My first experience with the DB was in the country, in a big ol metal shed for tractors.
My first thoughts after playing the DB in that environment were, the Hombre seemed to be more stout, have more gain, feel more direct. The DB seemed a bit tame, but vastly more versatile with all the tricks, i.e. 3-way nfb switch, British channel, channel blend, tube/ss rectifier, and most importantly, the ppimv.
I ended up spending about 4 hrs playing the DB that day, before I gave my fingers a break.
Both amps have the same tone on the bright channel, same tremolo, same weight, same look, same qualities in general that would please a person going for this type of amp.
I was eager to get the DB back home and have a more fair comparison.
Once home, it quickly became evident that the Down Brownie was more suitable for that environment than the Hombre.
I've had a ppimv on several different Plexi type builds, including Germino, Rockitt and a homebrew 2x6v6. I much prefer a good master volume to an attenuator, or reamper like the Fryette Power Station.
The ppimv on the DB is easily the best I've used. And I don't say that lightly. Ppimv on the plexis always comes with a compromise in overall presence and girth. On the DB, freaking fantastic. Maybe it just works better with this circuit, dunno. All I know is I have any tone I expected, plus many more, out of this amp at comfortable home volumes that don't hurt the ears or reach the neighbors. For reference, both a 1974x and the Hombre at cranked volumes generated comments from said neighbors.
So, I was happy I could get that gnarly 6g3 gain at house-friendly volumes. What I didn't expect was how very pleased I ended up being with the British channel. It's like this perfect compromise of everything I like in the Germino Masonette, Marshall 1974x or Retro King 18 and the 6g3 channel. At house friendly volumes. Wow. And then you pull the channel blend knob and add some 6g3 girth...yep. That's the sound. The feel. You can find all shades of breakup in the amp, from barely cracking to pretty damn heavy. Plenty of 60s-70s amp sounds you dig are in here. ZZ, CCR, Stones, Eagles, Led Zep, ACDC, add a pedal for Sabbath, Judas Priest, Iron Maiden.
One negative thing I have to say about the DB, and the Hombre, is when I back off guitar volume to clean up, the sound gets muddy. Unlike the Plexi or 1974x, both of which get chimey clean, this amp darkens and dulls with less guitar volume.
It must be something with the circuit. If so, I wouldn't change it, because the drive tones are so so good.
A couple of ways I've found to get around this are a treble cap on the guitar volume, and the Stomp Under Foot Cherry Bomb treble booster. Both options retain treble and even brighten up when you roll back that guitar volume.
Speaking of the Stomp Under Foot Cherry Bomb...
This treble booster kills with this amp. It's like it was made for it. I can get a fuller sound with more gain and a tighter attack for anything from violin-like leads to metalish riffs, and back off guitar volume into bright cleans with exceptional clarity.
I've had and flipped the Diamond Marquis and Fulltone Ranger. Dunno if there is something special with the Cherry Bomb, but it will always be a pedal I use from now on.
Other pedals like a Klon KTR or Tube Screamer tighten the attack and add more mids, leading to a very direct sound. I can't believe how versatile this amp is. I can do almost anything with it and a pedal or two. Sure, it won't fill a room like or sound as big as a 100 watt Marshall.
It doesn't sound as small as my DRRI at most volumes.
It actually sounds more energetic than bigger amps under the mic at home, probably because I can work the power tubes some compared to a 50-100 watter.
A little bit of post eq, and it doesn't sound so small, rather impressively big.
The only thing I wish the DB had is an effects loop. I don't know if that's a possibility without affecting the tone. It would be great for delays and loopers. Not a deal breaker at all, though. There are ways around that.
I've had plenty of amps since finding TGP. I've said more than once that a certain amp is a keeper, only to flip it some time later.
I've never once said this is my "desert island amp."
I'm saying right now, if there ever was one that I would consider to be a "desert island amp", this could very well be it.
Here are some clips I didn't plan on sharing, was just discovering what the amp was about.
First one, what's the basic crunch like? Obviously, I wasn't thinking about making a shareable clip:
Next, can it do 80s thrash metal type stuff with a pedal pushing it, in this case the SUF Cherry Bomb? Seriously, a Celestion Gold and treble booster into a Fender amp at home volumes. Just think if it were a V30 with a Timmy or TS pushing it at healthy volume. Killer amp!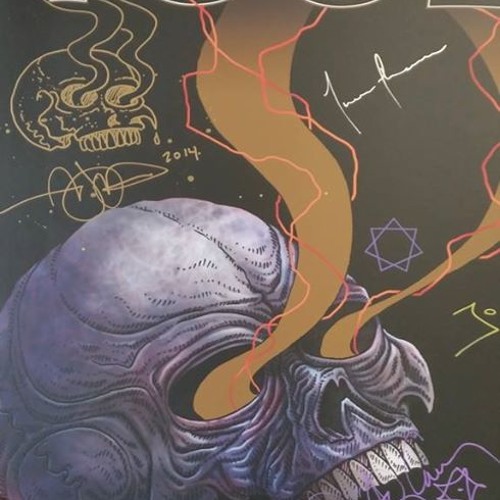 Listen to DB Explorer CB British Channel Metal by bmandrell on SoundCloud

m.soundcloud.com
That treble booster again, another sound I found:
One last thing. I'd have kept the Hombre if I played with a band at full volume or had a bigger place where I could let it do it's thing and not worry about my ears or the neighbors. It sounds so good, it's light and easy to carry, just has this "it" factor that exudes cool. I'd probably never have checked out the DB if the Hombre had a master volume.
Fact is, most of my playing is at home, my hearing is already compromised, and I can't comfortably play a cranked 20 watter on a regular basis. Non master volume amps don't work in my situation.
The Down Brownie does. And does it with a raw, organic, 3d type sound that I haven't experienced in other amps.
Last edited: