I thought it would be cool to share, ask questions and comment on the venerable Les Paul. After spending most of my playing years with teles, strats and PRS, I've fallen in love with 2 Les Pauls. I always thought they were the most beautiful electrics, but found them too thick sounding and too heavy. Then the Pete Thorn vid of his Yaron replica caught my ear. The LP "tele on steroids" sound was what I was looking for. With some low output pickups and 50's wiring, the variety of tones is amazing. I can control everything from 4 knobs...volume, tone, dynamics...just so responsive and no need to kick on an OD or boost pedal.
Here are the beauties getting most of my playing time these days: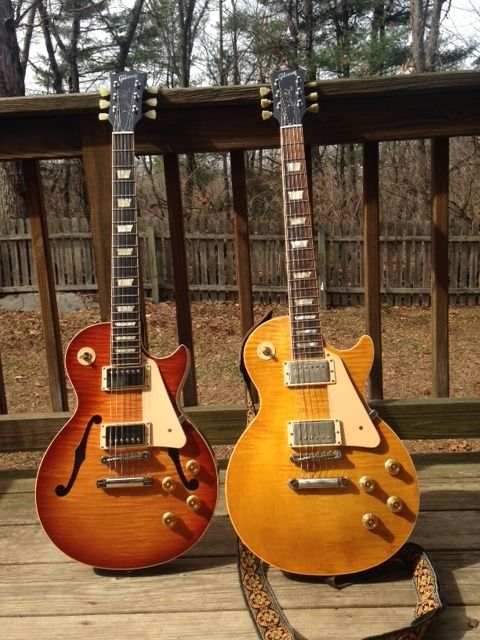 That's a 2014 ES on the left. If anyone has details about it let me know. I think it's modern wiring, which is OK for now since I play it mostly clean. Pickups sound low-med output, maybe A3? On the right is an 08 Standard Faded. It's under 8lbs, so it must be chambered. Bought used and it already had some nice upgrades: historic plastic, after market bridge/tailpiece (faber?), 50's wiring, and aged covers. I installed Mojotone Clones, low output, unpotted, A2 bridge and A5 neck... sounds incredible.
I'm still getting my feet wet with these LP's, but I've never been happier guitar wise. I think if I pick up a Fano SP6, I could retire my Fenders.