Through a complicated and convoluted series of events I owned a D'Angelico for a while in the seventies. It came to me trashed and it took a bit of research work (including an exchange of letters and photographs with James D'Aquisto) to find out that it was a 1933 D'Angelico. This would make it a pretty early D'Angelico from his "L-5 copy" period. The guitar had been poorly "refinished" (the headstock was fully slathered in opaque flat black) and had some binding and inlay missing. The guitar was refinished and repaired and as a "starving hippie musician" I could barely afford the repair costs. I kept the guitar for a couple of months after restoration, before selling it off. In the ensuing years I have largely forgotten the guitar except for the occasion when the name D'Angelico would come up and I would recall, "I used to own one!". I knew it was a nice guitar but was fully cognizant that it was "too much guitar" for me.
I had recent contact after many years with a ex-girlfriend from this period who offered photographs from our time and travels together. I hollered out loud when I saw photographs of me with this nearly forgotten guitar as I had occasionally bemoaned, with my increasing vinnidge guitar conscienceness through the years, that I never had pictures of it. Now, thirty-some years later I have photographic documentation of both the guitar and of the fact that I was actually once a skinny young man! Woohoo!!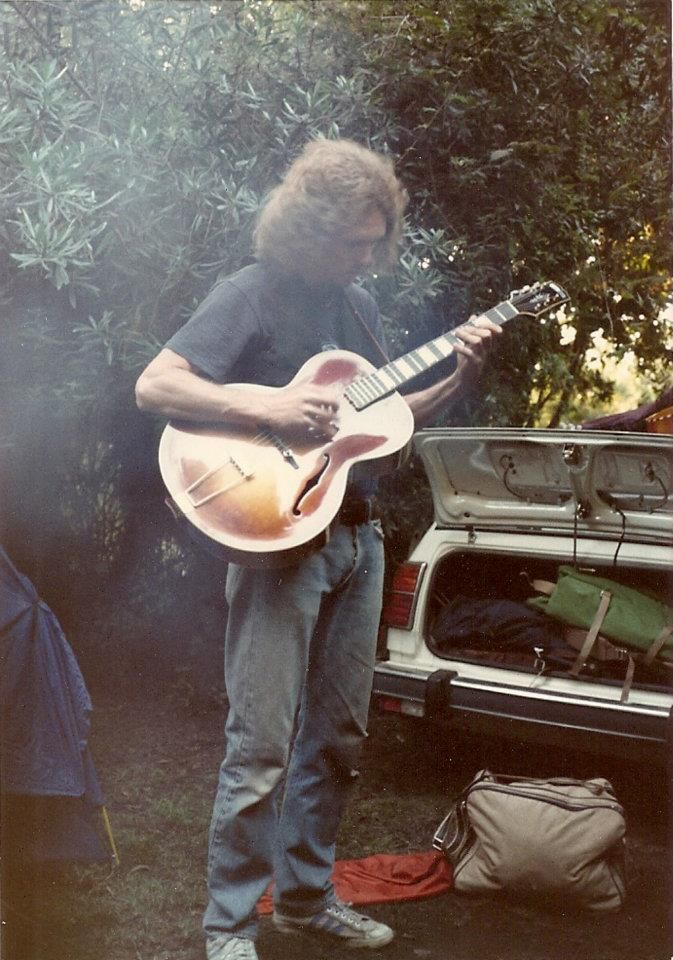 Yes, I took it camping! I told you I was a hippie!