Hi there
I recorded one of our recent gigs, and I uploaded 6 of the songs from that gig onto our MySpace page. Let me know what you think. I was pretty pleasantly surprised at how well such an impromptu recording turned out.
http://www.myspace.com/theswampkings
The recording was done using a Zoom H2. I placed the H2 on a shelf back behind the bar directly across for where we were set up (see pic below). The couple in front of us is about halfway from the band to the H2 behind them.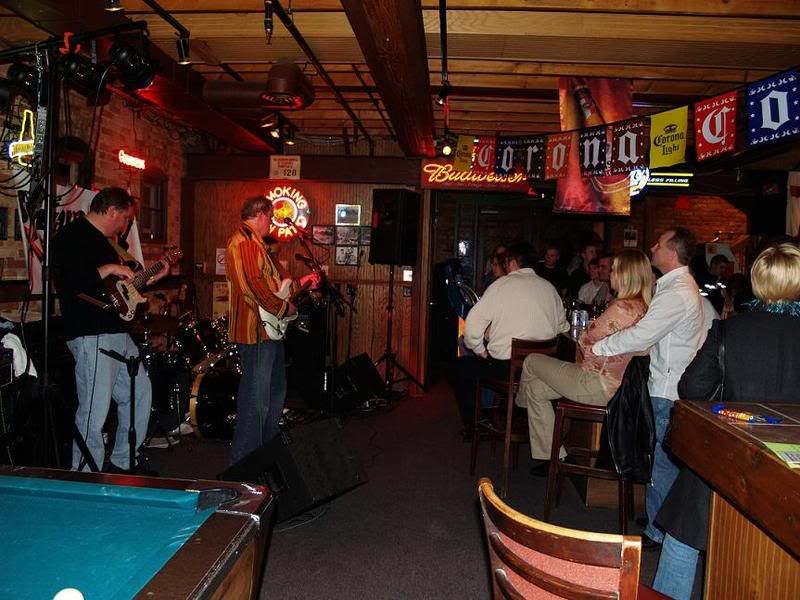 The H2 was about 20 feet away from us and was high enough on the shelf that it had a direct line between its mics and the PA's mains.
We did not mic any of our instruments, though. I'll be changing that for the recording I do at our next gig.
I did not do any post production Fx, normalization, etc. All I did was cut extraneous beginnings and endings of the WAV files to include only the song itself (and a little cheering when it sounded good), and then I converted those WAV files into mp3 files. I used Audacity software for this little cutting, pasting, and file converting.
As far as gear, I was playing my Rocketfire Strat running through an OCDv3 and into my Fuchs ODS 50 head and Mesa 3/4 back 1x12 cab. Our other guitarist (Tom), swtich back and forth from his Reverend Flat Roc guitar and an AM Std Strat into a Peavey Classic 30 1x12 combo. His pedals include two TS-9's, a treble boosting EQ unit, and a TC Electronics Chorus pedal.
Hope you like the tunes.
Thanks.