Let's have a thread dedicated to discussing the art of wiring and showing the underside / bottom of your pedal boards. I've been following the Show Your Pedalboard and Neatest Pedalboard threads and I'm surprise that people don't usually post a picture of the underside?
Having recently finished my first board, I had to figure out how I wanted to arrange/tidy up the wires. The usual answer is to get the little wire anchors from Home Depot and use zip ties. However, I didn't like the idea of having to cut the zip ties whenever I wanted to move/trouble shoot something or having to try and get the anchors in exactly the right position.
I decided to use 3/4" velcro to keep the wiring in place. Using 'sticky back' 3/4" velcro on the bottom of the bars and double sided 'one wrap' to anchor the wires to the board. The sticky back was about $7 and double sides about $9 at the local Home Depot store. To get extra strength I put 'sticky back' on two sides of the bars (although 1 side was enough). You can even put velcro on three sides of the pedal board bar if you really want to hold it down tight or have a lot of wires. Do people do this? If not, I would like to coin this method the 'Wayne-Cro' method! =)
Here's my board to start the thread. Please post your boards, the only rule for posting board pics is that you have to include a picture of the underside too!
Top of board:
Bottom of board:
Pic w/ velcro I used: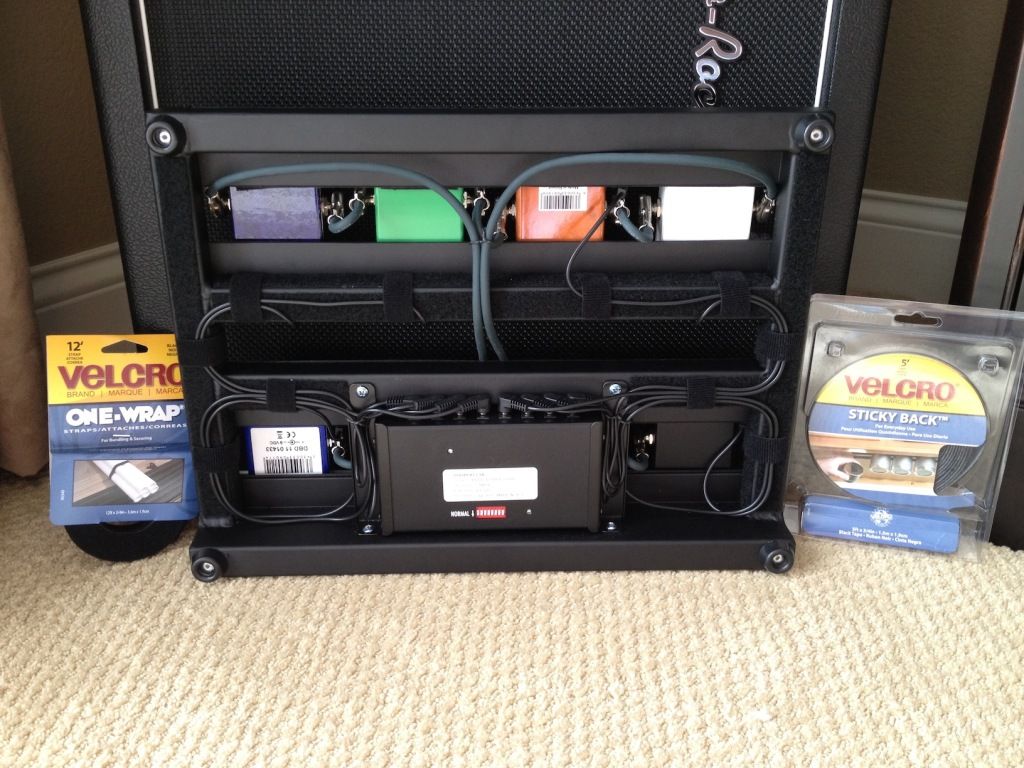 Cheers!