i'm a Lefty, and good guitars are VERY hard to come by.
i've settled on a Fender Jaguar as my preferable style, scale length, and feel.
i have a REALLY nice MIJ Fender Jaguar with SD Jag-2 bridge and a AVRI neck pickup. it sounds great and its a keeper.
my other guitar is a franken-Jag that some idiot on ebay jacked up to make it "custom". he poorly routed it for a HSH pickup configuration, put stickers on it, got rid of the HIGHLY-sought-after lefty control plates, drilled all kinds of holes at the bridge to try different styles, drilled for a TOM bridge w/Gotoh (gibson-style) bridge piece, had pearloid control plates, TWO SD Pearly Gates BRIDGE pickups (one flipped upside down), and had some sort of hook anchor for strap locks.
i've since brought this around to proper specs, minus the bridge (which would require filling in the holes he drilled and redoing them for a Mustang/Jaguar bridge), and it sounds and plays pretty well. The neck is still beat up a bit, but is still straight and the frets are good...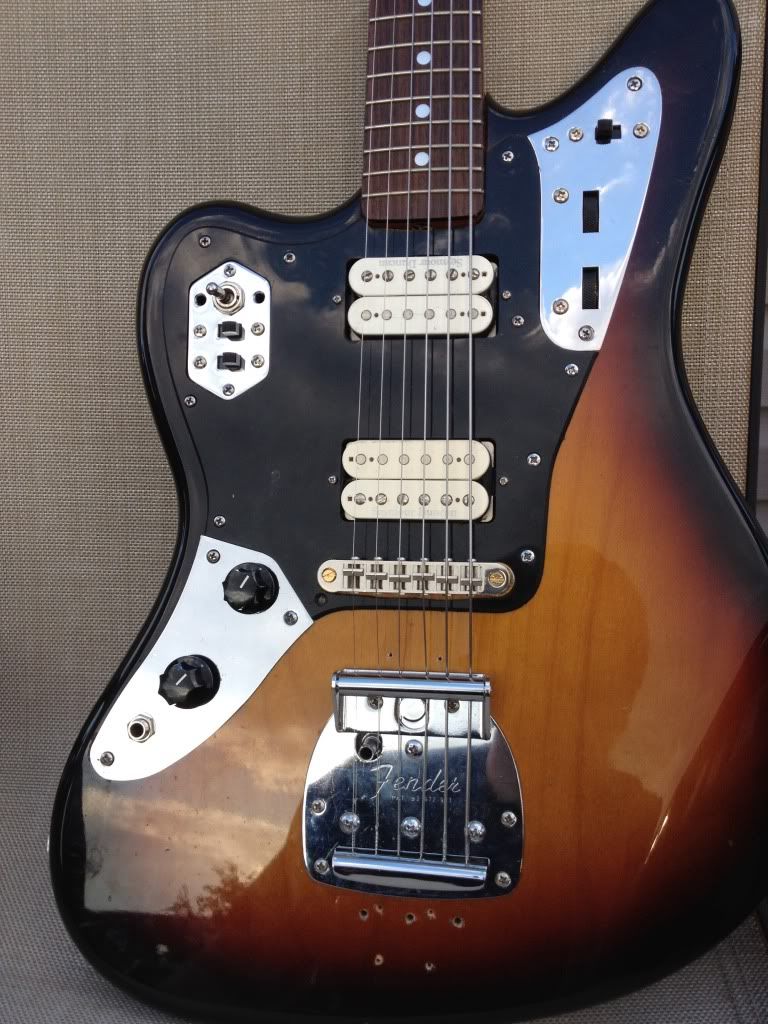 but now i'm wondering about popping some new pickups in it are worth it? i have four that i just bought: Fralin Twangmaster set, Gibson '57 Classic, and a Novak Hum-WR bridge.
after it's all said and done, i'll have spend almost $800 on this guitar; the pickups being the biggest upgrade. yikes! is it worth upgrading or should i sell it and buy something like a KC Jaguar from Sweetwater?
PS: it's... okay to play, but i'm sure someone with more patience and skill could fine-tune this machine.
Last edited: