Hello all...
I'm working with this board at the moment: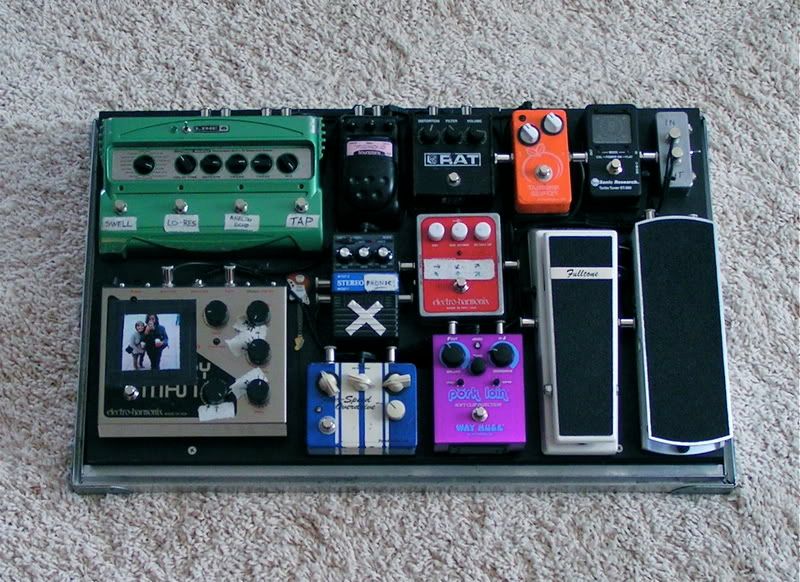 I've figured out how to make enough room for a looping system, and have narrowed it down to either the Voodoo Lab Pedal switchers or a plain ole Loop-Master setup. I wanted to know what the difference would be between the two setups.
Here's how I feel so far:
Voodoo Lab - Seems cool. I like the buffer idea and the fact that I could insert my volume pedal in the TRS insert point. Midi is not needed at the moment, but it'd be nice to be half way there if I ever decided to. Cons are that I'd have to purchase a PPAC to run them (PP2 is full...), and I don't really dig how the switches go left to right. Little OCD, but it doesn't seem as intuitive to me. I'd be out almost $700 bucks with this setup
Loop-Master: I'd get a 6 loop and a 3 loop switch so I could insert the volume pedal before the delays. This would also leave me with one extra slot to plug in random modulation pedals that I may use at the moment. I'd need a buffer, and the SHO seems like it would do the job nicely. I wouldn't have to purchase an extra power supply. Cons - basically no cons, but questions. I track a fair amount, and can't have a lot of popping going on. Do these things have that true bypass pop going on? Is there a huge sonic difference between the two systems?
I'm basically trying to get as close to a straight in sound as I can with the ability to add in only what I need for the song. Thanks for the input.