I feel like each VH album "uncovered" something new from Eddie.
While 1 and 2 are both "poppy" and introduced us to most of the elements that defined Eddie, there are a few things that stand out as "advances" or "new" things you didn't hear, or notice as much, or weren't in the hits, etc.
VH II has Spanish Fly on Nylon String, and the Harmonic Gliss with Pull Offs in Somebody Get Me a Doctor.
WACF has our first introduction to Keyboard (be it good bad or indifferent) and there's the Slide stuff in Could This Be Magic, which is maybe the most distinctly different VH song than all others to that date. Some of the tracks feature the "flanger scrape" that would be the hallmark of Unchained and In a Simple Rhyme further explores the tapped harmonics of Dance the Night Away that would become something new in the intro to Mean Streets.
Fair Warning - well, the intro to Mean Streets. The flanger scrapes in Unchained. All the Drop D work. The Slide in Dirty Movies. In some ways, I've always felt WACF was an "aside" - it was a break from the more pop-oriented stuff and was darker, rawer, etc. The guitar tone is a little different now too. Fair Warning instead seems to be a culmination of everything up to this point - the tone is back (IMHO) and all the things he's been doing here and there come together - there's a Keyboard track again. So it's not as much as they're "breaking new ground" but it's maybe the most "songwritten" album that's not quite as "serious" as WACF, but the other new ground is primarily the intro to Mean Streets.
Diver Down is very interesting. Many dismiss it. But it was the band having fun. And more like the first 2 albums in many ways - more covers - a lot - too many some would say. But think of the stuff that was happening - the Full Bug with Harmonica, Happy Trails (Van Halen, doing A Capella Harmony! There were parts - Bottoms Up, Feel Your Love Tonight, but here they are with no backing, even though it's a cover), the Keyboard in Dancing in the Street, I mean, really, what the heck is even going on? The tremolo picking and actual little guitar in Little Guitars. The Delay with Volume Swells deal in Cathedral, then Intruder - in essence, they were not only still breaking new ground but despite the covers, and the very new ways in which they were done (especially for VH) this was also the album that cemented them as pop gods and really solidified the whole hair metal supremacy. 83 was the year they did the US festival - they were really the biggest band in the US at the time (though apparently Elton got paid a penny more or something?). Pretty Woman was their highest charting single to date.
May would say they jumped the shark with this album, but I see it differently - I see them having reached a point where they can do whatever the heck they want and have a great time doing it - pay homage to some of their influences, and include all kinds of new and crazy ideas - I mean, it's an "influences" album really - Big Bad Bill is Sweet William now - I mean, c'mon this is great stuff.
From EVH: "It takes almost as much time to make a cover song sound original as it does writing a song. I spent a lot of time arranging and playing synthesizer on 'Dancing in the Streets,' and they [critics] just wrote it off as, 'Oh, it's just like the original.' So forget the critics! These are good songs. Why shouldn't we redo them for the new generation of people?"
And they weren't just like the original. They were "Halenized" just like all the other covers they had done.
Maybe their mistake was throwing TOO many new things at us at once, and rather than "progressing" it seemed like they "split in different directions".
1984 - a "return to normalcy" though we guitarists might decry the "outright" use of keyboards - which had kind of been hidden before (most of us thought they were guitar parts on the earlier albums...). But Jump was their #1. Maybe they "sold out". Let's not forget, the album charted #2 behind Thriller - THRILLER! Which, Eddie was on...
This is an interesting read: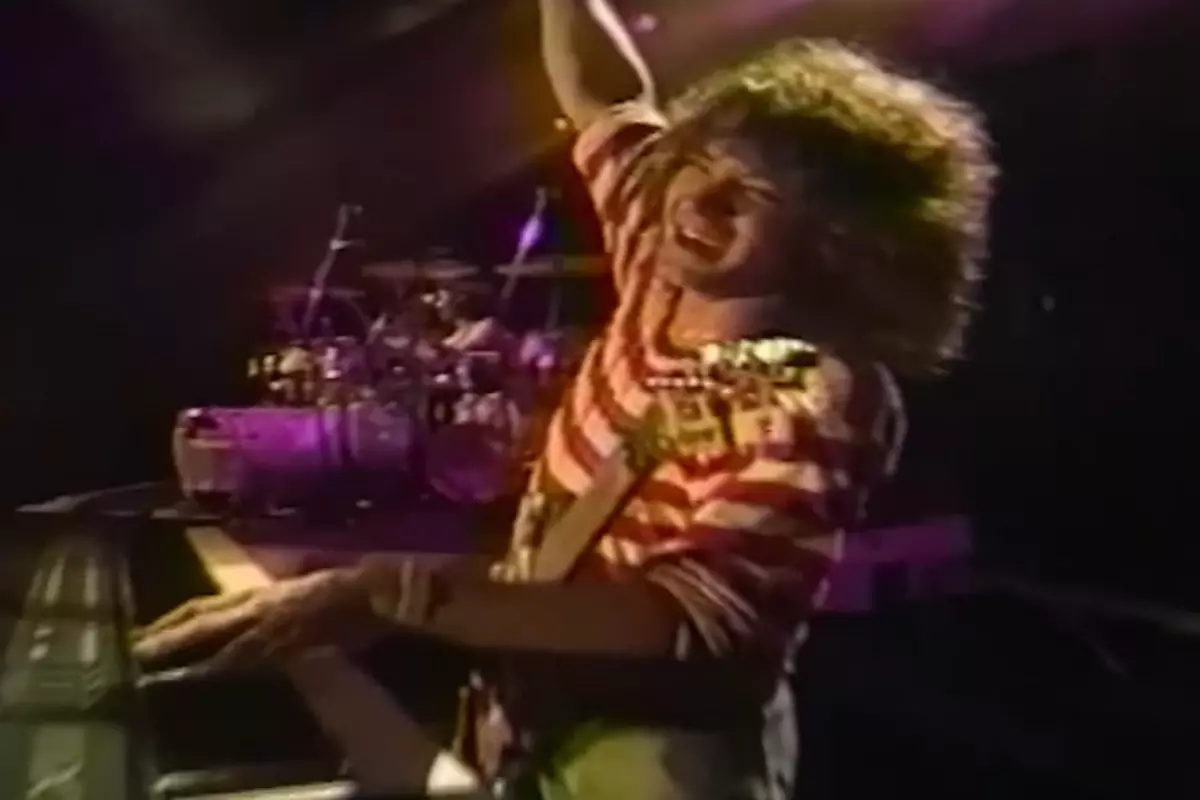 Ultimate Classic Rock takes a comprehensive look back at Eddie Van Halen's relationship with keyboards.
ultimateclassicrock.com
But, of all the albums thus far, I felt this one broke the least new ground - they had "settled in" so to speak - to their roles as pop gods and having to present material as such. Which they did with aplomb. But from a guitar standpoint, I don't feel any new ground was being broken - Top Jimmy is a standout for rhythm playing, but the rest of the cuts kind of hearken back to earlier albums - and some of it was material that had been laying around since the beginning. Don't get me wrong, the playing is at it's peak.
And of course, all this tore the band apart.
But, like no other act in history really, VH, at the top of their game, replaced their LEAD SINGER, with Sammy.
Many would see that as a deciding moment of course and I can't blame them for it.
What I personally feel is that Eddie started relying on "gimmicks" rather than playing.
The volume swell and echoplex for Cathedral are "forgivable", but it's something pretty easy to play - not like Eruption, Spanish Fly, or Mean Streets.
The only other thing really new in that vein on Diver Down is Little Guitars - which is tricky.
On 1984 there's really nothing, other than the title track - on Synth no less...
On 5150, it's the Transtrem. There's good playing as always, and Sammy's influence is clear, and they're even more on top than they have been. But as with many bands that went through this, they got to "The Power Ballad" stage. And while they don't have their Sister Christian or Is This Love, they have When It's Love - and they certainly do become the band's chartbusters.
When we get to OU812 it's more of the same IMHO. Cabo Wabo is pretty clearly a Sammy song. The only new thing over these last albums has been the Chorus effect...
I feel like the only thing that's really a highlight is another gimmick - the DRILL in Poundcake.
I don't feel like Eddie's playing fell off, nor that the songwriting suffered - but much like other bands like Rush who became known for their musicality and willingness to take risks with it, once they get that peak they "play it safe" a little bit. Which is totally understandable - now I am where I am in life in my little world of secure employment, I don't want to do anything to rock that boat - where 20 years ago I would have walked out in a heartbeat and went on to something else (as DLR did...).
I think Sammy was a great fit for the band, but I just felt like they kind of stopped moving forward and weren't "progressing" as much as they had when they started.
And I think maybe it's 1984 and stardom that did it, before the change to Sammy. It's not the keyboards, but just the lack of exploring more on guitar - which is what he had become known for (though Alex was given some spotlight... but it's also the time the Bass lines just go into straight 8ths...).
I know of course that's only one aspect of music making and with "maturity" comes "better songwriting" and so on (but is that just a justification we use to why our heroes aren't doing what attracted us to them in the first place?!?!)
I won't even go into the later albums because, well, it starts to go downhill IMHO.